RELEASED: 25th April 2013
This movie continues from exactly where Part One ends! Mr X walk in to discover innocent Karl over Ben's knee getting his bare bottom spanked!
Mr x rescues young Karl and he is furious! Ben soon finds himself getting spanked again, this time bare bottom and with Karl watching and laughing.
Can the humiliation get any worse for this strapping football player?
Yes it can!
Mr X decides that since Ben aggressively spanked Karl then it would only be fair that Karl gets revenge! Ben can't bear it. He finds himself facing the ultimate humiliation as the older player lies over Karl's lap and gets his bare butt spanked.
Ben will surely think twice before picking on the younger players!
STREAM
VIDEO
Available streams for iPad, iPhone, Android, Chrome, Safari, IE or Firefox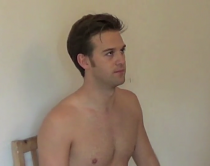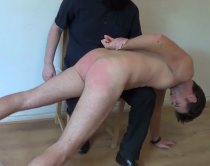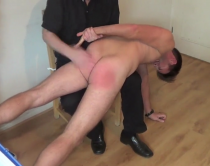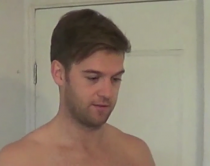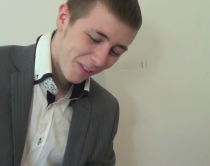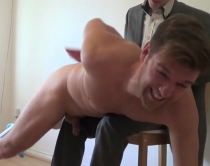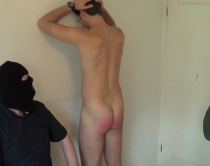 cami
|
Voted Video 10/10
| 26th April 10:04
It's a great movie i like it,but its very interesting that when ben & bailey was getting spanked that when bailey was trying to cover his spanks that Mr. X gave bailey the belt. & Ben did the same thing trying to cover this spanks & he did not get the belt. Ben did much worse to karl.... but they both did a great job in this movie.

loverx101
|
Voted Video 10/10
| 26th April 17:04
i didn't think Ben could get any more adorable, i was wrong....haha great movie 2nd part definitely did not disappoint

wardcoleman
|
Voted Video 10/10
| 27th April 07:37
This is an excellent conclusion to to a very hot story. I really enjoyed it. Highly recommended. Ben really got what he deserved :-)

swespanker
|
Voted Video 4/10
| 3rd May 12:17
Ben is cute but he doesn't seem to be able to take a good spanking, his pain threshhold seems very low. And sadly, there is a problem here with the editing, at 4 minutes in, suddenly Bens bottom that was red 30 seconds earlier, is suddenly white (unspanked), and a minute later, it's red again. So sorry, not a favourite of mine.
That being said, I wouldn't mind Ben doing another Movie, perhaps being spanked by Patrick?

Dave - Straight Lads Spanked
|
Not voted video yet
| 3rd May 18:18
Hey! Dave here (Mr X) I am going to make a major confession here and tell a secret about this movie.... Ok so you mentioned about Ben's bottom being red and then unspanked.... Well it was a good observation. It is true... But it is not down to bad editing. In fact, my editor Art had his work cut out with this movie as I made a massive mistake! So let me explain.....I filmed this movie and Ben and Karl went home.... then later that evening when watching the footage back I realised I made a major mistake! I actually forgot to shoot the sequence where Karl gets his revenge and spanks Ben. Doh! I could hardly believe it as that was meant to be the most important part of the movie! So i asked Ben and Karl to come back and shoot that end section again...... They both agreed.........

So this is where the continuity error comes into place...... Since I had Ben back I decided to spank him some more! So yes, where you see his unspanked bottom that was shot on the second take...... and the whole sequence where Karl spanks Ben was shot on the second take..... So yes, I am going to hold my hands up and be honest about what happened with this movie..... Now I have explained it, the eagled eyed viewers may also notice some other continuity errors in this movie too...

So yes I confess, this move was not exactly as it was presented.... I wish I had had never messed up in the first place....

However..... one thing I will stick to is this... Even though the spankings in this movie were shot over 2 weeks... they are still real. I can't fake that..... Ben being spanked and his reactions are 100% real. No acting here,,,,,, he really can't bear it! Evert slap you hear and see is real. Every squirm from Ben is real and also....... all the grins from 18 year old Karl as he is spanking Ben are real too... and every grin from Karl made Ben even more uncomfortable......That is my 100% honest response.......

Karlfan
|
Voted Video 9/10
| 4th May 02:47
Karl is so hot. His enjoyment of spanking is a huge turn-on too. I'd love to be spanked by him.

Dave - Straight Lads Spanked
|
Not voted video yet
| 4th May 03:47
Oh he really loved spanking Ben! :)

cami
|
Voted Video 10/10
| 6th May 07:48
WOW i did not even notice that about karl. lol shows you how much i pay attention & again i was not looking for it ether. It does not matter to me cuz i did not see it & i think since i did not see it then Art did an awesome job. Oh who ever thinks this is fake they are crazy. You can tell it's real. Who thinks is fake they are all haters. & they need to go to an other site cuz its all real spanking on this site for sure.

cami
|
Voted Video 10/10
| 6th May 07:50
oops i mean Ben not Karl .. one day i will get their names right lol