RELEASED: 7th March 2014
Birthday Spanking
Andy & Patrick
It's birthday time for the Lee brothers!
Having birthdays only days apart the group of friends they belong to have decided to send them for their annual birthday spanking together!
Both brothers have to endure the paddle and cane over jeans, boxers and finally bare bottom!
STREAM
VIDEO
Available streams for iPad, iPhone, Android, Chrome, Safari, IE or Firefox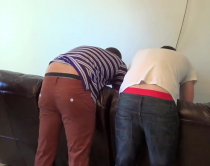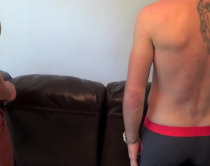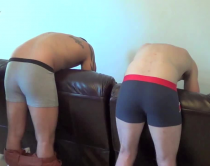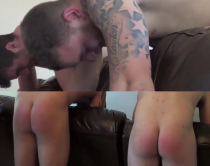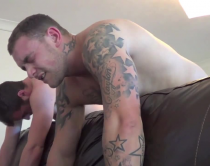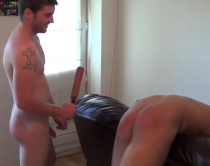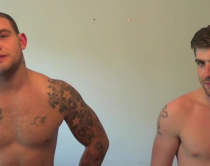 r1108
|
Voted Video 9/10
| 7th March 14:05
Hmmm...Patrick didn't count number 13...may need to repeat that stroke ;) but it looks like there was a screen switch there so I'll give him the benefit of the doubt and blame it (with highest regards and a silly smile) on Art's editing :). Well done as usual; it is always nice to see these two together. It looked like there may have been some brotherly competition going on and the twist of having each other deliver that "one to grow on" stroke was a nice touch :). They look to be close to one another which is always a great thing to see.

Dave - Straight Lads Spanked
|
Not voted video yet
| 8th March 09:40
Hey r1108, I'll have to watch back to check out number 13! :) They really do get on well with each other.. In fact, if I am being 100% honest, Andy probably took it harder to save Patrick from 'enduring' too much!

Personally I like this movie as it is just fun and light-hearted. Sometimes I feel that it is easy to get caught up in the heavy "You Must Be Punished Hard" mode and to forget that for many the spanking side does not have to be really sever and can also be fun! :)

Rasputin
|
Voted Video 7/10
| 8th March 11:08
The production standards are fine, as usual. Andy and Patrick are two of my favorite models. This video is about as good as the videos celebrating the birthdays of Dom, Bailey, and Ben However, I think I have been spoiled by Part One of Oliver's birthday spanking, where Fred and his buddies gang up on poor Olivier for a really amusing spanking video.

This new video isn't as much fun as Oliver's birthday video was. However, it's still an okay film.

Dave - Straight Lads Spanked
|
Not voted video yet
| 9th March 04:39
I'm glad you think it's ok Rasputin. :)

bruno
|
Voted Video 10/10
| 13th March 12:20
patrick and andrew together again, the dream team, i love all patricks movies he has such lovely smile and the way both boys comunicate with each other, they are so natural cant wait for their next movie together

This movie is great Andy and Patrick are so hot , funny, charming, totally relaxed , laid back and most importantly IRISH like me this movie is fun and Andy for such a tough looking guy he really is a wuss lolxxx Orla