RELEASED: 1st November 2019
Blake
Mouth Soaping
There are some dads who should come with a health warning: "Smoking can severely damage the health of your bottom"!

With Alex and Zane doubtless still rubbing the sting out of their behinds after getting a good spanking from Alex's dad for smoking in the house, the latest male corporal punishment movie from Straight Lads Spanked finds Blake - no stranger to discipline in recent weeks - in trouble with his own old man for the same thing.

The trouble with Blake, however, is that he is given to running off at the mouth.... and that attitude was never going to help him avoid a punishment when he was already in trouble with Dad for smoking!

The smoking is bad enough, but the potty mouth pushes Dad over the edge! Telling him off as they stand at the kitchen sink, Dad makes Blake open his mouth and stick out his tongue to have his mouth washed out with a bar of soap!

While Blake splutters and protests at one end, Dad follows up by directing some attention to the other end! With the lad bent over the sink, Dad begins to spank the seat of his jeans with a firm and practised hand.

Even with a soapy mouth and a sore bottom, however, Blake struggles to suppress the attitude. "I'll do what I like!" he says. Well, that is like a red rag to a bull for this exasperated dad! He grabs a wooden spatula from the kitchen counter and uses it to turn up the heat on his son's behind.

It's not long before the impertinent lad is told to pull down his jeans, and Dad continues the well-deserved spanking on the seat of Blake's tight underpants with his hand and the fearsome spatula.

Dad tries to reason with Blake, offering him any help he might need to give up the filthy habit. "I don't need help!" snaps Blake, but he soon regrets it when his father responds by immediately pulling his pants down!

It's clear from the colour of Blake's bottom that the message is definitely getting through, and he is soon begging his father to stop. "I'm not going to stop until I see a change in your attitude!" says Dad, as he applies a firm hand and an even firmer kitchen implement to the lad's bare red bottom.

"I'm really sorry," says Blake. "I won't smoke, I'll work on my language..." But the promise is no sooner out of his mouth when Dad announces that the lad is going to get 20 more whacks, and that promise is immediately broken by another swearword!

Before he knows what is happening, his mouth is forced open and the soapy cloth is washing out that potty mouth of his again! And he still has to count out those last 20 hard whacks across his bare bottom!

When his ordeal is over and he is allowed to pull up his pants and trousers, Blake gets a consoling hug from his dad. Let's just hope that not being able to sit comfortably for a couple of days will help this silly young man kick the habit for good!
STREAM
VIDEO
Available streams for iPad, iPhone, Android, Chrome, Safari, IE or Firefox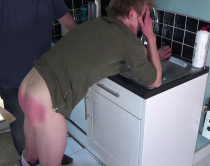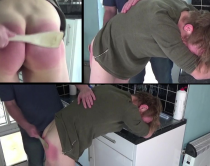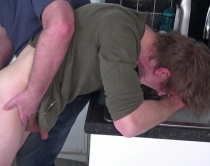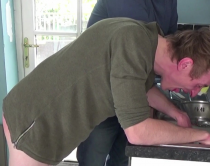 Becca | 3rd November 2019 21:26
Love this. Love Blake. Love his attitude. More of Blake and 'dad' please!
Reply