RELEASED: 20th September 2019
Bobby
Bath Brush Beating
Ever notice how some lads just can't seem to keep out of trouble? It's beginning to look like young Bobby is one of those lads.

Members have seen him getting his bottom smacked several times in recent weeks. And in the latest male spanking movie release from Straight Lads Spanked, he is in for it again.

Dad comes home to find Bobby lying on his bed looking decidedly worried. And well he might; he has to hand over a letter from school, informing his parents that he has been suspended after being caught playing with himself....and as if that wasn't bad enough, he was doing it in the girls' toilets!

Bobby tries to excuse himself by saying that "it's always hard" and he "just can't help it", but it does nothing to appease his old man. Dad is mortified and furious in equal measure. And he confirms that, as Bobby expected, he is going to be grounded for two weeks.

But that won't be his only punishment; determined to teach the lad never to do this sort of thing again, he leaves the room....and returns with the bath brush! Bobby is going to get a spanking he won't forget in a hurry!

Over the knee he goes, and Dad begins to administer a well-deserved spanking to the seat of the lad's tight jeans, with a firm hand and the dreaded bath brush.

He obviously decides that the message isn't getting through loud and clear, however, and before long Bobby finds himself back on his feet with Dad undoing his jeans to pull them down.

Back over the knee, Bobby faces a new barrage of whacks from his dad's hand and bathbrush, now delivered across the seat of his tight yellow pants. And as he spanks, Dad spells out the terms of Bobby's forthcoming grounding: he will be confined mainly to his room for two weeks, and must hand over all of his technology.... so "no access to maturebuxomwomen.com," says Dad! Members of a more cynical nature might wonder why the address of that particular website sprang quite so easily to Dad's lips, but perhaps we should just draw a veil over that...
Dad being old-school in his approach to discipline, eventually Bobby is told to stand up again, and before he knows what's happening, Dad has pulled down the lad's pants and hauled him back over his knee. He is going to be reminded that he's still not too old to get a good hard spanking on his bare bottom!
By the time his ordeal is over, Bobby has a very sore red behind, and is promising never again to misbehave in such a disgraceful fashion. Dad tells him that the punishment has hurt him almost as much as it did Bobby (although, frankly, that seems a little hard to believe). But to prove that he is just an old softy at heart, he ends up putting the naked lad back over his knee to rub cream into his sore bottom.
Whether this will be enough to teach Bobby and his wayward hormones the error of their ways, of course, remains to be seen!
STREAM
VIDEO
Available streams for iPad, iPhone, Android, Chrome, Safari, IE or Firefox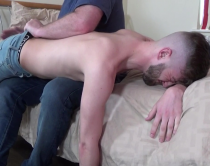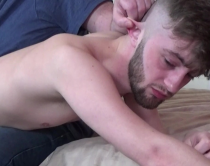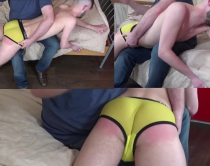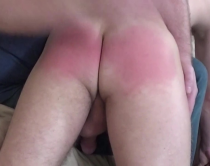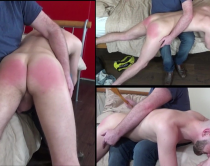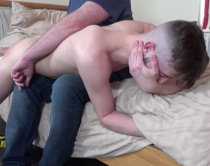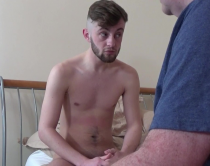 marilleXmC | 24th September 2019 07:56
Reply

mstr_spkr | 23rd September 2019 00:05
If Bobby had only identified himself as a female when he was caught, he should not have gotten in trouble. Then whoever barged in on him would be guilty of invading Bobby's (don't know his preferred pronouns in that case) privacy and he'd not be a sexual predator.

Kissing someone else's girlfriend is one thing. Invading the privacy of the females at school is another. The premise was quite disturbing.

I also agree with newspank that this was not a "bath brush beating", but more of a spanking that included a bath brush rather than a slipper, belt or leather paddle.

Bobby took the spanking very well, as usual and played his part superbly. He is one of my favorites of all time and I want to see more of him, albeit in better story lines. With a better story and if this was a true bath brush beating (or not billed as such), I would have given this a 10. I downgraded it for reasons not at all due to Bobby.
Reply

newspank | 21st September 2019 22:16
Mmm. Not really a bath brush beating was it? I'm rarely that critical and easy to please but I felt that compared to other bath brush spankings this was a bit lacklustre and soft. The gold standard is Fraser, Oliver, Bailey etc with bath brush spankings that really stung. They come along so rarely that when you see the words "bath brush beating" you have an expectation of what is to come based on previous films. It didn't happen with this. Bobby is great, the acting, set-up, the dialogue, the terrific edit. All there. Apart from the spanking. A very rare "miss" for me as I've enjoyed many years on here.
Reply

SerenaG3 | 20th September 2019 20:36
Yay! Bobby is back and back to his amazing quality. I think he thrives in these one on one videos and especially with the dad and son scenario. However, I am very torn with this scenario itself.

This has been recurring theme in some of the SLS video and usually done for the younger models like Bobby and Jason but basically for a few videos now Bobbys designated character seems to be a sex pest... Like I appreciated the realism of the young lad finding it hard to control his urges and it was a bonus to be able to tie in the 'reaction' Bobby has had in previous videos but it did taint my enjoyment. The appeal of Bobby for me is he is comes across very wholesome and cutesy and making his story for being punished a lot of the time to be for basically a sex crime doesn't work for me.

Anyway. Bobby looked beautiful and acted so naturally and sincerely as always and his positioning throughout and the pace of the spaniing was

SerenaG3 | 20th September 2019 20:38 (85 weeks ago)
*spanking was very well done! I loved the dialogue and interactions and even some of it was funny however I am still torn on the whole spying on girls while wanking scenario... it just makes me think of a creepy and sleazy guy and to me that's so not Bobby.

Well done to Bobby and you Dave. Very enjoyable overall despite my personal issues.
Reply