RELEASED: 13th December 2019
Bobby & Blake
Locker Room Bully
Part Three
It was way back in the summer that we saw Coach catching Blake in the act of spanking team-mate Bobby. And that wasn't the first time that the young bully had blackmailed Bobby into submitting to him in the locker-room. Poor Bobby had had his bottom reddened just the day before, too!
The latest male spanking video from Straight Lads Spanked opens where the last episode left off, with Coach walking into the locker room and finding Bobby bare-bottomed over Blake's knee.
Furious, Coach makes it clear that he is the only one who administers discipline at this club! He threatens to call Blake's father and have him come down to the club to discuss his son's behaviour, but Blake begs him not to, saying that his father will tan his hide if he does. Ever willing to compromise, Coach instead suggests laying on a little entertainment for Bobby'

s benefit, catchily entitled "the Spanking Blake Show"! He is going to make sure that this bully gets a painful taste of his own medicine!
With no further ado, he tells Blake to brace himself in the open doorway and stick out his bottom for a dozen whacks with the tawse across the seat of his trousers, while Bobby relaxes on the bench, thoroughly enjoying the floorshow!
After a dozen strokes have been administered, Coach asks Bobby what Blake did next. And when he learns that Bobby was made to take his trousers off for another dozen on the seat of his pants, Coach orders Blake to do the same thing. Blake is mortified to be subjected to a thrashing in front of the lad that he has just had over his own knee, but Coach leaves him with no choice!
Two dozen whacks in, Coach asks Bobby again what had come next when he was the one getting spanked. "He took my pants off," says Bobby. "Show me what he did!" says Coach - and Bobby jumps at the chance to demonstrate, yanking his team-mate's boxers right down to his ankles.
Coach instructs Blake to remove his shirt also and, now stark naked, assume the position for another dozen whacks with the leather strap, but on his bare bottom. And as if that wasn't enough, to Blake's dismay, he hands the tawse to Bobby to do the honours! And Coach and Bobby proceed to take turns walloping Blake's bare backside, one whack at a time, until he has endured a final dozen strokes.
But that wasn't the end of it for Bobby, and it's not going to be for Blake either! When Coach came in, Bobby was getting a hand spanking over Blake's knee, and so that's the next indignity in store for Blake too!
"One day I will get to the bottom of what happened in this locker room," says Coach as Blake bends over his knee, "but right now the only bottom I am going to get to is yours, young man!"
As Bobby looks on, relishing every smack, Coach administers a stinging spanking to Blake's sore and very red bare bottom. And when Bobby is told to use the phone to take some footage of his own, of Blake getting a spanking over Coach's knee, it serves as an invaluable insurance policy against Blake ever releasing anything that might embarrass Bobby!
Blake has had enough spanking from him, Coach decides.... but maybe not yet quite enough from Bobby! He invites Bobby to take his place on the bench and, ignoring all of his protests, orders Blake to bend over his team-mate's knee. "On you go," says Coach to Bobby. "Give him a good spanking!"
Bobby doesn't have to be told twice, and holds Blake firmly in place while he warms his bare bottom with his hand. When it is over, Coach makes Blake stand in the corner with his hands on his head and admit out loud. to his huge embarrassment, that he has been "a naughty boy".
Before leaving, Coach suggests to the lads that they both delete any and all embarrassing footage from their phones and shake hands, and after a little resistance, they grudgingly concede. Maybe this will be the last we will hear of this sort of misbehaviour in the locker room, but of course knowing the lads at this particular club, we can never be sure!
STREAM
VIDEO
Available streams for iPad, iPhone, Android, Chrome, Safari, IE or Firefox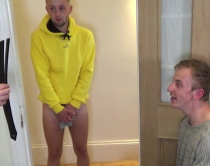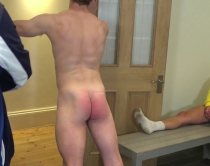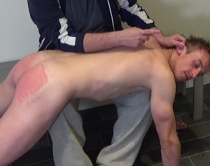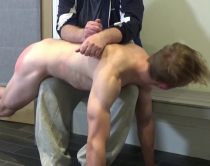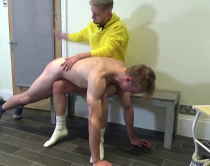 SerenaG3 | 20th December 2019 16:46
Not my usual type of set up to be honest I am not into the models spanking each other it never feels plausible at all and is usually boring... looking at you Zane and Alex movies...
But this was a gem LOL I don't usually come here for a laugh but this was golden. Blake has theee best d*ckhead attitude and Dave as the coach character is so funny I am p*ssing at 'more entertaining than games of thrones'LOL such a day way of going on with pronunciation of popular culture. Coach spanking Blake was hotttt Blake is so sexy in attitude, reactions and looks of course. Bobby was so cute and sweet and did give a good go at the spanking so I liked this. It was fun.
Reply

mstr_spkr | 15th December 2019 16:59
Excellent turnaround. Bobby needs more practice as a spanker and I hope future videos gives him that practice without losing him as the fantastic spankee that he is.

Perhaps a future video of these two? Maybe both like the same girl and have a paddle-off to see who gets to ask her out first. Film unscripted until one actually does give in.

It is great when we see the guys give full 3-stage spankings to each other, pants and shirts off so we can see their bodies reacting to real swats.
Reply

Becca | 14th December 2019 22:27
I think coach should call Blakes father and tell him about his sons bad attitude during his punishment!

Loved this one!


Reply

Bobbyfan | 14th December 2019 00:11
Blake gets my heart racing he's lovely. More Blake please
Reply

LoveGood | 13th December 2019 22:46
Loved it! Just in time for the holidays, two of my favorites. Both are attractive, and it's fun to see Blake endure revenge punishment from the younger smaller model. Looking forward to some more hard spankings if Blake in the future, if we're lucky. And the humorous tone maintained throughout made this a lot of fun to watch. Also Blake seems to relish his role here, possibly a set-up for more punishment to come!
Reply