RELEASED: 15th February 2019
Bobby
First & Last
Locker Room Spanking
This week's brand-new male corporal punishment movie sees yet another handsome new model introduced into the ever expanding Straight Lads Spanked fold. And introduced with a warm hand, you might say!
Members will be familiar with SLS's very own football club and its slightly unconventional approach to matters disciplinary. When keen young footballer Bobby rocks up to join the club, Coach tests him on his grasp of the rules, which as members will not be surprised to learn, are a little on the strict side.
Central to the club's disciplinary regime is what Coach explains to Bobby is known as "the first and last policy". He goes on to make it clear that this policy is designed to give new recruits a taste of the club's approach to discipline, in the hope that it will be the first and last time that they have to sample it.
The first and last policy involves new players going over Coach's knee for a spanking, and is a tradition which Coach claims can be dated back at least 93 years.... presumably back to when Coach himself was a rookie player, although he was uncharacteristically reticent on that detail.
"Some of the other clubs think it's a very strange tradition," he says, as he warms the seat of Bobby's trackie bottoms with a firm and practised hand, although goodness knows why anyone would think such a thing. Coach himself, who is clearly very old-school in such matters, is certainly one to cling onto tried and tested traditions!
"The good news is that you've passed Stage 1," announces Coach eventually. The bad news, at least as Bobby is concerned, is that Stage 2 will require him to take down his trousers and the spanking to continue on his underpants! When Bobby bends over Coach's knee again, Coach remarks that the tight yellow pants hardly cover the lad's bottom, and cause him to wax lyrical on how fashions in underwear have doubtless changed over the 93 years!
Coach's not inconsiderable experience of putting young men over his knee suggests to him that Bobby is the type who will fit right in at the club.... but you can't help but suspect that that isn't much consolation to a lad with a very sore smacked bottom!
At each stage of the "first and last", Coach includes a few harder smacks as a sample of what Bobby might expect to receive if his behaviour either on or off the field might be deemed to warrant a genuine punishment. But by the time Bobby is told to pull his pants down for Stage 3, even the normal smacks on his bare bottom can be seen to be making the lad wince, let alone the harder ones.
Having said that, I can't quite put my finger on it, and I might be wrong, but something tells me that this won't be the last we see of young Bobby. This might have been his first time over Coach's knee, but let's just say I wouldn't be at all surprised if it turns out not to be his last!
STREAM
VIDEO
Available streams for iPad, iPhone, Android, Chrome, Safari, IE or Firefox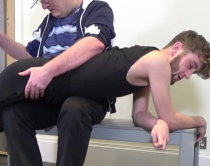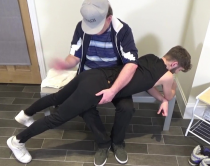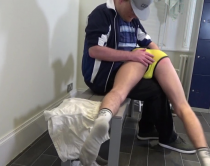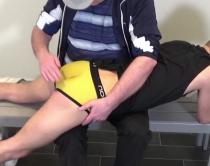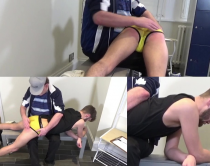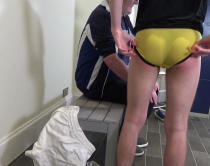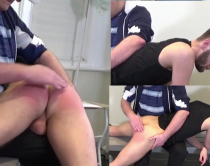 crospankee | 10th September 2020 23:00
Very nice boner during spanking session. Big like
Reply

Bobbyfan | 23rd February 2019 01:10
Ok this vide got me back onto the site after a long absence.
Just the hard on aspect. Nice to watch it rubbing on coach's lap.
If only other models could manage this
Reply

vinniecp | 22nd February 2019 19:50
Great new Model Bobby has a amzing bottom bare and in underwear cant wait to see him visit Mr X I hope
amazing work as always
Reply

philimare | 17th February 2019 19:42
Oh and i forgot to say ... one detail, the position of one leg on the bench and one leg on the floor is amazingly sexy to me. Different from two legs closed and stretched. Legs apart give a different point of view ...
Reply

philimare | 17th February 2019 19:21
I second all comments here. I rated this video 10/10. Yes, Bobby is sweet, totally adorable with an amazing sexy body. Bobby is also super natural, nothing seems too staged here, it makes this movie even better. Like mattnyc, I think that the super tight sweatpants are super sexy. I also agree with Kass44, I too have always thought that "there was a rush through with them in their underwear, going too quickly to the bare backside". More briefs, more corner time would be super cool.
I too prefer the coach to Mr X but still prefer Dad overall, so would love to meet with Bobby's dad :-)
As for the extra physiological reaction, it is amazingly sexy indeed. It is not the center point of SLS videos normally, but can deny that it is a big turn on for me (and most others I guess).
Reply

mattnyc | 17th February 2019 18:57
Bobby is a fantastic new addition to the SLUK ranks. Cute face and accent, nice smooth body, and an adorable, spankable bottom. I love the super tight sweatpants that guys have started wearing. They're the perfect first layer for a spanking video because although they're pants, they reveal all the contours of the guy's butt and thighs and don't offer real protection from the spanking. I also like how obedient and focused Bobby is. I hope to see him in some roleplaying clips since he seems like a perfect naughty boy-type model. Great spanking in this one, Dave. And the fact that he gets hard is kind of a game changer for the site. I don't think it's ever happened before in a clip. At least not in a noticeable way and it's AMAZINGLY sexy. I love when a straight guy gets turned on by the act of spanking and although it's not sexual to be with another guy, the spanking itself is a turn on. That's a big turn on for me. So kudos, Dave for continuing to find new and different models. Art, great work on the editing. Really exciting clip, Dave. More of Bobby please!
Reply

Serena89 | 17th February 2019 00:40
I agree with comments below me- Bobby should be kept innocent and cute hehehe my fav type of model on here :")
I liked this video even tho the situation is a little more bizzare than the father and son or other domestic type videos. I prefer the coach much more to Mr X... just not my thing but I am sure a lot of people love that type of thing :) Anyway... suspesion of belief is needed for most videos but I still like that theres an explanation and a bit of a back story and all that.

As I said I love how calm and respectful Bobby's acting was. Like he's a very good submissive hehehehe like no 'stop' or reaching back... don't get me wrong... I do love that for certain guys and situations but this one just felt right.

Hmmmmmm suggestions for more from Bobby... again something very in character and more minimalist as others have said... but something to warrant a serious punishment too. I guess it could still work if his version of dad is more strict like he can be in some videos so the crime doesn't have to be outlandish and severe.
I would like to see a video where a son is punished for something they did to help or protect someone else... you know maybe hitting someone to defend a girl... taking money to give to a friend to help them out of a serious situation like oweing to a drug dealer or sneaking out at night/coming home late to comfort or help someone going through a hard time.
It'd be up to you how to portray that situation maybe the truth would be revealed in the beginning via a phone call or messages. Bobby could either not tell his father the real reason because he is a loyal friend and just accept the punishment or tell him the reason and the dad won't be too mad but still have to punish him for breaking rules regardless of the situation :)

Bobby is adorable and so sexy btw :")
Well done everyone!

Kass44 | 17th February 2019 18:05 (154 weeks ago)
I personally love Serena89's suggestion about "...punished for something they did to help or protect someone else..." I recall something that happened when I was young and going to Catholic school here in America - 2 guys on the football team were sent to the assistant coach to be paddled for fighting. Nothing new, but the fight all start because one of the guys was a brutal bully and the other guy clocked him one to stop him from bullying this other kid. The teacher that caught them didn't want to hear what started the fight and didn't care either, they were both paddled for fighting. (In my heart I always hoped the Bully got his backside beat by the other guy later on when no one was around to catch him)

Serena89 | 17th February 2019 18:11 (154 weeks ago)
Thank you, Kass :) it's nice to hear my ideas aren't just crazy and sound good in my own fantasy land. Ugh! That story of yours is frustrating but good on the guy for standing up for the bullied kid!
Reply

mstr_spkr | 16th February 2019 03:13
Welcome, Bobby! It's great to have you in the cast.

I agree that Bobby's innocence would be spoiled if he got into the more nefarious activities as some of the other actors. Perhaps caving to peer pressure as Kass44 suggested is a good plot line. However, the innocent-looking ones usually are ringleaders so he can cause some serious mischief, if plot lines go there.

As stated, it could be his physiology or Bobby may enjoy spanking. If he enjoys it, I, for one, would welcome him in more serious punishments like a bath brush beating or bubble bath blues.

Regardless how he fits in, he is a very welcome addition to the crew. Thanks for coming aboard, Bobby. I hope we see more of you (figuratively and literally).
Reply

Kass44 | 16th February 2019 00:50
Completely agree that Bobby is adorable with a cute bottom - but I downloaded film twice and can not figure out what I did wrong but there is a vocal out-of-sink with the first 2 minutes or so. I will try downloading again. I hope any further productions keep Bobby as a sweet boy and he is spanked/paddled for honest mistakes or caving into peer pressure (like trying a cigarette or something) and not the stealing or drug use scenarios the other characters seem to evolved into - I am always amazed and enticed by the array of underpants your actors wear - wish there were more briefs and jockstraps through - and I do wish we could see the actors strutting around more in their underwear before & after their spanking. Always thought there was a rush through with them in their underwear, going too quickly to the bare backside. Hope to see Bobby having to deal with the bath brush and maybe a naughty boy mouth soaping soon! Wonderful film.
Reply

LucienG | 15th February 2019 20:28
Hey, is this first spanking video where the model gets a woody? If it is, bravo! Nice warm up spanking. No compliments to coach as he performed his duties perfunctorily, expertly, and with skill--as I always expect. Bobby is adorable with a cute little bum. The woody only means to me he was certainly comfortable in this setting. This wasn't his first spanking was it? I thoroughly enjoyed his performance. The coaches cold shower remark was funny. Art, your editing as always, was flawless. Thanks guys--this was good one.

Art | 15th February 2019 23:09 (154 weeks ago)
Thanks LucienG :-)
Reply