RELEASED: 17th July 2014
Brother In Charge - Part Five
Oliver & Dan
This movie follows on directly from
Brother In Charge Part Four - Andy & Oliver
In this latest instalment Oliver is furious that Dan spilled the beans (grassed) about the illegal selling!
Oliver, after being spanked by Dan's older brother wants revenge!
Dan receives a bare bottom over the knee spanking in this latest instalment.
STREAM
VIDEO
Available streams for iPad, iPhone, Android, Chrome, Safari, IE or Firefox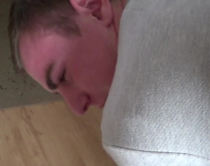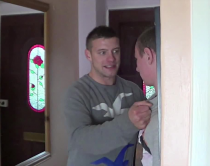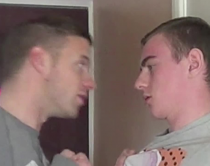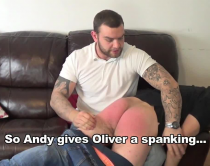 Ficwriterjet | 8th March 2015 06:40
I love this video. I've watched it several times. It's just as much fun to watch Oliver dish out a spanking as it is to see him getting one. In this one I think it's pretty hilarious that Oliver says he hates liars, when he's been known to lie to his 'dad' in several other movies. LOL The scene in the beginning between the two of them was fun. I didn't know that grass was slang in the UK like snitch is in the US, but now I do. I liked Oliver's threat to punch Dan if he didn't tell him the truth, and Dan finally admitting to what he'd done.

The impromptu spanking in the hall with Oliver actually holding Dan up in the air was awesome! I always enjoy a bit of manhandling. I smiled when Dan threatened to tell Andy, and Oliver decided to 'make this worth my while' if Andy was going to find out either way.

My favorite part of this video was when Oliver took Dan into the other room. I think my heart rate might have doubled when Oliver took off his sweatshirt to reveal that tank top, and then put a foot on the couch to haul Dan over one leg. That's just such a perfect visual for me, and causes me all kinds of joy. I love that Dan can just barely touch the floor with his toes. I love that his pants are slung low enough to see his underwear when Oliver's spanking him over his jeans. I love the way Oliver holds a fist full of Dan's shirt to keep him there. Oliver seems to be quite good at dishing out a spanking. I really enjoyed the continued dialogue between them as the spanking went on, with Dan saying repeatedly that he'd tell Andy, and Oliver scoffing at that and claiming not to care in the least. I loved that Oliver was provoked to take down Dan's underwear because Dan clearly said he was still planning on ratting Oliver out about the spanking. LOL Honesty isn't always the best policy in these situations, Dan. Very nice ending with 'Dad' walking in. Oliver's shoulder hunch at the still frame is perfect for someone who just got caught doing something he probably shouldn't.

Thanks very much to everyone involved for the movie. It makes me ridiculously happy.

Jen
Reply

Cherylkay | 3rd January 2015 23:28
I admit I had to watch this one a few times to get the dialogue down. I love it when Oliver is the spanker. He has a no-nonsense style that I really like, Oh and I also like that he uses quaint phrases like "done by the old Bill". I guess that means reported to the cops or something similar? And "grassing", which I already knew what that meant. Sometimes, being a Yank I have a hard time with accents, which is why I sometimes have to watch the movies more than once.

I like the part where Oliver threatens to give Dan a knuckle sandwich for spilling the beans to his brother and saying that he didn't. This one was a bit short though. I would have loved some more dialogue and more spanking. But it's notable because we have two guys that I would never see working together. Very cute.
Reply

Rasputin
|
Voted Video 7/10
| 18th July 2014 00:43 (385 weeks ago)
Part 5 of "Brother in Charge" is so-so. However, I'm REALLY looking forward to Part 6, when Dan gets to take Oliver over his knee for a long, hard spanking. (I like it when good-looking, muscular guys like Oliver are on the receiving end.) And if it turns out that Oliver was the one who got Patrick involved in selling drugs, then Patrick should get to take Oliver over his knee as well - sounds like a possible scenario for Part 7. LOL

uchikimatsu
|
Not voted video yet
| 18th July 2014 10:49 (385 weeks ago)
I will literally PAY SOMEONE ACTUAL MONEY for a transcript of this movie. What the F~€k are those two saying? I did watch it on the TV whereas I normally watch on my iPad with earphones, but all dialog was lost on me, even thru the decent Bose system.

The good part was I hardly cared! It featured my favorite spanking position (other than OTK) which is almost never used! YAY!

Dave - Straight Lads Spanked
|
Not voted video yet
| 18th July 2014 11:08 (385 weeks ago)
In a nutshell Oliver Says "You grassed on me" now this translates as you told Andy about the drugs. To grass means to tell tales. If you do that you are a grass,. Maybe in the US you would be called a sneak?

Anyway, Oliver says you grassed on me, you are a grass
Dan says "no I never I'm not a grass"
Oliver says yes you did
Dan says no I'm not
Oliver says you are a liar and a grass
Dan says no I'm not
Then Dan gets spanked!
Done!

:)

uchikimatsu
|
Not voted video yet
| 18th July 2014 13:00 (385 weeks ago)
Thank you, Dave! "Grass" being slang in the States for marijuana, it could be a little confusing!

Here we would call Dan a rat, snitch, narc, or C.I.

I'm going to refrain from voting until Part 6 is released and then vote on them both because I think they probably work better as whole.

toshiba
|
Voted Video 6/10
| 18th July 2014 14:38 (385 weeks ago)
Poor Dan, I cant wait to see Oliver getting his comeuppance. Lol

welshboy
|
Voted Video 7/10
| 18th July 2014 16:17 (385 weeks ago)
First I think Oliver and Dan worked well together. The story was good, but it was to short, it seemed to get going and then it was over. I do think Oliver is a good spanker and Dan is always a joy to watch. Oliver is a good actor and I would like that side of him grow. I did enjoy it but more spanking.

Dave - Straight Lads Spanked
|
Not voted video yet
| 18th July 2014 16:20 (385 weeks ago)
Don't worry Welshboy, there is a lot more spanking coming your way soon! :)

Lynne
|
Not voted video yet
| 18th July 2014 17:15 (385 weeks ago)
C I meaning criminal or confidential informant....can't use acronyms chiki without spelling them out :) I remember hearing the term grass, or what I thought I heard was gross, used in George's vid; now knowing what it means he must have said grass :). UK or US, where do they come up with these terms? :)

I am going with chiki and welshboy on this one..need to see the next part as a follow-on..this one seemed like an incomplete sentence..so to speak, but, the look on Oliver's face when "dad" comes in was perfect :)

cami
|
Voted Video 6/10
| 19th July 2014 01:10 (385 weeks ago)
It has two of my favorites in the movie, but such a shame that i could not really understand what both of them was talking about. :( .. but for the movie i have to agree with Rasputin it was so-so. The spanking from Oliver was not really getting my attention at all. Sorry to say the best part of the movie was when Dad came in the door... I'm with everyone else i have to see pt 6.. So sorry Oliver & Dan :( ... but still have much love for you... I'm a kind of person you want to know what i think i will tell you the truth :)

NovaDad
|
Voted Video 7/10
| 19th July 2014 15:11 (384 weeks ago)
Not bad. I agree about the sound. The echos/reverberation in that room are great for capturing the right spanking sounds but terrible for speech recognition. Why not try taping conversations in a location that is acoustically less "lively" than either that room or the hallway.

Have a little pity on us Yanks, for whom UK English is a second language. :-))

And for sure, many thanks to handsome Oliver and Dan Lee for what they endure for their art! :-))

-- Don

MistressAlex
|
Not voted video yet
| 21st July 2014 15:40 (384 weeks ago)
Yet another excellent video! Can't wait for part 6.

matt
|
Voted Video 8/10
| 23rd July 2014 15:10 (384 weeks ago)
I love seeing Oliver as the spanker. He's great in both roles but it's sexy to see him take a naughty boy over his knee. And he's a really good actor so he plays the role of the strict disciplinarian really well. Dan is cute, too. Love to see Oliver take Wayne, Adam, or Dom over his knee. Maybe he's a boss or a young step-dad. Thanks to all. This series is really hot.

red1967
|
Voted Video 9/10
| 28th October 2014 14:14 (370 weeks ago)
Good movie well done Dan and Olivier Lol Olivier your mean spanking Dan poor Kid going to watch part 6 thanks Dave