RELEASED: 18th April 2013
Brothers at War!
Andy Lee and his brother Patrick are at work decorating a room. Andy has been up all night with his girlfriend and boasting to Patrick about it! He even has recordings of her on his mobile phone! Patrick wants to look but Andy won't let him!
What happens next involves a lot of spanking, humiliation and revenge!
""""More from Mr X, when I started with Straight Lads Spanked, this is the type of movie I dreamed of making but never thought I would ever find lads that would be capable of pulling it off. Well in my opinion Andy and Patrick excelled themseleves with their acting performance. Their was no written script, just a discussion of the story and then the guys got on with it. I really hope you all enjoy this one"""""
STREAM
VIDEO
Available streams for iPad, iPhone, Android, Chrome, Safari, IE or Firefox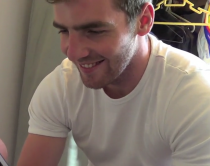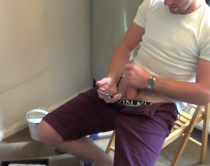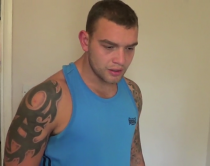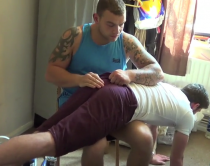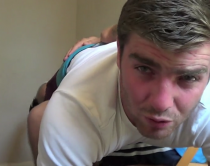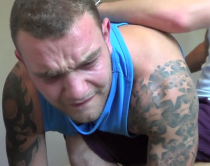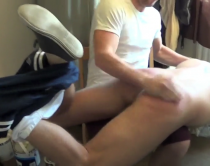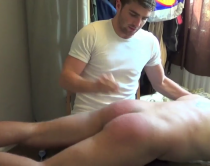 lorilee
|
Voted Video 10/10
| 18th April 16:50
Only one word " FANTASTIC " both Andy and Patrick were great it is very believable because of being true brother and knowing each other tolerance to know when to stop. Would like to see more along these lines.

swespanker
|
Voted Video 10/10
| 19th April 11:58
Ok, this video is GOLD! IMHO, Patrick is the true star here, when I suggested some time earlier that I wanted to see Patrick give Andy a dose of the hairbrush for not picking up their baby brother, it was because I suspected that Patrick fits better in the tough, hard, spanker role then Andy, and IMHO, this video proves it! I would love to see more videos of Patrick spanking Andy or any other big guy. Keep those red bottoms coming Mr X ! =)

cami
|
Voted Video 10/10
| 19th April 15:29
1 of the best movies i have seen in a while.. Awesome job Andy & Patrick i can watch this movie over & over thats how good this movie is.. Loved it :)



cami
|
Voted Video 10/10
| 19th April 15:30
I think Patrick did the hardest spankings :)

Mr X
|
Not voted video yet
| 20th April 01:09
'Fantastic' works for me! I thought that Andy and Patrick were tremendous in this movie. They both gave really believable performances!

Mr X
|
Not voted video yet
| 20th April 01:13
awwww! I know Patrick will be delighted to hear these comments. I thought both lads gave a great performance, Andy was great as usual and we all know he can act well. I think for once it is ok to single out Patrick in this movie. I thought his acting performance was really special. That whole sequence when he knows he has caught out Andy is brilliant and 100% believable. Patrick has slight sinister look on his face when he confronts Andy but at the same time a little smile shows that he knows he has finally got one over on his big brother! Then again the look on Andy's face when he knew he had been caught was priceless too!

Mr X
|
Not voted video yet
| 20th April 01:15
I love it too Cami! I will be passing on all of these comments to the lads. So if anyone else has anything to say about this movie then please feel free to leave a few thoughts! :)

wardcoleman
|
Voted Video 9/10
| 20th April 13:25
I was very impressed with this movie, it a believable story, well made and edited. Also, the spankings are obviously real and rather sexy. However, I was particularly impressed by the performances of both of the naughty Lee brothers which were very realistic. They are both becoming very good actors, and the fact that they are brothers in real life added extra chemistry to the scenario. The change in power dynamic, where Patrick goes from well spanked younger brother to taking Andy in (firm) hand was excellent. Well done to both of them and to both Mr X, and, of course, Art, your movies are getting better all the time.

Viewer23
|
Voted Video 10/10
| 24th April 13:04
Andy and Patrick are just perfect. They could have just relied on their good looks but instead they give faultless performances and it really shows how professional they are and are such a treat for the audience.

badpuppy
|
Not voted video yet
| 27th April 19:23
Can't help but want to kiss poor Andy's red cheeks better lol By far the hottest guy on this site :)

matt
|
Not voted video yet
| 28th April 19:15
This is a great new clip. As the comments indicate, the boys give really strong performances as actors. I'd also add that Patrick's outfit (the shorts, etc) that he gets spanked in is very sexy. Not sure why but he looks great in that white teeshirt and those tight shorts. Sporty, handsome, and sexy. Of course I love seeing him with his shorts down too, wiggling around over Andy's strong knees. Andy is always great and he's better than ever in this one. I love that the spanking is a serious punishment spanking in this video. Sometime with the young guys, the tone is more "friends fooling around", which is fine, but I much prefer the serious spanking scenarios. Great story, sexy chemistry, good acting, and, of course super handsome boys getting spanked OTK.....can't really ask for more.

Rasputin
|
Voted Video 9/10
| 21st September 09:43
For some reason I did not post a comment on this video when it was released. It's great. Andy spanking his muscular, handsome "little brother", and then being forced to take a dose of his own medicine in return, really turned me on.The only reason I didn't give this one a 10 was because Andy's briefs weren't tight & skimpy. Nevertheless, I really enjoyed this one.

I wonder if Peyton & Eli Manning have this private wager.: Whenever the two siblings' teams face off against each other during the football season, the quarterback of the winning team gets to spank his brother, the quarterback of the losing team! What I would pay to see that! ;-)

Maybe you could create a video along those lines, Mr. X! Patrick and Andy could be the captains of two rival intramural rugby teams. The two brothers make a wage just before their respective teams square off. The wager is as follows:

After the rugby match is over, the two teams will meet in a pub that will be closed for a private post-game party. Each member of the winning team, excluding the captain, will give his counterpart on the losing team a long, hard OTK spanking - on his rugby shorts, on his underpants, and on his bare butt. Then the captain of the losing team will be spanked OTK by each and every member of the winning team, culminating in an OTK spanking administered by the captain of the winning team - his brother!

After the marathon OTK spanking is over, the party begins. Since the winning team got to humiliate the losing team, the winning team members have to pay for all of the drinks.

What do you say, Mr. X?