RELEASED: 15th August 2012
Andy & Patrick
Real Life Brothers - Real Spanking!
Andy & Patrick are mischievous brothers! They recently attended their cousin Bridget's wedding and these two irish lads caused havoc! They drunk way too much Guinness and things got out of hand. Fights were fought, fire alarms activated and and Hotels evacuated!
Andy's wife and Patrick's girlfriend were left embarrassed and humiliated.
So the angry spouses got together and decided that their wayward fellas needed to be taught a lesson and booked in a session for the brothers to visit the local community spanker, Mr X!
Andy & Patrick turn up feeling rather sorry for themselves and blaming each other for the upset they caused. They know that if they do not through with this punishment that they will be kicked out by their fed-up partners.
Mr X is not interested in their excuses and decides that a proper spanking is what is needed!
Andy and Patrick were spanked when younger but never in front of each other as grown men! Mr X dishes out a hard spanking, stripping each lad of his jeans and underwear until they are full exposed in front of each other. Humiliating!
The two brothers not only receive a hard hand spanking as Mr X also introduces the slipper. The lads soon start yelping and squirming as the rubber soled slipper makes it's impact on their beefy bottoms!
STREAM
VIDEO
Available streams for iPad, iPhone, Android, Chrome, Safari, IE or Firefox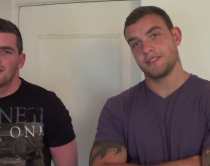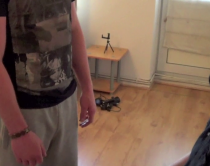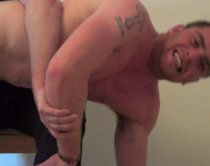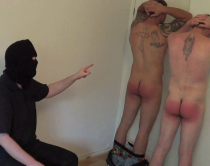 Cherylkay | 8th January 2015 19:00
I think by now everyone on the site knows how much I love sibling scenarios. You can tell that Andy and Patrick are real, actual brothers and not just two guys playing at it (as you sometimes see on other sites). It was seeing Patrick's WTYFGH interview on Youtube that I first learned about Straight Lads Spanked and so I have quite a soft spot for him. His laugh is infectious and he looks quite adorable over Mr. X's knee.

I enjoy coming back and looking at these older films (though I have no idea when this was actually filmed). They do have their charm. Mr. X didn't take any guff off either lad and gave them both what looked to be a very painful lesson.

Domfan | 8th January 2015 21:12 (349 weeks ago)
I love Patrick too. But he seems to have dumped SLS sadly 😪

Cherylkay | 9th January 2015 06:20 (349 weeks ago)
@Domfan, that's the sad thing about the spanking video industry. People shoot for a while and then move on. The best thing to do is enjoy what they gave us. Who knows? Other models have come back after long absences so maybe Patrick will too? Fingers crossed.
Reply

red1967 | 8th January 2015 09:41
My two favorites. I love the look on Patrick face when he gets told he going to spanked and When Andy say he not a 6 year old any more I have watched this a few times Love it. Well done boys
Reply

Aimee1234
|
Voted Video 8/10
| 29th April 2014 19:41 (386 weeks ago)
Love these two. Great video.

kristi
|
Voted Video 8/10
| 22nd August 2014 02:17 (369 weeks ago)
I love these older movies. When I first became a member I didn't comment much, I just loved watching them, but now that I have become more comfortable, I feel better about making comments. I guess ill just have to watch them all over again, so I can comment. I wonder if that sounds like an excuse to watch them all over again, ya think?

uchikimatsu
|
Not voted video yet
| 22nd August 2014 14:28 (369 weeks ago)
Yes, but do you have any actual commentary about the movie, dear? LOL 💋

Andy the wiggler and Patrick the giggler love these guys more and more and i bet that was a true story can totally picture them getting drunk and fighting at a wedding it happens at every good irish wedding at least to any i've been too lolxx Patrick's bottom looks redder than Andy's but i don't think he got as hard a spanking as Andy ?