RELEASED: 4th December 2014
Brothers Spanked
Oliver & Fred
Part Two
This movie follows on directly from Part One.
Mr X has decided that the brothers have not fully learned their lesson, so decides that they will each get 12 swats from the dreaded Carpet Beater!
The lads are made to bend over a chair and accept the swats!
Mr X does not hold back as the Carpet Beater hits the spot!
STREAM
VIDEO
Available streams for iPad, iPhone, Android, Chrome, Safari, IE or Firefox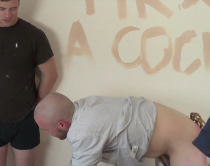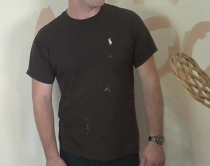 0201008 | 4th September 2018 18:57
Reply

OregonSir | 19th February 2015 17:06
I love it. There is something special about having two (or more) guys getting spanked side by side like this. The one watching his mate taking his has to at some point understand that his turn is next. I haven't seen the carpet beater put to use in such a great way. I'm fairly certain that there is no dust left on either of these lads bottoms. They can try to smirk and make light of it all, it's clear that they pay the price. Well done! I would love to see a dose of the paddle or carpet beater at the end of spanking tough guys like these as standard fair. The shriveling wiener doesn't lie. They are feeling it, each and every swat.

Cherylkay | 20th February 2015 02:23 (276 weeks ago)
@OregonSir, I haven't seen you post before so welcome to SLS :) I also love seeing two guys spanked together, especially when it's real life brothers, as it was here. The brother scenarios are my favorites just because you don't see real brothers on other sites (that I know of). I also love the smirking and laughing, especially if it's caused by nerves or embarrassment.

Again, welcome aboard :-)
Reply

red1967 | 16th December 2014 22:48
I've been looking forward to this not been able to write any comment as been busy at work.Well done Oliver and Fred A hard punishment but well deserved . been spanked infront of each other must of been difficult Well done Fred you took the spanking well but you have to say sorry even if you are been spanked. Oliver well done but you will never learn don't swear when getting spanked take better care of your brother stop getting him into trouble lol Well done Dave and Art good movie

Reply

wardcoleman | 6th December 2014 18:17
There is actually something quite sexy about using different household implements to spank a guy. It seems to add an extra level of humiliation whacking someone with something designed for beating the dust out of a rug!!

Or am I just a bit kinkier than most?

Cherylkay | 6th December 2014 20:08 (286 weeks ago)
@ward, there's something to be said for "pervertibles" (items that weren't made for spanking but get used that way). I'm not a huge fan myself, but I can see the appeal. Mostly, it reminds me of the days when children and teens were often spanked with whatever came to hand-- books, shoes, fly swatters and sections of Hot Wheels race track. I don't think you're more perverted than most for finding this kind of thing enjoyable. I think a lot of others do too.

wardcoleman | 7th December 2014 09:18 (286 weeks ago)
Thanks Cheryl, I must say it would be funny to see a guy spanked with a fly swatter! I am not sure how much it would sting, but it would certainly embarrass the victim! :-)

Cherylkay | 7th December 2014 17:27 (286 weeks ago)
@ward, depending on what it's made out of (plastic vs. wire), if my memory serves me, it stings quite a bit. I actually find a bit of embarrassment very sweet, but I'm not into severe humiliation. I just like both sets of cheeks to be nice and red LOL.
Reply

MJM | 4th December 2014 16:18
I'm so HAPPY!!! I was hoping last night that part 2 would appear, before my subscription ran out, and it has!!!!!!!!!!! It's made my christmas!!!!!!!!! Now I don't mind waiting thirty days to continue downloading, when I re-subscribe, for the Rolling Subscription. Thank You So Much Dave!!!!!!!!!!!!!!!!!!!!!!!!!

MJM | 4th December 2014 16:18 (287 weeks ago)
Wait wait to get home from work, now to watch it! Roll on 5pm!!!

MJM | 4th December 2014 16:19 (287 weeks ago)
*Can't* wait. :)

MJM | 4th December 2014 18:30 (287 weeks ago)
Just downloaded it and watched it. Loved it!

nanarr | 5th December 2014 10:48 (286 weeks ago)
Bye, MJM, hope you can resubscribe soon !

MJM | 5th December 2014 15:02 (286 weeks ago)
Oh, I will.
Reply

Lynne | 5th December 2014 13:17
@NoveDad...there may have been quite a bit of acting in the beginning but I think it turned into much more reacting on those final 6 for Oliver. He got to about three and you can see the change.

Poor Fred doesn't have the same pain threshold that Oliver has but he was equally as cheeky I noticed especially after Mr X asked for an apology. To a one these guy shave no sense of self-preservation.

As said ad infinitum, well done to all :)

@cami...hurry back; you'll be missed. Have a great Christmas and New Year and hopefully things work themselves out soon.
Reply

cami | 4th December 2014 16:44
This has nothing to do with the video, but i would like to thank you all for being so kind to me. though out my time on this site.
Going to miss you all.
i will be back later next year, but at this time i will not have the money to keep it going.
So on that note to everyone have a wonderful holiday & Merry Christmas..
Thank You dave for the wonderful movies & Art you just amazing what you do. & to the Lads ohhh how sexy some of you are i will miss you guys to must..
Take care
Cami

Cherylkay | 4th December 2014 17:17 (287 weeks ago)
Oh Cami...I'll sure miss you! Please, hurry back as soon as you can. I understand about money being a problem. Have a Merry Christmas and a Happy New Year! :::sobs:::

uchikimatsu | 4th December 2014 19:15 (287 weeks ago)
Cami, hurry back to SLSville, girl! Just think, when you get back, there will be a whole slew of movies waiting for you, and you won't have to wait a week between like the rest of us!

Be well, darling, and have a magical holiday!

nanarr | 5th December 2014 10:46 (286 weeks ago)
Cami, we'll miss you. Hope you can hurry back!
Reply

millie | 5th December 2014 09:36
well worth the wait i felt sorry for the boys having to be tough in front of each other like that and i think Fred took the spanking better and you just feel like you need to give Oliver a hug as it looked so sore, Fred you did an awesome job there buddy and Oliver you did deserve one extra for your swearing, well done to both of you and Mr X what a great movie
Reply

Domfan | 5th December 2014 00:23
I love Olly but I'm IN love with Fred and his beautiful eyes
Reply

uchikimatsu | 4th December 2014 23:47
ha ha ha ha ha - Oliver using the "Demented Frog" move first perfected by Jay! LOLZ, I love it!!!!!!
Reply

Cherylkay | 4th December 2014 17:13
Well, this made not only my lunchtime but my first day back to work much, much nicer. I adore brother scenarios and both Fred and Oliver and are so adorable. If my memory serves me, this was Fred's first time getting an implement from Mr. X. His bottom sure looked sore afterwards, poor kid. Those rug beaters hurt like heck!

Sadly, there were no attempts by Oliver to protect Fred from being punished this time, which was one of the things I so loved about Part One. But Part Two is still a very good film. Oliver's pouts melted me a bit and made up for the lack of brotherly affection here in Part Two.
Reply

NovaDad | 4th December 2014 17:04
I'm a fan of Oliver, a fan of the seldom-used carpet-beater, and a longtime fan/member of SLS. However, in this video, it seems to me that both Oliver and Fred do more acting than reacting. =:-((

Reply

Ooleary | 4th December 2014 14:07
Short and to the point - Fred,Oliver, the carpet beater and Mr.X what's not to love about this movie.
Reply