RELEASED: 5th February 2014
Builder In Trouble - Andy
Andy The Builder is back and looking more rugged than ever!
Has he been behaving himself on the building site?
Of Course He Hasn't!
Once again, Andy's boss old Mr Smith has decided that Andy needs to be punished!
Andy has really been naughty this time. He was caught bringing two girls back to a private house he was working in.
Mr X has been through this routine with Andy so many times that he does not waste much time in dragging this muscular man over his knee and spanking his beefy bottom!
Andy thinks he can deal with this but is in for a real shock when Mr X suddenly introduces the wooden paddle! This wooden spanking paddle has got two holes in it which makes the whack on the Andy's bare arse even harder!
His butt gets blistered and Andy is soon screaming out for mercy!
"""More From Producer Dave.......... So let me tell you about this movie. I have been asked many times about the actual filming process for the Straight Lads Spanked movies and decided as a one off to show you all exactly how it happens. So for this movie I actually filmed the entire process from Andy arriving, discussing the movie and then the entire shoot. So in a few days time I will be releasing this completely unedited behind the scenes footage. Andy turned up looking rather rugged with his beard and I thought it was a great time to back to where it all started when I first started creating these movies with Andy as a naughty builder. Also, I normally film with three camera's however in this case the third camera was being used to to film the whole process which just left me two cameras to make the actual movie so I just wanted to keep the set-up simple. Andy Lee was at his best in this movie and took a very hard spanking and paddling"""
(If you are looking for gay man to man spanking videos then you are in the wrong place as Andy Lee is 100% straight)
STREAM
VIDEO
Available streams for iPad, iPhone, Android, Chrome, Safari, IE or Firefox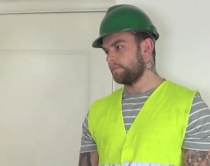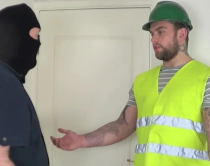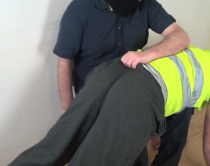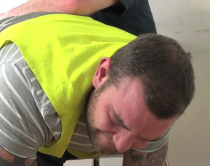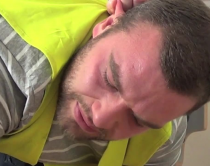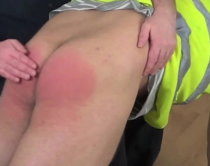 lorilee
|
Voted Video 9/10
| 6th February 21:06
Excellent job Andy it has been awhile but you held your own. Mr. X must have really missed you he really let you have it . You are looking real good and fit.

matt
|
Voted Video 8/10
| 7th February 06:14
Great new clip! It's so good to see Andy back over Mr. X's knee where he belongs. Andy is the sexiest. He's handsome with a sensational body and a perfect, round, bubble butt. He's also a really good actor. He's natural and confining in all his videos and great at improvising lines. I love what a naughty, mischievous boy he is even though he's such a big, manly guy. It's a really sexy combination. And of course I loved seeing him wriggling around over Mr. X's knee getting that beautiful bottom spanked hard. Andy is the best spanker of the models on the sight but he's also super naughty and needs to be spanked as well. Great work, Dave and Andy. And Art, as always, the cutting is great. Thanks to all.

cami
|
Voted Video 10/10
| 7th February 15:17
Tell the truth andy, lol it was worth it if you did not get caught. I loved andy 's attitude & is cockiness in his movies. My poor andy got what was coming to him again. You see andy you did not need Bailey to get you in trouble you did all by yourself. Great movie andy & Mr.X you did not hold back at all. But andy i really don't like beards on guys at all i can't see your baby face. :) But i do have to say the beard looks good on you. But andy don't make a promise you can't keep. I hope you make throw last year without seeing Mr.X cus i don't want to see you brake your promise. :) Job well done Everyone.. :)

r1108
|
Voted Video 9/10
| 8th February 06:10
Even before I saw the vid my first thought while reading the description was that this "Old Mr Smith" has to be the most understanding and reasonable boss on the entire planet :). Andy has an appeal with his funny attitude and then quick descent into the humbled miscreant; on the outside at least :). I did have to laugh at the opening sequence when Mr X hesitated in trying to find the most "gentle" terms to use for Andy's antics; I think it truly hit Andy as funny when Mr X finally came out with "sexual relations." As was already mentioned, Mr X did not hold back at all and Andy once again took one heck of spanking. Those types of paddles are deceiving and the effect of that first swat seemed to genuinely surprise Andy. Cami..there could be any number of ways for Andy not to break his word; the first is that Andy become a hermit and never leave his home :), the second is not appearing as "Andy the Builder" or the third is that this particular vid was shot so late in the year that he would not be doing another shoot anyway :). Great work again to all involved; all of you make a great team :)

Dave - Straight Lads Spanked
|
Not voted video yet
| 8th February 07:39
Thanks for the comments r1108! It's interesting what you say about the 'Sexual Relations' comment... A lot more about that will be revealed when you see the 'making of' movie!

Rasputin
|
Voted Video 8/10
| 8th February 11:05
It was nice to have Andy back before the camera, especially after watched that disappointing video starring George.

Andy, Dave, Art - compliments to all of you.



strand2010
|
Not voted video yet
| 8th February 14:30
I cant seem to download any of the videos, I have tried installing 7-zip, opening with media player etc but i keep getting an "invalid cannot open zip file" message. Any tips?

Dave - Straight Lads Spanked
|
Not voted video yet
| 8th February 14:59
Hi, well if you are getting the message saying cannot open zip file it seems to me that you first need to unzip the file. Most systems do this automatically, however, you may need to right click on the file and then select extract all and that will unzip it...... Oh and I recommend using VLC Media Player to watch your movies. Just google it, it's a free download. You can get loads more tips here http://www.straightladsspanked.com/contact/

tinhead1
|
Not voted video yet
| 12th February 12:26
strand2010 / Dave. Sometimes the extraction/unzipping facility on Windows becomes corrupt. Mine is. There's a great little freeware unzipper called ExtractNow (all one word). If you google this it will extract most kinds of compressed files, including zip.

Dave - Straight Lads Spanked
|
Not voted video yet
| 12th February 12:29
Thanks for the tip! :)


jockbud
|
Not voted video yet
| 23rd February 18:45
This is good!

Dave - Straight Lads Spanked
|
Not voted video yet
| 9th March 05:01
Thanks JockBud, I think it is good too! :)

Chase16059
|
Not voted video yet
| 6th April 20:12
chase16059
Builder in trouble ,
I like to see that making a film such as this that you guys have fun doing so .awesome part your straight . I joined this page because it i a no nonsense type of spanking and paddling . In my High school years in London some 30 years ago . I was fresh from America at an all boys school . We did not have punishment in our american schools here . But The British sure did . I can remember my first couple of years walking around and sitting very easy because of the punishments they would rip upon us as they called us Yankee's and loved to erupt welts upon our bottoms if we did not make the grade or speak proper English. I wish the Internet had been around back then , I would of taken a job getting spanked the pay has to be good , and my bottom was leather already back in those days . I have to say I admire the British male when it comes to spanking ,we Americans the youth of today could not take one good swat from a paddle with out crying I am an american the British made me rouged . They made a man out of me . I enjoy your website , My Girlfriend watches this with me and shakes her head . ask's me , How did you survive those years in Boarding School.I said it just made a man out of me . You guys must have fun making these web videos .Had like I said before If i was a young lad in my late teens early 20s id of made some good money I had a behind that could take a good spanking and laugh through the pain as i would upset my teaching masters and laugh as they welted this Yankee's behind for the 4 years i was schooled in England. enjoy this site