RELEASED: 19th July 2012
The builders are back!
Like you have never seen them before!!!!
Andy & Bailey, long time best friends have fallen out! Andy has taken Bailey's tools and Bailey has been caught sending sms phone messages to Andy's girlfriend!
They ended up brawling at work! The client walked in and found the beefy lads punching each other and as a result cancelled the building contract!
The builders boss, Mr Smith has decided to send them to see Mr X to be punished.........
............Mr X decides that if Andy and Bailey are so keen on hitting each other, they can do it properly! Mr X orders Bailey to spank Andy! Bailey really vents all his anger and frustration and spanks his buddy hard!
This brand new mm spanking movie features Andy and Bailey getting hard over the knee hand spankings from Mr X. The spankings are delivered hard and fast and both lads really struggle to take them...
Bailey never thought that the tables would be turned and that he would then have to submit to going over his best mates knee......
I wanted to go back to the beginning and have the builders back with Mr X. It was a joy to be able to film these guys with my new cameras. Having the added twist of these guys spanking each other was a last minute idea. The spankings were hard and real. We finally get Andy and Bailey spanking each other!
STREAM
VIDEO
Available streams for iPad, iPhone, Android, Chrome, Safari, IE or Firefox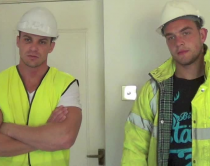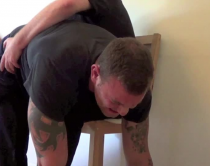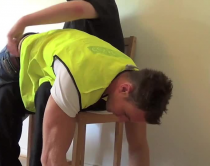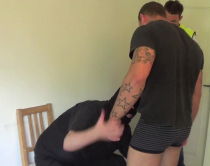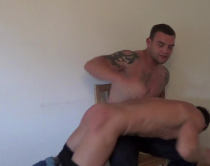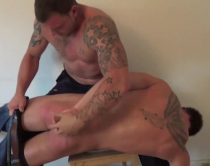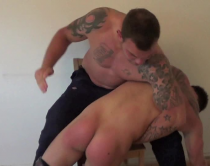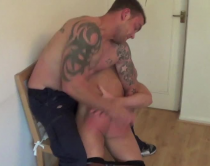 Cherylkay | 8th January 2015 18:07
Scenarios like this, involving real life friends, is part of what first attracted me to Straight Lads Spanked. The fact that Andy and Bailey really are friends and Bailey is sporting a real shiner make this one rather special. The scenario about texting a mate's girlfriend, is a bit shopworn by now, but it's tried and true for getting the guys to spank each other! lol

Both guys play the aggrieved party well (Andy is upset because Bailey has been texting his girl and Bailey is upset because he thinks Andy sold his tools) but Bailey is the standout in this one, in my opinion. He just looks so forlorn and the black eye adds to it. It takes a lot for me to say that, too because, while Bailey is a super fine looking man, he doesn't really do anything else for me beyond that. But in this one, I think he did a very, very nice job. Andy is almost always entertaining in one way or another. But Bailey outshines him just a little in this one.

These older films do have their place and they can be quite good, as this one shows. Dave, you had your hands full in this one LOL. I do like to come back to the older films and watch them. I get a sense of perspective and it's fun to how the SLS of "back then" compares with now. Very, very nicely done to everyone involved.
Reply

red1967 | 8th January 2015 10:18
Wow Andy and Bailey together I love them spanking each other. After Andy spank Bailey I thought it looked like Bailey wanted to punch Andy lol. I have to watch this again. Well done Andy, Bailey and Mr X you did a good Job thank you
Reply

~Erica~
|
Not voted video yet
| 14th January 2013 12:08 (453 weeks ago)
This is one of my very favorites! I tried voting 10/10 on it but somehow only voted a 6 and can't change or revote lol;)

Mr X
|
Not voted video yet
| 14th January 2013 12:50 (453 weeks ago)
Hey Erica! Never fear, Mr X is here! I have cancelled your vote, so please feel free to go again! :)
Mr X

cami
|
Not voted video yet
| 22nd February 2013 00:21 (447 weeks ago)
iI so can't wait to check all these videos out. my hubby gave me money so i can come to this site :) .. cuz he knows i like this kinda stuff. lol. So down loading here i come. lol

Mr X
|
Not voted video yet
| 28th February 2013 16:34 (446 weeks ago)
Your hubby sounds like a special kinda guy! Welcome Cami! I hope you have a lot of fun! :)

cami
|
Not voted video yet
| 4th March 2013 02:31 (446 weeks ago)
Oh he is Mr. X he is... He does not spank me :( But he knows what turns me on. so its good for him. If you know what i mean.. lmao

charlierae
|
Not voted video yet
| 26th May 2014 01:42 (382 weeks ago)
I must say that Bailey is so choice. If I could find a man like that in real time here, Mmmm what I wouldn't do!
I am very impressed with the preview of this video. Unfortunately I am very terrible with technology. :/ I can't find where to get the full video. The worst part is I'm twenty-three! So much for being a cool and hip grandmother one day lol

charlierae
|
Not voted video yet
| 26th May 2014 01:43 (382 weeks ago)
And if I could figure out how to vote, it would be a 10 out of 10!

kristi
|
Voted Video 9/10
| 22nd August 2014 03:02 (369 weeks ago)
I think this one is one of my favorites!! Love Andy and Bailey, they are really hot!! This one is definitely on my "top 10" list!!

Andy and Bailey the DreamTeam love them so much ,never tire of looking at Baileys fine ass. Great job lads .Boy did Bailey look like he wanted to punch Andy after he spanked him so hard so funny .