RELEASED: 15th November 2019
Callum
Caned
The last time members saw young Callum, he was getting a spanking from his dad after stumbling home late at night and waking the household.

Ahh, those happy, carefree days... If only that was the biggest problem facing the family now! At the opening of the latest male corporal punishment movie release from Straight Lads Spanked, Callum is lounging on the couch when Dad comes in and says that he has just had a phone call from the father of Callum's girlfriend.... informing him that she is pregnant!

Callum is shocked; the last thing he needs in his life is a baby. He knows that he can't even look after himself, let alone a child. He tries to calm his furious father, but unfortunately his attitude - that "it's not our worry" - succeeds only in making Dad even more irate!

Despairing of his wayward son's appalling attitude and irresponsibility, Dad scolds him for his lack of feeling. But then he leaves the room and returns with a cane.... He aims to make sure that if this lad of his doesn't feel any sense of duty or responsibility, he will feel something else - a very sore bottom!

Dad offers him a stark choice: he can pack his bags and leave town, as Callum has suggested, or he can stay and sort out this mess with his parents' support.... but that will also mean a good thrashing with the cane!

Callum is sensible enough to opt for the latter, and as instructed, bends over the couch while Dad begins to give him a well-deserved whacking across the seat of his trousers.

"It stings!" complains Callum.... but if he thought that was stinging, it was nothing compared to how his bottom was going to feel after Dad tells him to take down his trousers!

Bent over the sofa again, Callum whimpers as Dad lays on the whippy cane across the seat of his tight blue pants.

And that's not the end of his ordeal yet. Dad tells Callum to pull his pants down, for six more strokes across his bare bottom!

Callum, who has been unable to heed Dad's warnings about swearing as the cane cuts into his rear end, makes the mistake of letting one curse too many slip out... and before he knows what's happening, he finds himself hauled over Dad's knee, now completely naked, for a good spanking on his welted bare bottom, while Dad continues to lecture him on his irresponsibility!

By the time his punishment is over, the lad's buttocks are sore, red and marked with angry stripes from the rattan cane. Dad goes to fetch some cream, and lays Callum back over his lap to rub it gently onto his sore bottom.

Father and son end by agreeing to sit down with the girlfriend's parents at a family conference and discuss what is best for all concerned. Well, most of the parties will be sitting, at any rate...
STREAM
VIDEO
Available streams for iPad, iPhone, Android, Chrome, Safari, IE or Firefox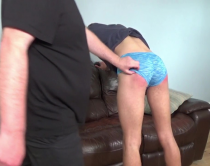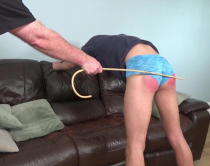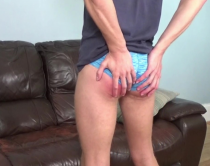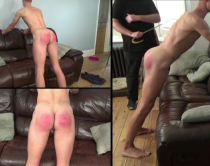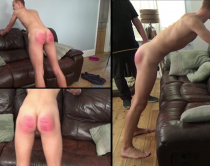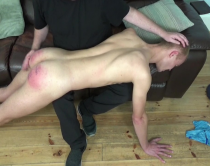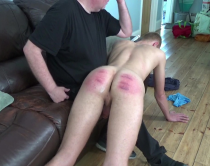 | 7th December 2019 05:09
Utterly ridiculous. Overacted screeching.

| 15th December 2019 13:49 (111 weeks ago)
Reply

CassieAnne17 | 22nd November 2019 17:25
Love Callum! And great job, awesome acting. I also love how Callum has only done father/son scenes!
Reply

LucienG | 17th November 2019 02:40
Not a fan of the cane but love to see Callum. Such a handsome lad with an adorable spankable butt. Thought his acting was top notch. He really seemed into his work. There's got to be something he likes about getting his bare bottom spanked that he enjoys in order for him to participate with so much "enthusiasm." Something besides the extra cash. Thanks Art for your superb editing!
Reply