RELEASED: 12th January 2018
Charlie
Old Fashioned Spanking
Poor Charlie. He just can't seem to keep out of trouble, can he? This time he has been a proper Charlie and taken his dad's car without permission, without insurance and without a licence. All the poor lad wanted to do was take his girlfriend out for a spin.... but he ended up putting the car in a ditch and writing it off!
At the beginning of this week's brand-new male corporal punishment movie from Straight Lads Spanked, Charlie is sitting at home nervously contemplating the bath brush. Looks like he was told to fetch it and wait for Dad!
When Dad appears, having just taken delivery of his wrecked motor off the back of a tow truck, he is clearly furious, and he wastes no time hauling the lad over his knee and spanking the seat of his tight-fitting grey tracksuit bottoms.
"I have one mission in life," he says, "and my mission in life is to give you an extremely sore bottom!" It looks like he's doing a pretty good job of that already with his hand, but when he picks up the bathbrush, it's clear he means business!
When the jogging bottoms come down, Dad continues to turn up the heat on the seat of Charlie's skin-tight white pants with his hand and the bathbrush. And when he eventually pulls down the lad's pants, Charlie's bare bottom and thighs are already glowing like a beacon!
Despite his son's pleas for him to "go gentle", Dad proceeds to thrash him hard, and soon he has a very sore and sorry young man over his knee, promising that he has learned his lesson and will never do it again!
When Dad leaves the room and Charlie is left rubbing his sore rear end, he looks like he means it.... But his many fans may well be hoping that he won't manage to keep out of trouble for very long!
STREAM
VIDEO
Available streams for iPad, iPhone, Android, Chrome, Safari, IE or Firefox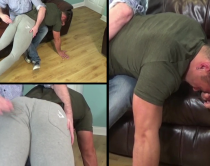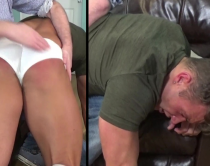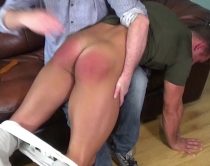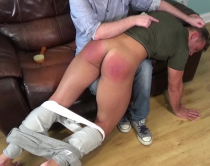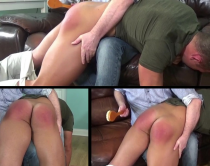 Rasputin | 19th January 2018 00:43
I very rarely give videos a rating of 10 out of 10, but I did for this one. Kudos to Charlie, Dave and Art.
Reply

| 13th January 2018 07:40
I prefer Charlie doing the spanking. He is a great spanker. Wish I could feel his work. 😂
Reply

Rasputin | 13th January 2018 00:41
Wonderful video. Charlie gave a fine performance - lots of squirming, kicking, grunting, grimacing, etc. You could tell that this was a painful spanking. (One could see bruises forming on Charlie's ass at the end of the video.) Charlie looked great in those tight, skimpy briefs that outlined his muscular physique and buttocks. The tight gym pants and T-shirt that Charlie wore also accentuated his beautiful body.

The only thing that I could think of improving this video was that after "Dad" had finished spanking Charlie, he had made Charlie lie face-down over his lap while "Dad" rubbed soothing cream or lotion on his son's ravaged bare bum. "Dad" would lecture his son, tell him that he hated to do this to him but it was for his own good, etc. while he applied the cream.
Reply

| 12th January 2018 21:11
Exelent


| 12th January 2018 21:16 (71 weeks ago)
Reply