RELEASED: 16th February 2018
Clark
Caught Fiddling Expenses
Clark has been driving for the company for around a year and so far has been a good employee.
However he gets summoned to the office for a meeting with the company owner. It seems like Clark has not been very honest when submitting the company expenses!
The boss seems really upset and takes this kind of thing quite personally. Clark knows he has messed up and seems resigned to the fact that he is going to get fired.
However the boss explains that there is another way. That there is a company tradition of dealing with such matters in house. It's a rather old fashioned method and involves Clark getting his bottom spanked and paddled!
This is quite a lot for Clark to take in and he is given some time to consider his options.
Things have been really tough at home financially and Clark is not in a good place. He really needs this job so opts fo the spanking.
Clark, a grown man is summoned over the bosses knee. The boss might be getting on a bit but he still can pack a mean spank! Clark soon finds this out as the bosses hand slaps his bottom. Even from the beginning you can see it's hurting.
Things soon get a lot worse though when Clark is told to remove his trousers! This is really embarrassing! The spanking hurts a lot more over just his underwear! The boss does not show much mercy though and soon Clark is squirming around as his bottom warms up.
It gets a lot worse when Clark is told to remove his underwear! Stripped bare he has to get back over the knee of his determined boss. Determined to teach him a lesson and determined to turn his bottom a deep shade of red!
The punishment is not just s spanking though. Clark has to lean over the desk and get his bare bottom slapped with a thick leather paddle!
You can see how much this hurts as his bottom quivers with each slap!
Clark is left very sore and very sorry indeed!

""More from producer Dave.... Well I think this has to be the longest that I have left it between filming with models. In fact it's been over 4 years since we last saw Clark. Some things have changed. The obvious one is the addition of Clark's beard! He runs his own barber shop and apparently it's all the trend! Clearly Clark is different from my usual 'lads' as he is quite a bit older. He is great to work with though and even better, he lives near my new home and was available to film!
I really like Clark's motivation for filming. It's all about Tattoo's! The last time he made a movie he used his earnings to fund the tattoo on his right arm. Well now he wants one on his left arm. He is a family man now with three young children and he says that the only way he feels justification on spending the money on such a personal item is to do something like this in addition to his regular work as a barber..... I wonder what he will do when he wants another tattoo!

Oh and I wanted to apologise for not fixing the bosses hair better under the hat! You have no idea how I feel when I watch it back and can see how I could have improved things to make a better movie for you. I kinda blame Clark though, I mean it's his job to fix hair!!!""
STREAM
VIDEO
Available streams for iPad, iPhone, Android, Chrome, Safari, IE or Firefox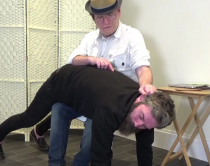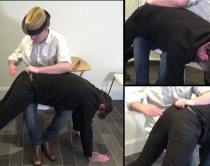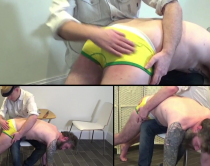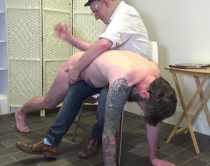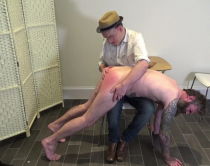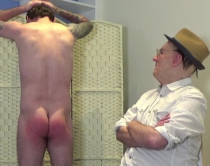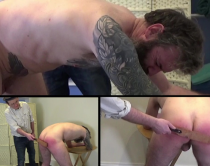 Edmund47 | 10th April 2018 18:22
Hot mature guy, great to se him take a spanking
Reply

MistressAlex | 2nd March 2018 04:13
It's good to see Clark back! I for one like beards and am really liking his new look. I hope he comes back again.
Reply

Rasputin | 24th February 2018 16:53
I can tolerate stubble and small tattoos on a model, but I cannot abide full beards and heavy tattoos. (Andy is the exception to the tattoos rule.) Sorry, Dave, but thumbs down on this one.
Reply

JamieJones | 18th February 2018 23:50
Before I start I just want to say I really, really don't like beards. I can cope with guys having stubble but full beards are a complete turn off for me. Despite this I've watched this movie twice, once before the movie description and Dave's notes were posted and once since. The Boss's hair and that incredible hat were a welcome distraction from the beard and partly what kept me watching through to the end!

While I get Clark isn't going to be everyone's cup of tea and the beard was totally not mine, I still think he did well in this movie, he took a good, hard spanking and he let us know how much it was hurting and how uncomfortable he was finding it all. Isn't this what we want - to know when the punishment is having an effect and the spanking is getting through? I also think having an older model worked well in this storyline but I do agree with Spank102 that Clark might be better suited to a spanker role in future.

I would have liked Clark to have had a bit more to say for himself. His dialogue was limited mainly to 'Yes Sir / No Sir' which was fine given the circumstances but I do feel he accepted his fate a little too soon. He could perhaps have been more apologetic that he had put through receipts from his holiday period in error, there must have been a mistake, he was sure he had other receipts for genuine business expenditure that he should have put through instead, they must have got muddled up etc. etc.

One last thing, the way the Boss re-set the table and chairs while Clark was standing with his hands on his head just made me smile - I don't know why, it just did :-)


Dave - Straight Lads Spanked | 23rd February 2018 19:42 (73 weeks ago)
Hey JamieJones, you know I did discuss with Clark about how he should react to being caught out and whether he should try and lie his way out of it. In the end we both agreed that Clark really is a decent guy. He is not generally dishonest and he made a bad decision because he was on hard times.

When he was found out he was deeply ashamed and embarrassed and wouldn't dream of telling further lies. He was just resigned to being made redundant and thought it was well deserved...

That was the thinking anyway..

To be honest, I'm so used to the lads lying and squirming and being dishonest it was refreshing for me to have a character that just said, "yeah, I did it and I'm sorry"

JamieJones | 23rd February 2018 22:01 (73 weeks ago)
Hi Dave,

Thanks for this - it's great to get an insight into how you and Clark decided to play this one.

I didn't mean to make it sound as if I thought Clark should have lied to his Boss, it was more that it could have been an innocent error. Clark was really short of cash and needed his expenses reimbursed quickly and just handed in the wrong receipts.

While I agree it was good to see someone accepting what they had done was wrong and just taking their punishment, please don't encourage too many of the other lads to do this as the squirming is really nice to watch!

J x

Reply

FraserFan | 23rd February 2018 17:34
I felt a bit bad about being so down on Clark's beard. I watched the video and its great. I loved dad's hat. The spanking was great. But its still no to the beard. Is photoshop advanced enough yet to go back and digitally remove the beard? Or at least tame it a bit? Dave please please have Clark back - BUT insist on him losing that awful beard. Otherwise, the video deserves a much higher mark than it got. It's that terrible unkempt beard that is messing with the ratings. Not dads hat, not dads hair, not Clark being older than any other model, it's just that beard.

Dave - Straight Lads Spanked | 23rd February 2018 19:24 (73 weeks ago)
Hi FraserFan, What kind of beard do you think a haulage driver who is down on his luck and generally struggling actually have?
Reply

spank102 | 18th February 2018 20:34
Hi Dave sorry to say I too could not get past the beard it made him look like an old man the same age of the boss. If he is going to continue doing more movies he is more suited as a Dad, Uncle or Grandad who does the spanking than receiving. Or who he brings his son or nephew to Mr. X to see to it that his son or nephew got what they deserved.

But you were great liked the hat. I gave this movie a 4/10.

Dave - Straight Lads Spanked | 18th February 2018 22:17 (74 weeks ago)
Oh no need to be sorry. We all like different things. Clark is much older than all the other models regardless of his facial hair.
Reply

Orla | 17th February 2018 22:02
Things I liked in this movie,The storyline,the spanking .

Things I didn't like the homeless beard really he shaves his man bush but not his beard ugh.

Things that made me smile seriously Dave that hat was ridiculous 😂😂.

That beard made Clark look well old and I'm not into old guys if you used one of the other models say even Seb or Charlie or one of the older looking young guys but that's just my preference but I'm giving it a 6/10 so not all bad xx
Reply

FraserFan | 17th February 2018 17:14
Sorry, Dave, I know its totally judgemental of me but I saw the guys awful beard and just `no`. I can't get past the beard to even watch the rest of the video. How about an idea, for any model that is hairy, why not include having them shave as part of the video and `their punishment` along the lines of `if you behave like a little boy you are going to shave and look like a little boy` but no to Clark's beard from me.

Dave - Straight Lads Spanked | 17th February 2018 17:53 (74 weeks ago)
Oh no need to apologise. If you don't like beards you don't like beards!

I was more concerned about the bosses hair to be honest!

FraserFan | 17th February 2018 21:34 (74 weeks ago)
I like some stubble an a bit of a beard, but THAT particular beard well it says to me not caring about their appearance, it says sea captain type of beard, it says, two years on a desert island, it makes Clark look old, it hides his face, which come to think of it, he is trying to do, so people don't recognize him from SLS and spanking movies. I wish it had been yes to Clark making more movies and a definite veto on the horrible beard.
Reply

dcdad2 | 17th February 2018 20:37
Agree about the beard. I liked Clark a lot in his first movie and always hoped for a follow up. But could not watch this one all the way through. Oh well. To each his own.
Reply

dcdad2 | 17th February 2018 20:31
Reply

Uchikimatsu | 17th February 2018 07:37
Hipster Clark!
Reply