RELEASED: 25th August 2012
James is a cocky young college lad!
He seems to think it is perfectly fine to skip lessons and hang around with his mates instead!
James is going to learn some new life lessons!
His frustrated Mother decides to send James to see Mr X for a REAL punishment! James arrives with a real bad attitude. Cocky, arrogant and trying act like a tough guy!
James has clearly never been to visit Mr X before.
Mr X can see that he has a challenge on his hands, but it happy to accept that challenge. James soon finds himself in a nightmare situation! Over another mans knee and getting his bottom spanked hard!
Mr X really lays into James and no amount of kicking, yelling or struggling stops Mr X from turning this young straight lads bottom into a deep shade of crimson!
James leaves vowing to stick to his studies!
""......... More from Mr X! Lets all say hello to James! Another new model here at Straight Lads Spanked! James faced a really hard spanking for his first ever video shoot! James had great reactions though to this spanking and a combination of his bottom turing into a bright shade of deep red along with his shouts and yells leaves the viewer in no doubt just how much this really hurt!...""
STREAM
VIDEO
Available streams for iPad, iPhone, Android, Chrome, Safari, IE or Firefox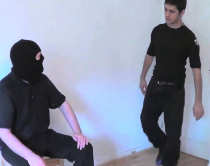 taltos28
|
Voted Video 9/10
| 14th January 11:26
This model was great on attitude. Very realistic. Nevertheless I think he got off lightly and would definitely have benefited from a strapping or caning. I'm sure with his attitude he'll soon need a refresher.

stevex54
|
Voted Video 10/10
| 16th February 08:01
James acted his part extremely well. I looked like a very hot and painful spanking to me, even for a 19 year old guy.
He looked fantastically humiliated when his bare bottom was on display and his purple pants stretched down below at his ankles. The whole production had an amazing feeling of authenticity and the 'message' of pride coming before a fall really came across.

Dave - Straight Lads Spanked
|
Not voted video yet
| 9th March 05:13
That is great feedback Stevex54. Thanks a lot!