RELEASED: 20th April 2018
Dan Lee
Brother In Charge
Part 20
This week's new release from Straight Lads Spanked sees a welcome return to the fold for long-time fans' favourite Dan Lee.
It's been almost four years since Dan has been sighted, and in the studio's latest male spanking movie, it soon becomes clear that the young rascal hasn't spent the intervening period doing charity work. In fact, Dan is in trouble, yet again, after hanging out with John and Marcus, and we all know the mischief that pair have been getting up to.
By all accounts, big brother Andy is furious with Dan, and has sent him to stay with their Uncle Dave while the dust settles. Dave, desperately disappointed in his young nephew, decides that even if the police haven't caught up with him, he shouldn't go unpunished, and that he is going to do what the lad's father would have done if he was around.... give him a very well-deserved spanking!
Ignoring Dan's protests that he is 23 now and too old to be spanked, Dave puts him over his knee and smacks him hard on the seat of his tracksuit bottoms. After some futile resistance, these come down for the spanking to continue on the lad's tight black pants.
"I've learned my lesson," he protests, as Dave's hand applies some heat to his seat. "I'm trying to turn my life around. I've grown up a lot!"
"Well, you say that," replies Dave, "but you're over my knee like a naughty little boy! You don't seem very grown-up right now!"
When the pants join his trousers around his ankles and young Dan starts complaining repeatedly that he has had enough, Dave tells him in no uncertain terms that he'll be the one to say when he has had enough!
The punishment ends with a warning that there will be more where that came from if the wayward young man doesn't shape up. And knowing Uncle Dave as we do, we can be absolutely certain that he's not bluffing!
STREAM
VIDEO
Available streams for iPad, iPhone, Android, Chrome, Safari, IE or Firefox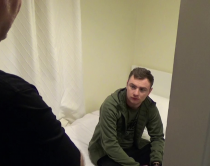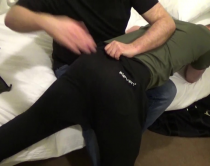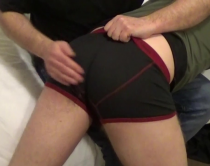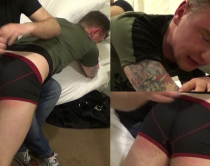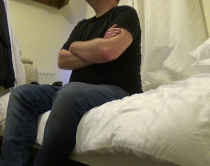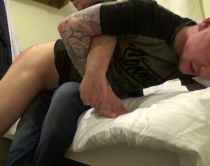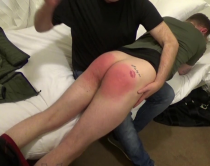 Ficwriterjet | 29th September 2018 17:59
I liked this one. It was nice to see Dan again, and I enjoy the idea of 'Uncle Dave' stepping in to help out Andy from time to time now that their father is gone.
Reply

Uchikimatsu | 23rd April 2018 12:29
A sweet little film! I loved that Dan didn't really offer too much resistance to his Uncle Dave about being disciplined. Of course, they all end up protesting when the spanking really gets underway, but the hallmark of SLSville is that this little bubble of reality exists where spankings are not only legal for parents, teachers, coaches, and work superiors, but quite a common way to deal with naughty wayward lads. It makes sense in that context when a boy does not seem overly surprised or shocked at learning his fate.

Dan seemed to just expect that kind of treatment from his Uncle, but once his seat was properly heated, it was also nice to hear those protests from him. All the boys seem to regress a little when over the knee, and Dan is no exception. His cries of "enough" and promises to behave were very sweet and just right at the right time. Nice work by everyone.
Reply

spank102 | 20th April 2018 19:08
Great to see Dan Lee back great work. It was great to see one of the original cast members of Brother In Charge. I hope there is a interview with Dan coming soon.

Great Work Dave, Dan & Art.
Keep up with the great work.






i
Reply