RELEASED: 28th December 2019
Finn
Facing Dad
Members first encountered Finn a few weeks back, when he got his bottom smacked by the boss for skiving off work and then getting caught telling a bare-faced lie about being at the dentist's!
At the beginning of the latest male spanking video release from Straight Lads Spanked, we find Finn's dad taking a phone call from Mr Stevens, letting him know what has happened at work that day. And when Finn pops his head round the door to say that he is off to the gym, Dad makes it clear that he has a very different workout in store for him!
When Finn is asked about his day at work, at first he tries to lie his way out of it. And even when he is forced to admit that he took the morning off, he tries to suggest that "Mr Stevens was OK with it".
"OK with it?" says Dad. "He put you over his knee and spanked your bare bottom! That's hardly being OK with it!"
Turns out, though, that Finn has not only annoyed Mr Stevens by skiving; he has broken the cardinal rule that once a punishment has been meted out, it is not spoken of again. Finn has been mouthing off about it in the canteen to his mates, and calling the boss a f*****g pussy!
Dad is mortified, and he is now regretting his policy of never having spanked his son before. But it's a policy he is now more than ready to rethink. He whips off his belt, and tells Finn to bend over a stool and stick his bottom out!
Before he starts, Dad gets his message across by asking the lad if he thinks he deserves what is about to happen.... and Finn admits that he does. He knows that he has let everybody down. And, bent over a stool in his tight gym shorts, he is about to pay the penalty.
Dad gives Finn 10 good whacks with his belt across the seat of his shorts, which he must count out. After a little rub, Finn is reminded of what follows stage one of a disciplinary spanking, and is told to remove his shorts and tee-shirt and bend over again, for 10 more across his tight black pants, which again he must count out.
Not for the first time, Finn tries to persuade his dad that he has been punished enough, but Dad doesn't agree, and orders the lad to get his pants down for 10 more whacks on his bare bottom.
When he is bent over the stool completely naked, there is no hiding how red and sore this wayward lad's bottom now is.... but Dad's not satisfied yet. Again and again he lifts the belt high over his head and brings it crashing down across the young man's bare buttocks. Again and again Finn pleads for it to stop, and again and again Dad ignores his protests and continues!
Finn has already been warned about not taking the Lord's name in vain, and so when he lets out an involuntary "God....", Dad shows he wasn't fooling! He sits down on the stool, pulls Finn down over his knee and begins to administer a long and painful hand spanking to the lad's already very sore and red bare bottom! He may not have spanked his son before, but it looks like Dad is determined to make up for lost time now!
Standing in the corner after his ordeal, with his hands on his head and his sore spanked bottom on display, Finn has time to reflect on what has been a long and painful day, and to promise that it won't happen again. As usual with the naughty SLS boys, however, we'll have to wait and see about that, won't we?!
STREAM
VIDEO
Available streams for iPad, iPhone, Android, Chrome, Safari, IE or Firefox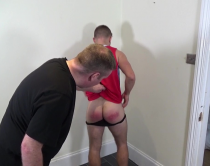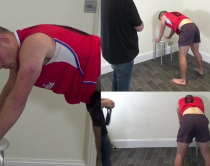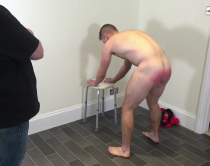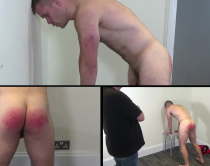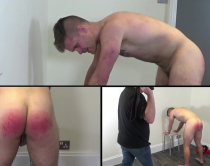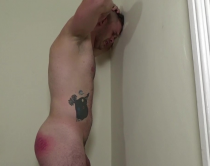 mstr_spkr | 29th December 2019 23:55
More Finn, please!

Juniper9 | 15th July 2021 13:27 (20 weeks ago)
I totally agree. wish you guys would carry on updating. Finn is a real turn on.
Reply

flashgordon | 6th January 2020 14:16
I agree! Finn is an excellent model, and he gave an amazing performance, in what must have been a tough session for him, already sore from his earlier spanking. I hope he will be back - preferably in those same black shorts that fit his backside so nicely.

I would particularly like to see him giving a spanking to another lad - I think he would be very good at it, and I'm not sure that I would like to be the other lad!
Reply

Teacherman123 | 30th December 2019 10:57
No better way to end the year than with this eminently spankable lad getting a hot red bottom! So glad that we didn't have to wait any longer to see him back! The belt isn't my thing, particularly, but thankfully Finn still ended up over Dad's knee getting a good hard hand spanking on his bare bottom, so no complaints from me!

Wishing Dave, Art and all the SLS boys a very Happy New Year! Here's to lots more sore red bottoms in 2020!
Reply