RELEASED: 3rd September 2012
Jay is an arrogant, angry, beefy, straight young footballer. He seems to lash out with his fists without even thinking......
It has happened once to many times and his Football Coach has decided to teach this moody young man an embarrassing and painful lesson!
Jay works out. He is muscular guy and is a hit with the ladies..
He takes his football very seriously though and if things don't go his way he tends to 'fix' the situation with his fists!
Jay has been sent to see the Mr X (the local, community Spanker) to be taught a hard lesson. Mr X grills Jay about his behaviour and then does the inevitable and drags him over his knee!
Mr X goes to town on Jay's incredible beefy. bubble butt! He spanks it hard! Jay tries to keep calm and but all that stops when Mr X orders Jay to remove his shirt and his football shorts!
Jay ends up getting spanked long and hard. Jay is very vocal and squirms and kicks and protests and yells and is pushed beyond anything he ever thought he could take and is left broken and sore!
""".........More from Mr X!
You really have to see this! Jay has the most amazing butt I have ever spanked! He has an incredible beefy bubble butt! Jay took a real hard spanking and he is very vocal as the pain hit in! At 20 mins long Jay endured a lot!"""""
STREAM
VIDEO
Available streams for iPad, iPhone, Android, Chrome, Safari, IE or Firefox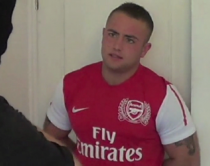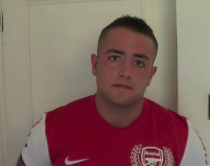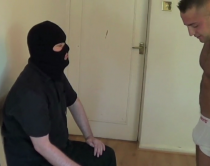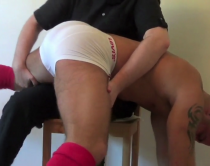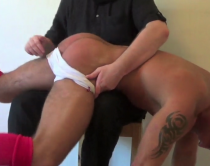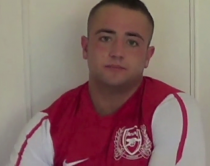 coerver
|
Voted Video 10/10
| 15th January 09:18
Jay is an A+ footballer. He drew me to your website. He's very quiet and moody. Also easily ticked off. But he takes his discipline like a grownup. I'm gay but I think anyone alive would love this guy. HE MAY NOT BE CUTE LOOKING but he is definitely cute acting Love his levis. Love him. He's really a good boy who belongs in a more direct society. No nuances. No subtleties. A REAL HARD ASS WITH A STRONG HEART.

~Erica~
|
Not voted video yet
| 28th January 17:16
Love this video and I have to disagree with the comment above Jay is so cute one of my favs. I also love the attitude :)

cami
|
Not voted video yet
| 26th February 17:01
2 things i love about Jay is his upper body & his ass.. but Jay is not bad looking. but he was not the one who brought me to this site. it was Bailey & Andy . But something about Jay i don't like he keeps looking at the camera. That is a easy turn off for me. But hey he is new you never know he might stop doing that. Maybe Mr. X want's them to do that me don't know. but it's a turn off for me. But i'm only 1 person. lol..


Mr X
|
Not voted video yet
| 28th February 08:15
Hey Cami! I hadn't really noticed Jay doing that before! I certainly keep an eye out for it in future! :)

rm7guy
|
Voted Video 10/10
| 8th September 17:31
If I had to describe my perfect man I would just direct people here. There's some great guys on here; Andy & Patrick, Bailey, Clark, Danny, Sebastian & Harry but right up there at the top is Jay. A wriggler but very realistic reactions. I'd keep his arm held right up his back and REALLY Tan that backside :) Great film brilliantly edited

Ooleary
|
Voted Video 7/10
| 30th August 02:43
Jay deserved that spanking just for being a Gunners fan lol xx