RELEASED: 12th January 2013
Warning!!!!!!!!
This male spanking movie deserves to be watched whilst having no idea what happens next!
My advice to you, if you have not seen this movie and you wish to avoid having the secrets revealed do not click on the "secret will be revealed" link below.
So this is your last chance!
Trust me, if you want to have some fun, don't read any more ans just watch this movie!
STREAM
VIDEO
Available streams for iPad, iPhone, Android, Chrome, Safari, IE or Firefox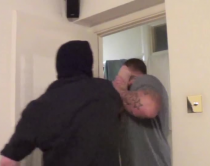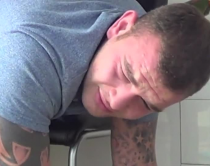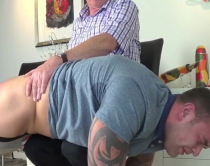 welshboy | 22nd January 2017 07:02
This has to be one of my all time fav's I love Andy in this film the way it all ended, It did blow my mind when I first seen it. Going back and looking at this one again it's still just as great. Thank you to Dave . Andy and Stephen for making s top draw film
Reply

Domfan | 18th November 2014 00:04
Hilarious and sexy at the same time. Gotta love Andy.
Reply

kristi | 17th November 2014 20:03
This one is one of my absolute favorites....Andy's attitude ....makes ya wanna smack him.....right on the ass!!!!
Reply

regina1985
|
Voted Video 8/10
| 14th January 2013 15:32 (463 weeks ago)
This may have been one of your best movie.

Viewer23
|
Voted Video 10/10
| 14th January 2013 19:31 (463 weeks ago)
Mr X turned a clip into a big movie, brilliant acting by Andy and Stephen was very funny swearing at him.

sysyphus
|
Not voted video yet
| 15th January 2013 11:37 (463 weeks ago)
the same, with Baily

Rasputin
|
Voted Video 7/10
| 20th January 2013 19:52 (462 weeks ago)
It's always fun to watch Andy being spanked. If you could had him wear tighter, skimpier briefs and spanked him on the seat of his briefs longer, it would have b een even better.

Mr X
|
Voted Video 10/10
| 26th January 2013 22:41 (461 weeks ago)
Here are some of the comments I have received so far about this movie!

""Wow, just wow. Take my word for it, buy this clip. These guys know how to take it to the next level!""

""I just watched this new video and it is fantastic! The surprise turn of events is fun. But even without the surprise plot, Andy is the best!!!! He's the hottest model in m/m spanking. Not just amazing looking, but a great actor, and totally open to doing almost anything. He's just amazing and I can't wait to see more of him in the future. 
By all means, buy this video. You won't regret it!""

""Very well done Mr. X, Andy was great as always. Would say it was not a disappointment at all it was worth it. ""

""Wow!! Couldn't have predicted that!
Amazed at the effort you put into this one, a brilliant clip (as always!)""

""All I have got to say is O M G , that was a great surprise. About Andy all I can say is WOW.""

""The only way I could possibly convey how terrific this movie is would be to use language that would end me up with an ass as red as Andy's. Oh well! I probably need it. FU***NG HELL!!!!!!!!!!!!!!!!!!!!!!!!""

""Insanely cool spanking video. You guys really go way above and beyond! I won't give away anything, but for those of you who like to see a hunky guy get his ear pulled, this video is NOT to be missed.""

tlaser
|
Voted Video 9/10
| 1st February 2013 21:20 (461 weeks ago)
Mr. X I'm Begging you, PLEASE pull Bailey's ear too.

cami
|
Voted Video 10/10
| 11th March 2013 17:24 (455 weeks ago)
LOL, i just loved Stephen he cracked me up. Your so right Mr. X this movie was so good. Andy got what was coming to him for sure..

Mr X
|
Not voted video yet
| 12th March 2013 22:11 (455 weeks ago)
haha Stephen was brilliant in this! I loved it when he hit poor Andy on the head with the book! Funny stuff! Can you believe what I did to Andy! It was a long way to drag someone by their ear! lol!

cami
|
Voted Video 10/10
| 13th March 2013 07:14 (455 weeks ago)
LOL indeed stephen was. Oh when stephen did that i was cracking up. So glad you slapped andy with your slipper. lol cuz sorry andy but you needed it for sure. It was funny cuz when i was watching it & andy was being cocky with you. I said plz Mr. X just slap the crap out of andy for me plzzzzz. Lol right after i said that you did.. & i said ty :P .... but this is one of my fav movies. but i bet your arm was tired for holding his ear for that long. :)


Mr X
|
Not voted video yet
| 13th March 2013 09:49 (455 weeks ago)
I loved that early sequence when Andrew was being so cheeky and mimicking Mr X! He was soo good at it. I can imagine the audience watching must have been wondering how on earth is this going to get resolved???

cami
|
Voted Video 10/10
| 15th March 2013 00:01 (455 weeks ago)
True, i know i was thinking it. lol



watchdoggy
|
Voted Video 9/10
| 15th August 2013 18:26 (433 weeks ago)
"I loved that early sequence when Andrew was being so cheeky and mimicking Mr X! He was soo good at it. "

He's also great at looking like a sulking 5 year old that knows he's been bad... those are the moments I could just eat him :P
The mimicking scene was priceless indeed, and when I saw the ear dragging scene, I laughed even louder :D

Great movie, instant favourite :)

montmartre
|
Not voted video yet
| 18th July 2014 20:55 (385 weeks ago)
really great movie Mr.X! and the way you drag by ears is incredible and so exciting, bravissimo!

[email protected]
|
Not voted video yet
| 23rd August 2014 21:20 (379 weeks ago)
Jesus but that STEVEN IS A TOTAL HEADCASE love him OMG nearly wet myself when he told Andy he had a Fat Arse lol what was Andy thinking mouthing off and being cheeky to Mr X loved the ear pull too but i bet that was Andy's idea total irish thing to do .

red1967
|
Voted Video 10/10
| 28th October 2014 01:24 (370 weeks ago)
could not stop laugh when Andy was been cheeky Well done Love Andy been dragged through the airport to the plane by his ear lol Well done Mr X Stephen was very Funny swearing and hitting poor Andy with the book and wow you spank hard.. thank you to all