RELEASED: 16th November 2017
Fraser
Old Fashioned Spanking
Fans' favourite, Fraser, has been up to some shenanigans in our latest m/m spanking video. He even made the mistake of involving his younger brother...and now Dad has got wind of it. Fraser is about to find out that he's still not too big or too old to go over Dad's knee for a good spanking!
This brand-new corporal punishment movie from Straight Lads Spanked shows Fraser getting the sort of no-nonsense, old-fashioned spanking that naughty young men have endured since shenanigans were first discovered! Dad wastes no time putting him over his knee and administering a very sound spanking to his misbehaving son, with his firm hand and the dreaded bathbrush.
Fraser is spanked first on his grey shorts, and then on his tight grey underpants. But all his pleading falls on deaf ears; Dad won't be satisfied until those pants come down. Before he knows what's happening, Fraser is naked over Dad's knee, getting the damn good thrashing he deserves on his beefy bare bottom.
In the most severe punishment Fraser has ever suffered - filmed in one continuous session without breaks and with no complicated scenario - it's not long before Dad's bath brush has turned this bad boy's bottom fire-engine red, and tears are running down his cheeks.
In an interview conducted immediately after the spanking, a visibly shaken Fraser reassures members that "no Frasers were harmed during the making of this film"....but when he pulls down his pants to give us a last glimpse of the extent of the damage, his very sore spanked bottom tells an entirely different story!
STREAM
VIDEO
Available streams for iPad, iPhone, Android, Chrome, Safari, IE or Firefox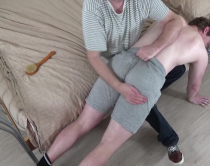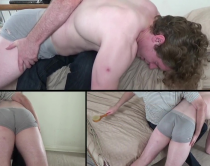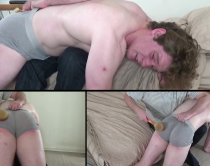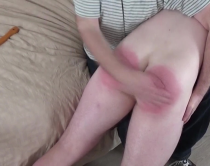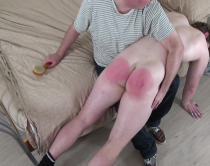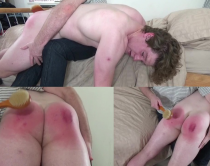 Serena89 | 31st March 2019 22:01
I have just realised this is Fraser's most recent video and it was ages ago ;___; is he gone for good, Dave? Please answer as I am currently not okay at that thought lol
Reply

Orla | 17th November 2017 00:56
WOW Fraser's sweaty muscled body is so damn hot.

What a great movie and well done Fraser that bath brush is brutal.Fraser crying out asking Dad to stop you could hear in his voice that he really did have enough and the tears were genuine ,my favourite part was the hugging it out at the end plus of course the mini interview.

I hope this doesn't mean the end of Fraser cos usually when the lads agree to the bath brush it's their last movie before they move on.


Uchikimatsu | 30th November 2017 22:52 (116 weeks ago)
Ha ha Orla, I was thinking something similar like "please don't put soap in that boys mouth," because as much as I love that as a punishment scenario, when that happens it usually means we say goodbye to that model.

Dave, please don't ever combine the bathbrush with the washing out of the mouth with soap punishment in one film, you'll do that model in for sure. Don't even keep that bathbrush in the same room as soap, as counterintuitive as that seems. Precautions must be taken.
Reply

manlyspank | 30th November 2017 11:42
Why Do you ALWAYS have to mention MUM in so many videos!!! Really kills the arousal in sooo many videos, actually there us WAY to much talking and not enough rapid Spanking in most of these videos!

Dave - Straight Lads Spanked | 30th November 2017 22:11 (116 weeks ago)
Have you actually watched this video? It contains about 13 minutes of nearly non stop spanking!

Also...Don't blame me, it's Dad who mentions Mum....
Reply

Jamesy500 | 27th November 2017 14:59
Great My personal pref is for this intensity of spanking, so loved this
Reply

PMM | 23rd November 2017 22:52
I'd be curious to know if Fraser has any experiences with spanking before coming to Straight Lads Spanked? Ie. Childhood, role play etc. Not sure this has been asked before.
Reply

sumai-Davefan | 22nd November 2017 15:43
I like this movie,Fraser is so lovely ,thank Dave and Fraser for your amazing performance. Very good!
Reply

FraserFan | 20th November 2017 20:13
OOPS, Sorry I hit the submit button too soon.

Dave, I watched the video for the second time. I honestly think to leave aside my username, that you went just too far spanking Fraser. I know you aim for realism, and your videos are superb in that (and so many other respects) but I do think you went too far. Watching the video it wouldn't have mattered which model it was over your knee, I was willing you to stop the spanking long before you actually did stop.
Reply

Rasputin | 19th November 2017 21:59
I have two question for Fraser.

1) How long after your bath-brush spanking did your bottom stop hurting?; and
2) How long did it take for those bruises to go away?


Reply

JamieJones | 19th November 2017 15:17
This is an interesting one as it seems to be trying to merge two different styles, an 'Old Fashioned Spanking' and a 'Bath Brush Beating' in a single movie. So did it work? For me, and I know I'm probably the only one who thinks this and I'm really sorry but, no it didn't. It's not Fraser because he's outstanding in this movie (as he has been in all of his movies) it's just the mix of styles I didn't like.

In an 'Old Fashioned Spanking', while we don't get to know the actual reason for the punishment, Dad normally says just about enough for me to be able to imagine the back story and what the punishment is for. In all of the 'Bath Brush Beating' movies I've watched, the reason for such a severe punishment has been made clear, but in this movie that explanation was missing so I was left feeling Fraser's punishment may somehow have been unduly harsh or unjustified. I'm sure it wasn't, as involving his little brother and having Dad threaten to get the police involved next time suggests a new low even for Fraser who has been a bad lad on so many occasions!

Despite what I've said about the style of this movie, I really like Fraser. He comes across so well both in the movie and the interview afterwards and his ability to take such a hard punishment without once reaching back to stop it was truly incredible. Well done Fraser - you really are a star! Also loved the editing, so thanks Art. And Dave - thanks for taking the risk and trying something new, even though it wasn't my cup of tea, I'm sure loads of other people will really like this style of movie.

Reply

LucienG | 17th November 2017 21:43
I always love to see Fraser get spanked. He has a beautiful, hunky body. But why the bath brush? The wooden spatula would have worked just as well and wouldn't have left that bruise. Still, he's amazing for his ability to take it. The editing was also excellent and the spanking was well delivered.
Reply

Rasputin | 17th November 2017 04:57
A good performance by a handsome, muscular lad. Very good.
Reply