RELEASED: 10th September 2015
Fraser - Take A Cold Shower!
This movie follows on a little later from Fraser - Wait Till Your Father Gets Home!
Fraser has had his phone confiscated by his Father. Naughty Fraser though is really missing having his phone and being able to text and contact his lady friends so decides to steal it back!
Fraser is also missing being able to access adult movies! He is feeling very frustrated and uses his phone to access the internet and watch some filthy entertainment!
Dad walks in just at the wrong moment and is disgusted at what he finds!
It seems that Fraser has a serious issue with the type of material he is watching and this is affecting his relationship with the opposite sex.
His father can see that extra lessons have to be learned!
Fraser is given a very hard over the knee spanking. But that is just a warm-up leading to good, hard whacking from a wooden spatula!
STREAM
VIDEO
Available streams for iPad, iPhone, Android, Chrome, Safari, IE or Firefox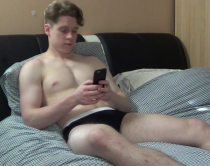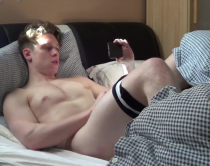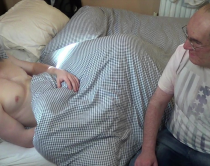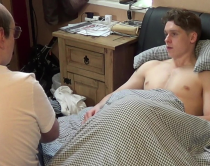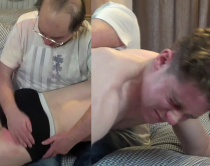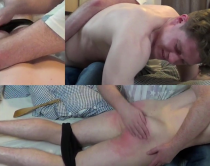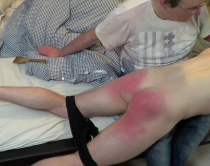 jacko | 23rd February 2017 12:23
Fraser is exceptional! I have not seen any other SLS model who even comes close if all facets are taken into consideration. Even my mate Karl with his outstanding work ethic and eagerness to please falls short except in movies that involve lengthy harsh beatings. And those big, beefy guys (you know the ones to whom I refer) pale into insignificance when compared. Unlike them, Fraser seldom resorts to swearing, takes his thrashings like a man and exercises remarkable self-control.

I still haven't worked out if Fraser's fantastic reactions are indicative of a low pain threshold or are a result of superb acting. Maybe a combination of both. They are so realistic, whatever the reason.

One of Fraser's greatest assets, apart from his mastery of dialogue, (he purrs his words like a kitten), superb characterisation, sleek, attractive masculinity, erogenous bottom and apparent pain tolerance is quite simply his irrepressible blushing. It adds such plausibility to his reactions.

To give an example, please observe his reaction to watching the sexy video on his phone in this movie. His face immediately reddens suggesting that it is indeed an erotic movie that he is viewing. The blushing adds further impact to Fraser's revealing facial expressions.
Another example is Fraser's reaction to pain is when his face flushes as he fights to maintain composure. In fact, as his backside reddens so does his face; indicative of the concentration and effort being applied to cope with the stinging assault on his bottom.

The many comments below clearly reveal the respect and appreciation that viewers genuinely feel for Fraser's talent and particularly his performance in this movie. Rather than reiterate the same highlights I will restrict my comments to a few moments that appealed to me.

The fact that Fraser carried his phone around in his tightfitting undies indicated to me that he didn't wear much else when in his bedroom and considered himself to be a bit of a stud. (Confirmed by his phone calls.) This helped to convince that this "innocent" young lad was really a womaniser with an ego to match his physique. It cleverly created the opportunity for the actions which followed and the initial stages of the spanking.

I was very appreciative of the discrete and tasteful manner in which the masturbation scene was handled. (Unlike Karl's exposure in "Caught Spying on Girls") It is not always necessary to reveal all to create a desired impression. This was done very cleverly. Excellent camera angles and editing Dave and Art. I have already mentioned Fraser's blushing which added the final true-to-life touch.

I really appreciate the way in which Fraser becomes absorbed in his character; thinking, reacting and responding just as his character would. An example of this is the hint of a smile that momentarily shatters his respectful father-son countenance when Dad makes a comment which tickles his fancy. When Dad remarked that there were seven men and one girl in the movie that Fraser had been watching, perhaps Fraser, like me, thought to himself that Dad must have had a good, hard look to have come up with that comment.

With the movie almost halfway through I was beginning to wonder how a spanking could be incorporated. Dad was offering counsel, Fraser was listening respectfully and agreeing in all the right places and it appeared to be heading for a peaceful, uneventful conclusion with the punishment being a ban on the Internet. (Despite the fact that Fraser's phone now has no access to the Internet.) But then Fraser made this fateful comment:
"Dad, if you're quite finished" ……..sounded like "talking about playing with yourself"…… "I'd like to have some dinner now."
Silly boy!

I particularly like vocalising during a spanking but not the continuous "arrgh" that Dom used to utter on every stroke. It needs to be varied and random, building as the spanking really starts to hurt and with appropriate facial expressions as accompaniment. Fraser does this perfectly and of course his blushing makes a useful contribution as well. I like the way he opens his mouth really wide when expressing pain.

The camera angles during the bare-bottom spanking were fantastic and the split screens created further impact. Well done, Dave and Art. I am sure that direction played a big part in the success of this film and of course, Fraser's skilful interpretation of that direction.

This was a very harsh spanking. A pity that it was not followed by an interview because there are a lot of questions I would like to have answered. What a brave lad Fraser is!

Another brilliant performance! Another brilliant film! I don't like to admit to enjoying the sight of Fraser's bum being pulverised but the truth is that once again I was too fascinated to stop. I hope you were paid really well for this effort, Fraser.


Reply

Rasputin | 19th September 2015 02:13
Dave, I'd like to upgrade my rating for this video. My initial rating was 8 out of 10. After watching it again, I'd like to rate it higher. Can you cancel my earlier vote so that I can vote again?

Dave - Straight Lads Spanked | 19th September 2015 08:47 (301 weeks ago)
Sure, done that for you. 😄
Reply

Rasputin | 18th September 2015 13:40
Fraser's groans and facial expressions of agony, and his squirming and kicking while being spanked over his father's lap, combined with his red buttocks and upper thighs, made this a very good video. Add to that Fraser's handsome appearance, his muscular physique, and his firm, round buttocks encased in tight skimpy briefs, and you have an excellent video.
Reply

Bilbuster | 16th September 2015 05:35
I have to second Mattnyc's comments about Fraser: so handsome, such a beautiful butt, and that gorgeous curly hair.... Not, in my estimation, the best actor to come along, but just having him draped naked across Dad's lap leaves me breathless. And his willingness as a model is one of his greatest features. He isn't shy about exposing his genitals, and in this new vid, to let us watch him (somewhat coyly) jerking off.... Perhaps some day he'll lower that leg and let us see him in the kind of aroused state that some other models have shown. Getting naked for his fans and letting them enjoy his beauty is obviously something that is fine with him. But.... even if that never happens, watching that near alabaster ass get redder and redder, as he squirms and kicks a bit, his hair flopping down his forehead -- knowing that he is hurting even more as Dad really gives it to him with that spatula, well -- that's about all I can handle at the present time. Fraser, you are special. How about a shower vid with him really soaping up that gorgeous butt? And then getting the cane??

Reply

mattnyc | 14th September 2015 23:52
Fraser is the sexiest. So handsome, such a good actor, and such a beautiful body. He really has one of the best butts of any model who's ever been on the site. Great scenario, Dave. I loved seeing Fraser in those tight black briefs and I loved seeing him take them down to amuse himself. Of course I preferred seeing you take them down to spank that amazing bottom! Great work all around, nice work on the texting, Art, and congrats Dave and Fraser. Love this one and look forward to seeing lots more Fraser in the future.
Reply

Ficwriterjet | 14th September 2015 15:12
I loved this one. It was wonderful. :) I had to laugh at the responses the women gave Fraser when he was texting them. LOL Loved the set up of Fraser being grounded and then stealing back his phone from his Dad's room. :) Dave you did a wonderful job of being the concerned Dad who took the time to talk to Fraser about what he was doing and why that behavior was worrisome. I have to admit I was a little surprised when Dad called out to his wife to bring him the spatula. Poor Fraser - how humiliating for him to have his mom bring the implement - but how awesome for us viewers. :) Fraser sure can take a lot of spanking without trying to reach back or move his body away from it. It's impressive.

Excellent movie. Thanks to everyone for making it.
Reply

wardcoleman | 13th September 2015 13:26
You should be really proud of this one Dave, it is a very hot and sexy movie, with great work from you, Art and, of course, that sore bottomed boy Fraser.

I have just posted a set of screen shots from it over at JockSpank - Here is the link if anyone wants to visit and tell the JockSpank readers what you think of the movie:
http://jockspank.blogspot.co.uk/2015/09/fraser-take-cold-shower.html
Reply

Cherylkay | 12th September 2015 05:24
This one was absolutely special for a number of reasons. Even though Dad is disgusted with Fraser's behavior, he sits down and attempts to talk to him about his attitude towards sex and women. I especially loved it when Dad tried to get Fraser to understand that he shouldn't expect "real" women to look like the women in the videos. Kudos to you for this, Dave! A lot of young men (and young women to boot!) have unrealistic expectations of what the men or women they date should look like based almost solely on watching television, never mind the fantasy girls they see in porn. So I think you're to be commended for tackling such a sensitive issue. Fraser was also awesome in this one, as always. I thoroughly enjoyed his reactions, including the leg kicking. I have often said that a guy doesn't have to jump around the room to let us know that the spanking is hurting. Fraser sure was a trooper! That wooden spatula doesn't look that wicked but it must really sting. I love how red his bottom gets. That was some spanking!

And yes, Art, I loved the text messages showing up onscreen! That was really cool and I always get a kick out of that every time it's used.
Reply

Dave - Straight Lads Spanked | 11th September 2015 17:11
Oh and I just wanted to give a big shout out to Art and his input with regards to the "text messages" at the beginning of the movie. Not only for the great way it was presented on screen but for the actual content of the messages.

Brilliant Stuff!

Ooleary | 12th September 2015 01:01 (302 weeks ago)
Yes i must agree the first thing that came into my head was that Lou Bega song Mamba No.5 with all the girls names in it,that whole txt sequence was perfect and glad the girls turned down Fraser's request for slutty pics....dirty boy.
Reply

Aimee | 11th September 2015 21:59
Hahahahahahaha!!

Ok I am gona let everyone else do the nitty gritty comments on the content, storyline etc and once again just use my own comment to draw attention to the fab improv that "dad" is throwing out at the moment. I was again laughing out loud at the lines like "eugh...that is just not normal." Hilarious and I have been really enjoying that comical addition to the recent movies. Please keep that up it is fab!!

As usual go Fraser and go Dave. 👍
Reply

Dave - Straight Lads Spanked | 11th September 2015 14:38
Thanks for the lovely comments! Please keep them coming! I really do appreciate them and enjoy reading what you all think of my efforts.
I am surprised that nobody has yet mentioned that special appearance (kind of) of a very special person for the first time in these movies! :)

uchikimatsu | 11th September 2015 15:13 (302 weeks ago)
I was getting there, but time constraints...and I really really really wanted to touch on the issue below first...

But when dad called out that they were "all waiting" on Frasier I nearly died. It meant the whole family, however many that might be, would be aware and hear what was going on behind the door...I LOVE THAT TYPE OF HUMILIATION!

Then, when that certain someone made a "virtual" cameo, it was almost too much! I giggled and squealed! And then...I had to pause it and won't be able to finish until later tonight....ARGH!

Ooleary | 11th September 2015 16:00 (302 weeks ago)
Do you mean 'Mom',handing poor Fraser the weapon that would destroy his ass xx

Dave - Straight Lads Spanked | 11th September 2015 17:09 (302 weeks ago)
I thought you would appreciate that Chiki and yes, I did mean Mum Orla! :)

wardcoleman | 11th September 2015 18:12 (302 weeks ago)
I certainly appreciated it!! A lovely extra sting of humiliation for young Fraser!
Reply

uchikimatsu | 11th September 2015 13:49
I've only been able to watch about half the movie so far, but I wanted to make a quick comment that deserves much more attention than I'm able to give it just now. Hopefully I'll be able to visit this issue, and this movie comment, again soon.

I'd like to give a heartfelt standing applause to Dave for addressing the very important issue of sometimes unrealistic expectations that boys develop for women and relationships after watching a lot of those movies. And on the same side of the coin it affects the expectations women have of themselves after being exposed and bombarded by all the media portraying models, that are already beautiful, that have been airbrushed into ridiculousness, and whose hair took six professional hairdressers seven hours to look like that. With a wind machine. Plus digital manipulation.

:::slow clap:::
Reply

Rasputin | 11th September 2015 03:09
Very good video, Dave. Fraser is not quite in the league of Bailey, Andy and Jay, but he is an attractive, athletic young man, his butt looked very fetching in those black briefs, and he reacted in a demonstrative manner to his spanking. I was frankly surprised that you were able to get his buttocks and upper thighs so red with just your bare hand and that little wooden spatula. Art's split-screen effects were a nice touch. A job well-done by all.

"Dad" threatened his son with a bath brush spanking if he ever did this again. In light of Fraser's very good performance when subjected to a hand-spanking and a spatula, I'd love to see how he would react to the bath brush.
Reply

Ooleary | 11th September 2015 00:35
I just want to say well done Fraser you're one tough nut ,that was a serious beating ,the little wooden spatula looks harmless enough but looks can be deceiving Wow that is one very red bottom xx.

I loved Dad in this :awkwardly trying to explain why his behaviour was disgusting and Fraser giggling , that's just like in real life with any father/son embarrassing!!!

The spanking was intense right from the first spank Dad meant business .Loved Fraser's reactions, kicking legs , grabbing the duvet , his little grunts.That spatula was pretty bad I'm not sure he could take many spanks from the bath brush if he ever misbehaved again.

Loved the scene at the end when dad was done spanking and he was telling Fraser why he does it and so cute when Fraser told Dad 'I'll be good for you Dad'.

I too am so glad Fraser came back and hope he comes back again , once he's recovered of course,he's 3rd on my list from the new boys ,it's Kevin then Chris and then Fraser.
Reply

wardcoleman | 10th September 2015 23:40
Welcome back Fraser Certainly my favourite of the current Straight Lads. Great movie
Reply

Ooleary | 10th September 2015 23:36
Aimee this is your suggestion ☺☺
Reply