RELEASED: 21st April 2017
Fred
Old Fashioned Spanking
Stealing is not a crime any young man should be proud of. However stealing from your own Mother is simply shameful! Fred has been caught red handed and Dad is furious.
Sometimes there is simply nothing left to be said. In this situation, Dad is going to let his actions speak louder than words as he dishes out an old fashioned spanking.
Fred is ordered over Dad's knee and he reluctantly spreads himself into position with his bottom in prime position to get properly spanked. Dad starts the punishment over Fred's trousers. The spanking is steady and continuous. There is no break. In fact Fred hardly is given a moment to remove his jeans before the spanking continuous over his tight underwear. Wriggling around you can see how painful this is for Fred. Eventually the spanking continuous on Fred's bare bottom, Fred ends up with a bright red bottom that matches his face! Ouch!
""More from Producer Dave. It was such a delight and surprise when Fred came back to film. I certainly wasn't expecting that. There was not a lot of time available so I decided that an Old Fashioned Spanking Movie would be best. So what happened was that the spanking you see on film, is exactly what happened in real life. No stopping, no breaks. Just one long spanking, So you really do get to see very real reactions to a very real spanking, Make sure you watch through to the end of the movie where you will see a bonus interview with Fred shot before and after the spanking""
STREAM
VIDEO
Available streams for iPad, iPhone, Android, Chrome, Safari, IE or Firefox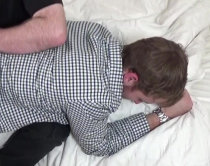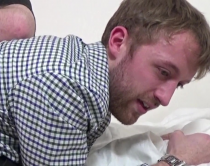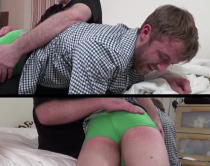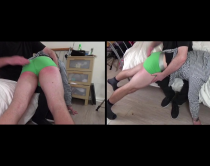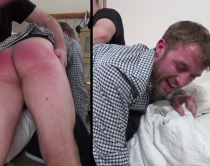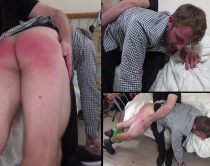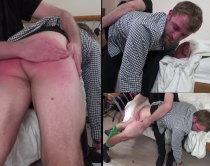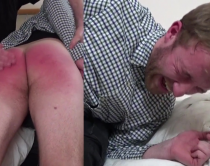 mattnyc | 22nd April 2017 18:44
It's great to see Fred back. I agree with the other members, he looks fantastic with his hair longer. He's looking really cute in general. And as always, his personality is part of what makes him so sexy. Really hot spanking scene, Dave. And thanks for asking if Fred might be back. I'll post in the suggestion blog about something for him to shoot in the future. Fingers crossed. Thanks, Dave, Fred, and Art. Excellent work all around.
Reply

MistressAlex | 22nd April 2017 06:16
I have not watched this yet either but I have to say that this made my night. So happy to see Fred back! Can't wait to watch this tomorrow!
Reply

Kass44 | 21st April 2017 23:48
wonderful to see Fred again - did he mention to you how Oliver is doing - Oliver was the actor that made me fall in love with your website - I hope he is happy and well.
Reply

Rasputin | 21st April 2017 13:08
I haven't watched this video yet, but I want to say that Fred looks much better with his hair grown out.
Reply

Orla | 21st April 2017 08:24
What a great surprise to wake up to on a Friday, Welcome Home Fred 😆❤👍💋
Reply