RELEASED: 23rd June 2012
Part One
20 year old Billy has been caught spraying graffiti all over the estate where he lives. Hi mother has been threatened with eviction because of her delinquent sons behaviour. She feels that she has no option but to send Billy to visit Mr X the local spanker! Billy turns up in his tracksuit acting all cocky. He has no idea what is going to happen to him!
After a rather arduous telling off, young Billy finds himself getting dragged over Mr X's knee. Billy gets spanked long and hard on his jogging pants, then his boxers and finally his bare bottom!
More from Mr X! Hey! This was my first ever scene with Billy and it was his first time being spanked by anyone ever! A young straight lad, getting his first ever spanking!
Part Two
Billy has been at it again! Spraying Graffiti around the estate! This cheeky young hooligan is out of control and his Mother feels she has no choice but to send him back to Mr X to get sorted out!
Mr X never takes repeat offences lightly!!!
Billy was expecting another over the knee spanking, which he got... He was not expecting Mr X to then lay into him with his leather paddle. Made to lean over the chair Billy is given 12 hard slaps across his already scarlet bottom from the hard leather paddle...I don't think Billy will be spraying Graffiti any time soon!
STREAM
VIDEO
Available streams for iPad, iPhone, Android, Chrome, Safari, IE or Firefox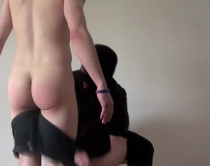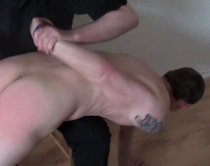 Mr X
|
Not voted video yet
| 29th March 10:38
Hi There! What I can tell you is that there is really two clips. Part One and Part Two. Yes the movies are similar. Part Two is a harder spanking and the leather strap is introduced.

The third movie is the complete version with both parts together.

I hope that helps?

banjoderringer
|
Not voted video yet
| 2nd June 19:50
Whenever I try to download this movie I get a message that says, "Sorry! File has not been linked for download yet." Is there something that can be done to fix this?

Dave - Straight Lads Spanked
|
Not voted video yet
| 3rd June 15:17
Hi There! Apologies about that... Great news is that it is all fixed now. I really appreciate you making me aware of this. Enjoy! :)