RELEASED: 21st July 2017
Greg
Bubble Bath Blues
Greg has a very kind and considerate Father. Dad, knows it is an important day in College for Greg. In fact it's his mock exams. Dad makes sure Greg is up. He even runs a bath for him. Greg gets out of bed and really enjoys soaking himself in the warm soapy suds.
Rather than going to college. Lazy Greg decides to go back to bed. Unluckily for Greg his Dad comes back home!
Oops!
Greg has been warned before and about punishment and this time Dad means business. Armed with his slipper, Dad orders Greg over his knee and proceeds to spank the 18 year old lads bottom! Greg is only wearing some tight briefs and squirms around as the spanks hit their target. The slipper also gets used to great effect and Greg ends up with a very sore, red bottom!
STREAM
VIDEO
Available streams for iPad, iPhone, Android, Chrome, Safari, IE or Firefox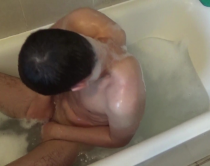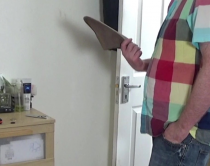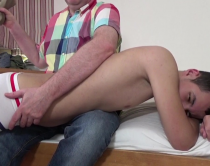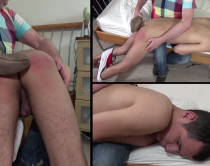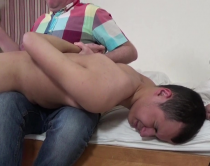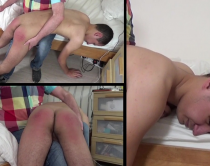 NovaDad | 7th August 2017 17:32
I agree. Greg is great in this video. And so is his appropriate and eye-catching underpants!
Reply

Orla | 23rd July 2017 10:42
I am loving Greg right now what a great new actor xx More Greg for sure xx

Greg is cheeky,funny and damn cute what's not to love😉 Dad is great as always and judging from the red bottom he didn't go easy on his lazy boy.I love the yes/no questioning , and Greg asking Dad 'what's that in your hand'pointing to the slipper.Love Greg telling Dad it was stinging and his grumbling and always love when the boys reach back to give their sore bottoms a rub.

Next time we see Greg maybe he fails his mock exams and doesn't seem bothered and wants to go out celebrating with his friends anyway #timeforDadsbelt.

Slipper Boy | 28th July 2017 07:28 (72 weeks ago)
Or get caught cheating his mock Exams and dad used a paddle or belt on Greg

Uchikimatsu | 28th July 2017 19:15 (72 weeks ago)
I like this idea! Greg is a lazy boy and cheating is what lazy boys do instead of study! Dad would be so disappointed...

while my imagination is running away with me...
What would happen if Dad hired a stern tutor, maybe a little older than Greg, to help with his scores? What if that tutor had the same exacting standards as Dad does when it comes to laziness and lying? I doubt he would stand for any foolish nonsense from the likes of someone like Greg. What would happen???
Reply

mstr_spkr | 22nd July 2017 14:34
Excellent video. Greg, fantastic job. Very realistic, even more than the first one. You're really coming around to being one of the best models. Dave and Art, excellent as always. Good level of conversation. Dad probably needs to let Greg pay for some of his own schooling to see what the real world is like but then maybe he would not slack off as much and give dad as many opportunities to spank him. I, for one, hope Greg has not really learned his lesson and hope to see more soon.
Reply

Slipper Boy | 22nd July 2017 07:03
Very good movie and Greg is a natural his interplay between him a nd dad was brilliant and dad seems was ruthless in in dealing with his naughty son Dave more from Greg
Reply