RELEASED: 26th April 2018
Jacob
Enough Is Enough
Week Two
When we were first introduced to Jacob, he ended up over his dad's knee, getting a well-deserved spanking and promising to be a good boy in future. Well, we didn't believe that for a minute, did we?
Dad had warned him that he was going to be conducting weekly performance reviews, including further punishments.... and as we know, Dad always keeps his promises!
In the latest male spanking video from Straight Lads Spanked, it soon becomes clear that Jacob hasn't learned a thing. He still hasn't paid his rent; he's still treating the house like a hotel; he's not doing his chores, and he is still disrespecting his dad. When challenged by Dad on his behaviour, the lad even has the cheek to claim that he shouldn't even have to pay rent, and proves yet again that the smacked bottom he got the week before hasn't improved his sense of responsibility one little bit!
When Dad goes off to the kitchen to fetch a wooden spatula, it becomes clear that, as promised, he is going to be upping the ante as far as disciplining this wayward youth is concerned!
He puts Jacob over his knee and warms the seat of his tight jeans with his hand and the wooden spoon. Eventually he stands him up again to take down his jeans and continue the spanking on the lad's white pants. The wooden spoon soon imparts a rosy glow to his lower cheeks that stands in marked contrast to his underpants, and has Jacob promising to be on his best behaviour in the week ahead.
When Dad ignores all protests and pulls the lad's pants down, he complains that his bottom is already stinging.... and for once we can believe him! "Good," says Dad. "But it's going to be stinging a lot more!"
Once again, Dad is as good as his word. He will be the one to say when the lad has had enough!
Dad puts Jacob over the end of the couch to administer a dozen final hard smacks with the spatula, which Jacob has to count out. By the time it is over, he has a very sore red bottom, and he promises to get his act together and do better, if only to avoid Dad taking his belt to him next time. But then.... he's promised that before, hasn't he? Watch this space!
STREAM
VIDEO
Available streams for iPad, iPhone, Android, Chrome, Safari, IE or Firefox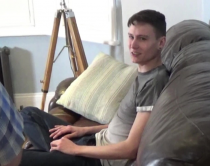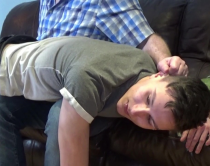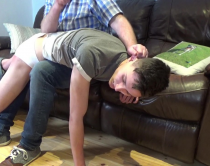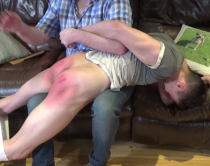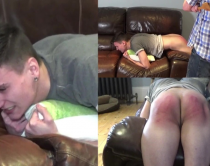 Serena89 | 13th February 2019 06:11
I am just wondering will Jacob ever be back? I loved that his best friend is Jason. They'd be adorable together.

philimare | 17th March 2019 12:02 (49 weeks ago)
I totally agree ! I would love so much to see Jacob coming back !
Reply

JamieJones | 28th April 2018 10:12
Poor Jacob, he bruises easily doesn't he? I hope this doesn't put him off filming again. I don't think this was filmed non-stop as he seemed to be struggling right from the start so I'm sure he needed to take at least a couple of breaks to try and recover.

I thought Dad was really mean at the end when he laughed at Jacob when he said 'Just don't spank me anymore today.' You could tell it was Jacob the model who had had enough and not just Jacob the son. Mean Dad, mean Dave! :-(

Love this movie. Love the way Jacob argued at the start and love that he was still being a bit of a stroppy brat at the end despite having just been spanked hard. As Orla says the interaction between Dad and Jacob was great. The way each of them sighs really deeply made me smile as it is almost like a shared family characteristic or habit. I'm looking forward to seeing lots more from Jacob especially with Dad.

Also I'm very, very excited to learn that Jacob is best friends with Jason...as we all know how naughty Jason is and how often he gets spanked at home. I wonder what the chances of them getting spanked together by one of their Dads, Coach or even Jason's Big Brother Charlie are? High I hope as that would make an amazing movie.

Please Dave can you make this happen and bring Jacob and Jason together? Please, please, please :-)


Orla | 28th April 2018 21:41 (95 weeks ago)
That is my favourist part when Jacob says he doesn't want to spanked anymore today and Dave gives this little laugh I must have rewinded this part a dozen times it's so sweet 😊

Uchikimatsu | 30th April 2018 01:47 (95 weeks ago)
That *was* super sweet! It just sounded like a completely natural and spontaneous response from Dave.

I love the way Jacob gathers his belt protectively to him when Dad threatens him with it! Quite adorable! I also loved watching his bottom redden to that interesting dusky pink color while he trembled and tried to block the spanks.

I swear, Jacob's dad is pretty easy going. If someone under my protection or in my household had said "PFT I'm not calling you Sir" (or in my case Miss - I don't like Ma'am) I would have then made SURE saying "Sir" while counting was mandatory. But I'm just a tad sadistic like that.

Can someone help me out with some of the dialog? I'm hard of hearing and can sometimes miss some nuances and dialog.

Theres a few words I can't make out starting at around 24:10 when Dad says something about Jacob not buying his girlfriend something for Valentine's Day. Something like "not getting your girlfriend a *SOMETHING* and then a few seconds later around 24:15 Dad says something like you can't even afford one *SOMETHING* never mind twelve. I appreciate it!

Art, nice job on the editing! I really love the vertical split screen with a small border to separate the screens. To me this is the most aesthetically pleasing and least confusing.

Thanks to everyone for a job well done!

Uchikimatsu | 30th April 2018 02:03 (95 weeks ago)
also:

exterminate! EX - TER - MIN - ATE!!!

Beccan | 30th April 2018 20:27 (95 weeks ago)
At 24.10 he says "buy a present" and at 24.15 "a red rose, (nevermind?) 12.
Reply

Paddleboy | 30th April 2018 09:09
Another great video dave
Reply

Nevermore | 27th April 2018 08:34
He is adorable. Can't wait to watch.
Reply

Orla | 27th April 2018 00:26
I am loving Jacob,What a super movie and what a great actor.

Dad and Jacob did a good job here I love these movies where there's a lot of talking between Dad and Son and especially when the flow of conversation isn't strained and it's just so natural here.

Jacob's bottom got a good spanking with that spatula looked very red and bruised to me but fair play he took it well ...did you do it all in one take...I need an interview with Jacob like a before and after type xx

mstr_spkr | 27th April 2018 02:33 (95 weeks ago)
I agree wholeheartedly. Excellent job by all. Good spanking. Can't wait for Week 3 (I'm sure he has not learned his lesson yet - or at least I hope he hasn't). Interviews with the new guys would be great, too.
Reply