RELEASED: 2nd June 2016
Jay
Birthday Spanking
This 'man spanking man' video features Jay receiving his Birthday Spanking. It's been a while since I have filmed a birthday spanking with one of the lads and wasn't sure whether to do them again. However I asked the members if they would like to see more birthday spankings and the response was overwhelming positive. So here you are!
I did decide though not to get Mr X involved and just decided to do it as myself.
So this man spanking man video firstly involves a nice chat with Jay and a bit of a general catch-up with him. Then it's time for his birthday spanking, Jay has a selection of implements to choose from (well it is his birthday)!
Of course he has to strip down to his birthday suit for his bare bottom spanking, Just because we are celebrating didn't mean I went easy on Jay! His bottom turns red very quickly!
Then he has to bend over for the swats from the different implements. Wow! This was really intense. Please don't be expecting some light-hearted spanking video! Jay gets properly whacked! At one point I wasn't sure if he would see it through until the end. I do hope you enjoy this!

I can't wait to read your comments. Please tell me if you would like more Birthday Spankings like this?

This epic movie runs at over 40 mins long!!!!
STREAM
VIDEO
Available streams for iPad, iPhone, Android, Chrome, Safari, IE or Firefox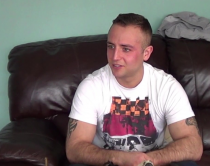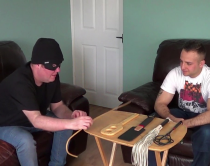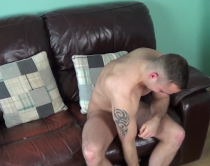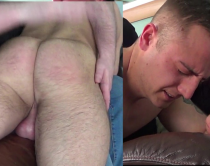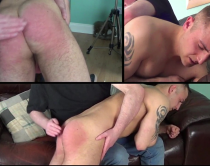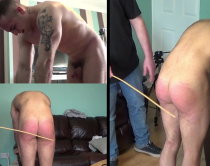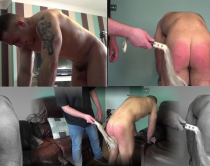 Ficwriterjet | 5th June 2016 07:52
Awesome movie. This is my favorite of the birthday spanking movies so far. I thought it worked really well to not have acting for this one. Seeing you and Jay just sitting there talking, and then being yourselves during the spanking was fantastic. I always love Jay's reactions, and it was fun to see the dread he had while picking his own implements. He looks wonderful - very fit, and he always seems to have a happy outlook on things which makes me smile. I loved the little bit of punishment for past deeds that you sprung on him, too. I also love that Jay is a hugger. :)

I'm so glad you decided to try this, Dave - I hope to see more of this type of birthday spanking in the future.
Reply

Spankmedan | 4th June 2016 19:55
Been a member for a long time, and never commented before. This is the best birthday spanking video! Loved the interview, the honest and grown up attitude to the stealing money and it going un punished. Loved his reactions to each implement. Really awesome video
Reply

Art | 3rd June 2016 15:08
Thanks Welshboy. Glad you liked the effect. Your comment makes it worth the time creating it :-)
Reply

welshboy | 3rd June 2016 11:21
Art first thing I want to say is, I love what you did at the end of this film with the b&w shots and the colour ones too. It was pure class. As for Jay what a star he is. I loved the interview at the start, he has always come over well, but in this interview he seems so grounded and happy. He took a real good spanking their Dave, It was all that I hoped for and more from this wonderful birthday spanking Dave I loved it being just you as doing the spanking that's why I have given this film 10/10. Well done to all and I hope for more of the same, but I don't now how you will top this one Dave.
Reply

Ooleary | 3rd June 2016 00:42
Wow wow wow awesome movie Dave more B'day Spankings like this please ,Loved the interview and your questions were great and loved you asking Jay after each implement to describe it.

Jay was a Superstar in this movie what a great guy to go through all that,such a sweet, genuine guy ...hope to see more of Jay.

Prefer it just being you Dave as Dave rather than Mr.X.
Reply

Tonyotk | 2nd June 2016 23:35
Jay is fantastic...great video
Reply