RELEASED: 14th October 2016
Jay & Bradley
Quit Smoking
Bradley likes to smoke however his flatmate Jay does not! It's also not just Jay that objects to smoking, it's also the landlord. Bradley has been warned time and time again about his smoking and Jay has had enough! No matter how many times Bradley has been warned he keeps on smoking.
Jay decides that if Bradley wont listen to words then he will listen to action! He decides that a good strong spanking might get the message through!
So muscled Jay literally grabs Bradley and puts him over his knee for a sound spanking. Jay does not go easy and Bradley can feel every single hard slap on his bottom!
STREAM
VIDEO
Available streams for iPad, iPhone, Android, Chrome, Safari, IE or Firefox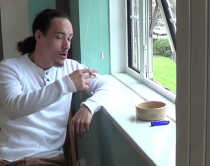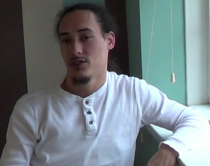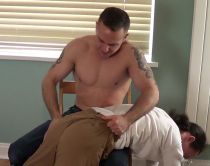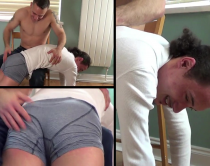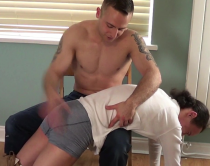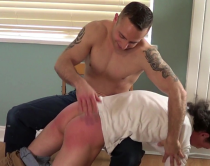 pridds | 22nd October 2016 00:17
Straight lads spanking straight lads in a disciplinary scenario never quite hits (pun intended) the mark for me.

They rush it, through embarrassment. as non spnkers they don't know how to spank. it is fast, rushed and clumsy. loads of the spanks seemed to land on Bradley's right cheek/thigh

Dave - Straight Lads Spanked | 22nd October 2016 21:26 (12 weeks ago)
Hey Pridds, I do understand the points that you make, but for me all the things you mentioned make the movies more enjoyable for me. I guess I just wouldn't expect Jay to be a spanker so would expect him to spank in a 'non-spanker' way and for that reason I find this kind of movie more thrilling as it all seems rather real.

NovaDad | 23rd October 2016 18:04 (12 weeks ago)
Jay and Bradley are both hot guys.
IMHO, one of the characteristics of a good spanker is empathy (as opposed to sympathy). Being able to "put yourself in the other guys shoes" is invaluable for a good spanker. I agree that Bradley is not quite able to translate his own really hot performances when he is on the receiving end into an equally hot performance when he is on the giving end.
I hope my comments will be taken in a positive (constructive) way. =:-))

Dave - Straight Lads Spanked | 23rd October 2016 21:04 (12 weeks ago)
Of course NovaDad, all comments are very welcome indeed. :)

Ficwriterjet | 25th October 2016 16:19 (12 weeks ago)
For me, I think the fact that it's kind of quick makes it more believable. If Jay was spanking and scolding in the same way Dave did as Mr. X or as 'Dad' I wouldn't have liked it as much, because I would be rolling my eyes and thinking 'yeah right'. But with it being a bit rushed and with not all the smacks landing evenly, it seems more like how it would play out if a guy decided to spank his flat-mate.
Reply

mstr_spkr | 19th October 2016 17:18
Great job, all! I also was not a fan of the slow motion. It seemed too commercial rather than one mate trying to correct the behavior of the other. Jay is a great spanker. My only complaint is that it was too short but I don't know how much more of Jay's onslaught Bradley could have taken. I would have preferred to have Bradley strip to add the element of humiliation to the punishment. After all he had been warned about smoking in the apartment. Part of me hopes Bradley does not quit smoking and needs worse as promised but of course part of me wants him to protect his health so he can make many more great videos. Thanks, guys.

Dave - Straight Lads Spanked | 22nd October 2016 21:24 (12 weeks ago)
So glad you enjoyed this one. I know what you meant about it not being too long but I also feel like you that Bradley couldn't have taken any more and that the length of the spanking was appropriate. I think it was more about enjoying watching it so much and just being disappointed when it finally had to end!
Reply

Ooleary | 16th October 2016 11:10
I agree with everything Fic just said.

Good job Jay,I want to see more of Jay the spanker.Poor Bradley his bottom was on fire 🔥 those were hard spanks and loved all the struggling and pleading in the end.Great banter between the lads too they work really well together so natural,it felt real to me .

Thanks Dave & co.

Dave - Straight Lads Spanked | 22nd October 2016 21:22 (12 weeks ago)
It's true Orla. That was one really tough no-nonsense spanking! I'm amazed at how much Bradley took to be honest.
Reply

Ficwriterjet | 15th October 2016 23:10
I really like Jay as the spanker, and the fact that he has his shirt off the whole time makes it that much better. :) Because Jay looks big enough to manhandle Bradley over his lap, even if Bradley were struggling, I can easily get lost in the fantasy of it. I liked the positioning with Bradley over one thigh between Jay's open legs. I liked the way Jay held Bradley down and kept his hand away near the end when Bradley was struggling more. I loved the threat of more to come if Jay caught him smoking again. And I especially liked the reason behind the spanking - not smoking in the flat, and keeping a mate from continuing to wreck their health by smoking, are perfect reasons to do something a bit drastic. I'm not overly fond of the slow motion bit when the undies come down. It takes me out of the flow of the movie. I loved the three screen shot that let us see the full view of the spanking, along with close ups of Bradley's face and rear end. And of course I loved the quick hug at the end - Jay does seem to be a hugger, and I feel all warm and fuzzy inside every time I watch him do it in a movie. Thanks Jay. :)


Dave - Straight Lads Spanked | 22nd October 2016 21:21 (12 weeks ago)
Awww, so much love for this movie Jet. I always enjoy and value the time and effort you make in reviewing the movies. So pleased you liked this one.
Reply

Art | 16th October 2016 15:19
Hi Ficwriterjet. A comment on the "Ask Art" section asked for slow motion when the pants come down, so I thought I would give it a try and see what the reaction was.
Anyone else have an opinion one way or the other?
Reply