RELEASED: 26th May 2016
Jenson
Traditional Punishment
Paddled
Jenson has been fighting with another player and has acquired 3 red cards. He has been sent to the locker room for some traditional punishment.
Wearing just his tight rugby shorts, Jenson awaits his fate.
He knows that the corporal punishment that will be administered for this offence will be tough. He has a stark choice though. Accept the punishment or get kicked off the team!
After a brief telling off, Jenson is made to get over the managers knee for a spanking, Jenson is a muscular, tough straight rugby lad and the punishment that is dished out is very hard. Initially spanked over his shorts, Jenson is instructed to pull them down and the spanking continues over his tight white briefs.
This is a very hard spanking indeed and you can almost see how red his bottom is turning as it is glowing through his underwear. There is not long to wait though until this beefy lad is told to pull down his pants and return over the knee for a bare bottom spanking. You can properly see how much this is hurting as Jenson's bottom turns a dark shade of red!
So now it's corner time for Jenson as he awaits the next stage of his punishment. This time it's the paddle!
18 whacks in total!
The first 6 whacks are across his tight shorts, then another 6 on his underpants and then finally 6 more on his bare bottom.
Every single one of these whacks from the paddle hit the spot and you can see Jenson struggling to hold his position. The marks on his bottom leave you in no doubt as to how effective the punishment has been!
STREAM
VIDEO
Available streams for iPad, iPhone, Android, Chrome, Safari, IE or Firefox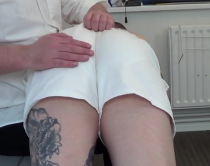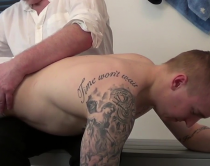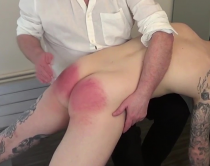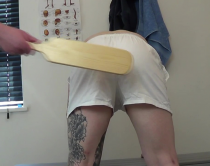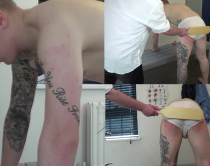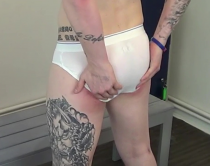 welshboy | 3rd June 2016 11:37
Jenson looks like he will do so well here at Straightadsspanked, His bottom got so red in this spanking it was a joy to watch and I am shore with time we will see more of Jenson as a person.
Reply

Ooleary | 27th May 2016 01:19
Welcome to SLS Jenson and well done that was a tough spanking .

Bless him his leg was shaking with nerves so awesome.

Them first few slaps over his shorts were hard and you could really tell he felt it and loved seeing his red bottom through his undies.

Now here is where I was a little disappointed those first 6 whacks with paddle I couldn't see his face for reactions , cameraman needs a paddling for that .

Now the 2nd set of 6 was better with the split screens and the last set of 6 was the best nice close ups of his face .

Dave I'd love to see Jenson again he's and maybe in a Dad movie with more dialogue
Reply

kayjoe | 26th May 2016 15:48
Awesome! Welcome Jensen!!! Looking forward to more...........

kayjoe | 26th May 2016 15:50 (156 weeks ago)
Apologies - should have said Jenson.

sumai-Davefan | 26th May 2016 17:41 (156 weeks ago)
Hi Kayjoe, I am wrong too. >_

kayjoe | 26th May 2016 23:11 (156 weeks ago)
Apologies - should have said Jenson.
Reply

sumai-Davefan | 26th May 2016 17:16
I like Jensen's Chinese tattoo.It makes me feel warm.Is this his first ever spanking? I admire him for challenge the paddle on first spanking. I hope see much more of him.

sumai-Davefan | 26th May 2016 17:42 (156 weeks ago)
I also apologies--Jenson
Reply