RELEASED: 6th January 2017
John
Bubble Bath Blues
I am delighted to present John in his first ever gay spanking movie!
This movie starts off with young muscular John, stripping naked and relaxing in a nice warm bubble bath. We get to see every inch of his smooth, tight body as he lies back and gets all soapy!
After drying himself off and heading back to his bedroom, John is relaxed and read for bed.
The peace is soon broken when John's furious father barges into his room demanding explanations!
Dad received a phone call from college with reports of John adding some mucky movies to his lecturers laptop! Dad is not happy at all and decides that it's about time John receives his first ever spanking! John gets dragged over Dad's knee and has his bottom soundly spanked. In this gay spanking movie you get to see John's very real reactions to his first ever real spanking as a young adult.
STREAM
VIDEO
Available streams for iPad, iPhone, Android, Chrome, Safari, IE or Firefox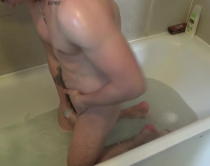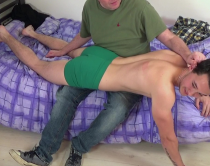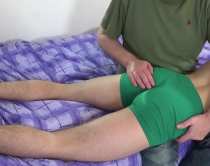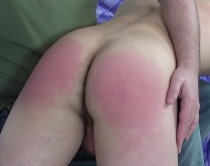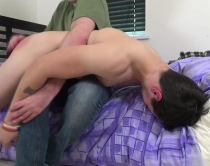 | 28th February 2017 22:40
This is an excellent video. A bit too much talking at some points but overall 9/10. John was so bratty in the beginning, it was a delight to see him get his comeuppance
Reply

jacko | 19th February 2017 08:49
I didn't realise that I had already written a review on this movie. Sorry if I have repeated myself. It is interesting to compare this second review after I had watched the movie several more times.

So far, 23 SLS lads have accepted the challenge to transform the Bubble Bath Blues scenario into a memorable movie by using, in particular, their innovation, characterisation and posturing skills; the notable exceptions to date being Harry, Karl, Oliver, Patrick and Taylor. This has provided the viewer with ample opportunity to compare the outcomes and discern the special talent that some models have revealed. John has now enthusiastically accepted this challenge and by utilising a combination of his exceptional acting skills and individuality has significantly contributed to a movie that is both entertaining and different.

The Bubble Bath Blues scenario consists of two parts; the bath scene and the interaction with Dad. Each requires a distinctive acting approach to satisfy the needs of the target viewer so a model needs to exhibit a variety of skills in order to provide a smooth transition between the two. John has done this successfully.

At his first attempt starring in an SLS spanking film, this handsome, 18-year-old lad has clearly demonstrated that he has the talent and commitment to make many more memorable films in the future if he can cope with the pain. His cheerful countenance, confidence, cleverly improvised dialogue, convincing reactions and a bottom invitingly suited to chastisement mark John as a model with outstanding potential.

From the commencement of this video, John's individuality is evident in the way that he undresses then takes time to relax in the bath without any hint of inhibition or indecision. Although this scenario poses a greater challenge than the usual Mr. X visit, John's response is innovative and poised.

Only after he has allowed us ample time to assess his physical attributes and has drawn the viewer into this ambience of tranquillity does John set about the task of laving himself while sitting up then unexpectedly kneeling in the bath, adopting a sensual pose to complete the job. He then slips under the water as the final step in subtly creating a bubble bath scene that fascinates because of its ingenuity. He even walks back to the bedroom without his towel which in itself is not the norm but effectively arouses viewer interest.

The interaction with Dad is appropriate and convincing, John's cheeky smile, flickering eyelashes, fluent, well-spoken, improvised dialogue and supporting gestures establishing his character as a conceited, mischievous, fun-loving, young college lad who needs some discipline. It is not long before his smug conversation with Dad reminds the viewer of the recently flaunted, naked bottom so that when Dad suggests that he deserves a spanking the viewer wholeheartedly agrees. When John replies "What would the girls think if they saw my arse?" that is too much so we are pleased when Dad goes through with his threat. Even that is not enough to cease the provocative, insolent comments; our empathy is with Dad. The bare backside spanking will surely commence sooner rather than later!

The split screens and unusual camera angles during the spanking scene provide further impact as they draw us into the action. If only we could join in! Well done Dave and Art!

The spanking is not uneventful as cleverly John's backside is repositioned to accentuate its visual impact and provide room for him to kick and squirm once the pain became more intense which it does. The ending was great and was a perfect conclusion to a very enjoyable movie.

A tip for Dave: Wear slip-on shoes or slippers so that in the final stages of the film when Dad is no longer appearing, footsteps aren't heard as you move around the room taking close-ups.

Thanks John, Dave and Art! May there be many more movies of this high quality and many reappearances by John.

Just maybe, one day in the future if you can find a model with a bum insensitive to harsh pain who is good at yelling, there might be a BBB film where the bad lad is dragged out of the bath and spanked on his bare behind with a bath brush while bent over the bed. John will be relieved to know that I am not directing my suggestion at any of the 23 who already have had their turn in the bath. Perhaps that day will never come but no harm in fantasizing.


Reply

Ficwriterjet | 4th February 2017 01:01
As everyone so far has said, John is great. Cute smile, fit body, and a nice reaction to the spanking once it got painful.

John seemed to be proud of his prank at the beginning of the film, which seems believable for someone that age and in a college setting, but it also made me appreciate his change of attitude by the end of the film where he's done smirking, and seems to taking things seriously.

I agree with Ooleary - John's comment about his girlfriend spanking harder was hilarious - and clearly not the right thing to say in that moment. LOL

I also agree with jacko on this point: The "friends" handshake at the end was a highlight for me. So often the end of these father-son movies is depressingly negative. The spanking just has to be hard enough to bring about a change of attitude and behavior.
For the most part, the father son movies are my favorites, and this one was especially nice because it wasn't overly harsh, John clearly had a change of heart mid-way through the spanking, and at the end there didn't seem to be any animosity between them.

As for the bubble-bath - I always skip that part. LOL I wait impatiently for it to load, and then skip to the point where the dialogue starts. But I'm sure there are loads of viewers who love that part. :)
Reply

jacko | 14th January 2017 11:38
I agree! John is a fantastic addition to the SLS team. Not only is he attractive, well-spoken, confident and a talented actor with plenty of potential but he is convincing. John's re-appearance in numerous movies would be appreciated. Thanks John and Dave. The "friends" handshake at the end was a highlight for me. So often the end of these father-son movies is depressingly negative. The spanking just has to be hard enough to bring about a change of attitude and behaviour. A brutal spanking is indicative of a father and son who aren't friends.

Unfortunately, the format of the bubble-bath spanking is becoming a bit stale. There is little scope for the model to apply individuality and variation in the bathroom scene. Are you on water restrictions? More water and more bubbles would give the model the opportunity to appear more relaxed before the trauma to come. For the moment it is same old same old. Of late there has been a tendency to zoom in on the genitals (a bit like watching saveloys cooking) and to feature full frontal nudity. The SLS website is better than this. It can be done more discretely by scanning the smooth, supple bodies of the models as a whole when they are drying themselves.

On the other hand, the father-son interaction gives plenty of scope for individuality and variation and is particularly enjoyable if the father appears genuinely concerned about the son's behaviour and offers him loving counsel along with an appropriate "wake-up call," without seriously affecting their relationship. The contribution that John and Dave made to achieving this outcome was superb. Very well done indeed! The abusive, negative name-calling of some earlier movies was not evident here. The father showed patience with the desired outcome. The dialogue was great and the interaction and reaction was not as predicable as in many of these movies in the past.

For members who appreciate a brutal spanking, the real spanking movies provide the ideal opportunity. I personally prefer the storyline movies where the potential for acting and meaningful dialogue come to the fore. While the spanking is a necessary part it does not need to be the sole focus. I particularly enjoy the interviews which reveal much about the models and Dave in a subtle yet entertaining way so interactive movies such as this and the ones featuring a couple of models also appeal to me for the same reason.

Please Dave and John, more movies like this one although the occasional visit to Mr. X might also be necessary from time to time. As suggested, John would be great working in tandem with another model but please don't scare him away with threats of the bath brush.
Reply

mattnyc | 10th January 2017 18:39
John is FANTASTIC. What a perfect new model. He's completely adorable; sweet, mischievous face, great smile and eyes, etc. And he has such a cute, smooth, spankable butt. Small but perfect. Love his smooth, muscular body. And he's a great actor. Considering this was his first clip he did an amazing job. Totally in character and not nervous or self-conscious at all. Let's please see lots more of him. Love to see him paired with Josh for a double spanking scene; a coach, or dad scenario. Or over Jay's knee in a scenario like the one with Brad. (Which was fantastic, BTW) But lot's more OTK spankings for John. Great work talent scouting, Dave. John is a total winner.
Reply

wardcoleman | 8th January 2017 09:49
Congratulations on finding John, he is a great addition to Straight Lads Spanked, despite the dodgy tattoos on his underarm. He has a delightfully spankable bottom and the ideal cheeky and impertinent manner.

I hope his bubble bath punishing didn't scare him off and that we will see more of him.
Reply

Ooleary | 7th January 2017 13:31
Ah ha so this is the the brat who set off the fireworks in my garden lol xxxx

Seriously John has it all,super super cute,gorgeous smile that just makes you melt,and the most beautiful bottom plus his acting and interaction with Dad top notch...i meed more John for sure.

'BIG KNOCKERS.COM' nearly pissed my pants , you are just too funny sometimes Dave ...

John telling you his girlfriend spanks harder, silly boy but hilarious. I love it when the boys plead with Dad saying they're too old and it's not right etc and John did all that snd throwing hand back to stop his undies coming down and also again when the spanking was hurting too much. ..John's bottom did colour nicely and it did look sore but I think you went a little easy for his first time.

Great job all around Dave for finding John and spanking that beautiful ass, Art for the split screens and close ups and of course the new star John , hope to see more soon.

Keep your boys out of O'Leary's Garden, i got a real kick out of that , really loved it .

Have you seriously not heard of 'cop on',-we use it all the time, if someone is doing or saying something stupid you tell them to Cop On x
Reply

mstr_spkr | 7th January 2017 01:29
Excellent job! Welcome, John.

I loved his cheeky comments and enjoyed the change in attitude although I'm surprised that it changes so quickly without a good dose of the belt. I can see his attitude slipping in future videos and I'd love to see how he fares against the bath brush! Is he up to the challenge it presents? However, he might need some building up with the Chinese birch, slipper or flogger first. John has a perfect butt for spanking. Thanks for the excellent video.

Please come back often.
Reply