RELEASED: 31st March 2017
John
Old Fashioned Spanking
John's bad behaviour has got him into serious trouble. Police cars ended up at his home. Bringing shame and embarrassment to his parents. It was a serious offence and John has to report to the Police station in the morning.
Before all of that can happen. John has to face his angry father. There is not much that either of them can say. So this is all about the punishment. John get over Dad's knee and faces a relentless OTK spanking, Starting over his jeans, then his underwear and finally on his bare bottom!
More from Producer Dave...
""This movie was filmed in one continuous take with absolutely no break in the spanking, Everything you see in the final spanking video is exactly as it happened, in real-time on the day of filming. I have also included some before and after interviews with John so you can hear exactly how it felt for him. ""
STREAM
VIDEO
Available streams for iPad, iPhone, Android, Chrome, Safari, IE or Firefox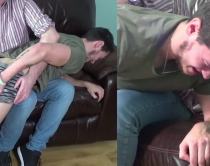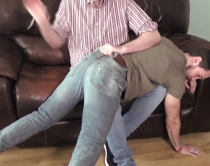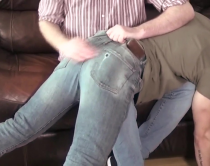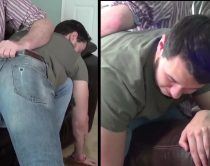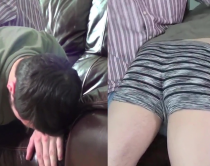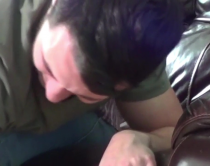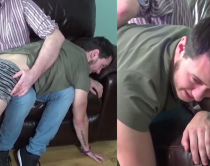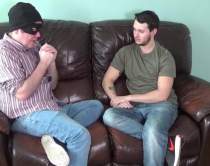 wander | 3rd April 2018 21:11
Dave your best movies are when you bring these beautiful men to where they cant take any more. Would like to see more of the guys bums closeup and in different positions, example standing bent over or legs up.
Reply

Dave - Straight Lads Spanked | 7th April 2017 19:42
So thanks for all the feedback and comments on this movie. I love reading it all and it's great when you all get involved.

So I just wanted to clarify a few things. In my mind these "Old Fashioned Spanking" are not at all what I would classify as my "Real Spanking" movies. As Jacko pointed out. The real spankings are always about some real life situation and the model is not playing a character. So the reason for the punishment is very much a reality. Very often when they have messed me around in real life!

These 'old fashioned spanking' videos are not about a real life situation and the model is playing a part. What makes them unique compared to my other videos is the lack of dialogue and interruption from Dad. So for once, I hardly talk and just concentrate on the spanking. The spanking is 100% continuos and is shot in one take without any breaks at all, So the idea is that you are seeing the lad react to a constant, relentless spanking.

However from reading he comments I now understand just how important it is that a reason is provided for the spanking, I can certainly add that into further movies if I make any more like this.

As for camera angles and John's face not being fully captured by camera. I can of course work harder on that, however this is a consequence of filming like this. You see I don't have time to get up and check cameras or reposition them as i don't stop spanking! You have no idea how many times I complete filming and watch footage back only to see that someone wasn't fully in shot, or even worse, something was in shot that wasn't meant to be (like a bright window, lighting or camera tripod or even myself when I am not meant to be in the story.

Billenkoek1984 | 21st April 2017 22:32 (95 weeks ago)
In my opinion the way you spanks him nonstop over the knee, is more important then the storyline and the camera angle;) So i hope you won't change your good work for these things
Reply

mstr_spkr | 1st April 2017 15:19
Excellent job, John (Dave and Art, too, but John literally had more skin in the game).

I enjoyed John's video and appreciated some context for the spanking. The police had brought him there, but why? I think that if we observe a lad's real punishment, we should have the (albeit contrived) reason. I think knowing the reason the police were there would have made this an even more fantastic video. In the interview Dave asked him to think about a time he was punished to help him get his mind in character. Perhaps a real reason for the real punishment would have pushed this over the top.

Showing John's face more would have also helped. Nevertheless, John is a great model and I know the pained expressions were not acting. Thanks for a job well done.

jacko | 3rd April 2017 12:11 (98 weeks ago)
We need to distinguish here between "real" and "old-fashioned" spankings.

As far as I can ascertain, there have been many "real" spankings given as punishment for the models' actual misdemeanors, either recent or from well in the past. I personally dislike the "real" spankings which directly or indirectly pry into the models' private lives although I agree that they might to some degree cause a model to become more emotionally implicated in the spanking. I usually mark down such videos as they don't appeal to me. On the other hand, "real" punishments that are the result of poor attitude to the work ethic of SLS or to Dave are appealing to me because I feel in some way personally involved and can empathize with Dave.

"Old-fashioned" punishments are not related to the model's personal life although when seeking to enhance the characterization because of the limited story-line, Dave might suggest that a model brings to mind a circumstance that was not appropriately dealt with in the past. In fact, if a story-line is in any way relevant to a model's own experience, that's not a bad idea when preparing for any video.

So far, "old-fashioned" punishments have been given to Bradley, John and Karl and all involved hand-spanking given in a manner that was probably the norm in days gone by.

Apart from the models ending up with very sore bums, what else did the three "old-fashioned" punishments have in common? They were fast moving with little or no explanation for the cause and lacking dialogue which might compensate for this by helping the viewer to determine the deservedness of the punishment and its severity. In fact, Bradley was unaware why he was being belted and when he was angrily thrown onto his bed at the conclusion the viewer was still none the wiser. The end of Karl's movie which featured an excellent interaction between father and son, made it clear that Karl was in the picture although the audience wasn't. John's video told us that he had been in trouble with the police but not much else. It's very difficult to be a participant in a movie and to develop empathetic attachments if the details are lacking. I can appreciate what Dave is trying to achieve with these films. A fast-moving, no-nonsense, realistic spanking given by an emotional father without distracting dialogue can be exciting but the reason for its administration must be made clear. (Eg. Swearing at the mother, ignoring a mutually agreed family rule, disrespecting a teacher, bullying a sibling, etc.) A single, explanatory sentence, delivered by a concerned parent which concisely states the expected outcome and reason for the spanking would be sufficient with no further dialogue required. The son's pleading vocalizations would be adequate to punctuate the sound of the swats. The loving interaction at the end is vital and indicates that the punishment has been delivered not as vengeance or in anger but rather to bring to an immediate halt a misdemeanor or habit which might affect the son's welfare or future. Perhaps if I viewed the "old-fashioned" punishments in the same way that I view the "36 lashes" movies which also feature limited dialogue and explanation, my expectations might not be as demanding. I am discovering that as I revisit the three videos mentioned above, I am finding them to be more entertaining.

There is another idea for "old-fashioned" spankings which I have seen used successfully elsewhere. That either involves the son talking directly to the audience about his expectations and the reason for the spanking (he is obviously anticipating one), or talking out loud to himself when contemplating his impending doom. Not only would this reveal to us the son's feelings but it would also solve the problem of making the audience aware of the reason for the spanking.

As for John's pained expressions, I wasn't questioning their authenticity. I was simply regretting the fact that I missed out on so much of his facial expression which I know would have been so stimulating to watch. I'm sure that problem can be solved in the future so that a model's talent and acting skills can be utilized to the full.


Uchikimatsu | 6th April 2017 21:19 (98 weeks ago)
Hiya jacko, I'm wondering if we should move this conversation over to Random Blog, or Reasons for Punishment Blog...?
I guess my thoughts are, that if Dave adds all the elements back into the OFS (Old Fashioned Spanking) videos, such as, say, a monologue or phone call to a friend about his impending punishment, then it becomes a WTYFGH (Wait Till Your Father Gets Home) video. If there is dialog before and after then it becomes a regular Dad/son video. There are plenty of both on the site to appeal to the audience that demands it, along with BBB (Bubble Bath Blues) for its full frontal nudity and wet towels. Is Dave still doing wet towels? He went through a wet towel phase...
Anyway, Dave has the onerous task of trying to please as many members here as possible and so OFS was born to cater to the needs and likes of a certain few. I love Dave for the trolling he does on these boards and for spending his time and money to bring ideas into production that we, even if it's just a scant few of us, ask him to. The OFS spanking films also differ in one important way that hasn't been mentioned here, and that is that they are filmed in one continuous take, with no breaks for the model. Knowing this may or may not make these spanking films more exciting to you, but if you have another look, keep it in mind!
Reply

Slipper Boy | 2nd April 2017 08:33
Yet another great movie dave
Reply

jacko | 1st April 2017 09:55
I've watched so many SLS movies of late in which the models have exhibited the sniffles. The UK must be a cold, damp place in the winter! Perhaps that's why the models are so keen to have their bottoms warmed up. It must make it a bit difficult though when being thumped while struggling to breathe. At least that's how it appeared in this movie with John. It was a magnificent achievement for him to maintain an adequate oxygen supply when the relentless swats were causing him to exhale more than usual.

Art and Dave, the variation of camera angles and split screens were well done and increased the video's impact. However, the vital facial reactions were often hidden when John's vision was focused on the couch, logical as that might be. Without asking a model on the couch to look towards the camera, I'm wondering if there is an alternative position that would be more effective in displaying facial expressions; perhaps resting the head on the arm of the couch or a cushion placed under the head. John has shown in previous films that he is a master of using gestures and expressions to reveal the inner feelings of a character. I think that John's animated face was not utilised to full advantage in this movie.

In case my criticism might not be valid, I have viewed the video once again giving special attention to the facial expressions. In stage one there were a few full face views when John raised his head but at that stage he was not reacting to any pain. At stage two, when the pain began to kick in, the glimpses of John's contorting and reddening face provided sufficient evidence that he was in pain but there were no clear full face views to reveal the extent of his suffering. Until his hand moved back, these were only clues to his problems so detracted from the effectiveness of the spanking overall. However, the associated vocalisation and head movement in stage three did help to create greater impact.

The most revealing, heart-wrenching facial views were featured after the spanking had stopped. While I didn't revel in John's suffering the fact is that he suffered a severe spanking, the effects of which were not adequately captured on film. Such a pity! To some extent the views of John's reddening bottom compensated.

In previous movies John has indicated some problems with pain tolerance so his accomplishment of making it to the end of this horrendous assignment without baling out is nothing short of spectacular. He is a brilliant new star in the SLS universe and in many ways reminds me of the younger Karl. May your stay with SLS be a long and happy one!

Karl's traditional punishment and this film were similar in many ways. Both were fast-moving without long breaks of distracting dialogue. The jeans worn by both lads were tight and sexy and both wore boxers to match. Both backsides reddened nicely due to Dave's expert attention to placement and force. Both obviously received severe spankings which motivated considerable reaction. So why did I find this film to be more enjoyable? Was it because there was a reason for the spanking this time? Perhaps the different environment played a part. Maybe I perceived this to be a greater challenge and achievement for the new boy than for Karl who has endured many harsh punishments. Then again, John's facial reactions although hidden much of the time, coupled with his vocalisations had a more positive influence on my viewing experience.

Since writing the above comment I have watched the two movies several times and now appreciate Karl's traditional punishment more than I did the first time I watched it. I really liked the conclusion where father and son sat down together. That was missing in John's video.

I am very pleased to see before and after interviews appearing with the filming of severe punishments. It is reassuring to know that John was still smiling. I hope that John's painful experience has not deterred him from making future videos but rather has hardened up his backside in preparation for even greater challenges.

Thank you all for a memorable film and thanks John for the courage and bravery you exhibited when submitting your precious bottom to a painful hammering for my entertainment.

Reply

Billenkoek1984 | 1st April 2017 00:45
One of the best!!
Please continue with these real life spankings please!
Reply

Orla | 31st March 2017 22:20
Well done John , OMG he's such a cutie and that was a tough spanking, his bottom was on fire ,I'm just thinking that you could probably melt a little chocolate button on it ... and thank you Dave for the little interviews xx 😊
Reply

tufnell1 | 31st March 2017 20:50
Bravo John, bravo Dave. An enjoyable movie.
Reply