RELEASED: 1st September 2016
Josh - Leather Flogger - 36 Lashes
Josh is resigned to his fate!
Josh assumes the position!
Josh is facing 36 lashes from the Leather Flogger!
12 over his jeans
12 over his underwear
12 over his bare bottom
The different camera angles capture every moment of Josh's discomfort as the Leather Flogger hits its mark!
(this movie contains scenes of full frontal nudity)
STREAM
VIDEO
Available streams for iPad, iPhone, Android, Chrome, Safari, IE or Firefox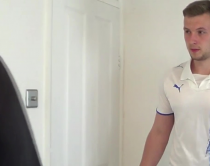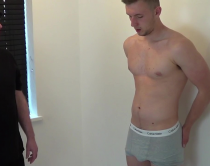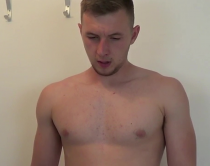 Slipper Boy | 16th September 2016 16:14
Josh is one of best models when he is spanked by Anyone he never moan he just gets on with the spanking he is a gem to you Dave you must be proud to of found this young man

Dave - Straight Lads Spanked | 22nd October 2016 20:19 (82 weeks ago)
Glad you approve Slipper Boy
Reply

Ooleary | 5th September 2016 11:37
Josh was got one of the best butts and i really enjoyed watching this movie over and over again xLove all the split screens and Josh's facial expressions and butt rubbing more and more Josh please xx

Dave - Straight Lads Spanked | 22nd October 2016 20:19 (82 weeks ago)
I'm sure there will be more Josh! :)
Reply

welshboy | 1st September 2016 23:58
WOW what can you say about Josh, I am so lost for words to say about this young man. and its not like me to be lost for words. But I love this film from start to finish. Josh is so great with his wording. I love his jeans and underwear and his bottom, well their are no words to say how wonderful Josh's bottom is, All I can say is I am going to watch this again and again, Well done to Josh, Dave and Art.

Dave - Straight Lads Spanked | 4th September 2016 19:34 (89 weeks ago)
So glad you liked this one Welshboy and I really appreciate the feedback. It's always good to hear what you all think of my movies. :)
Reply

LucienG | 4th September 2016 15:45
I just think whipping Josh is such a waste when clearly a guy like him with that beautiful round butt should be hand-spanked or paddled with a small paddle. Definitely something more intimate than that wretched leather flogger!

Dave - Straight Lads Spanked | 4th September 2016 19:33 (89 weeks ago)
Oooh, don't worry Lucien. There will be lots of opportunities to see Josh in all sorts of situations will different implements .:)
Reply