RELEASED: 5th April 2013
This is way different to any movie I have ever shot before!!
Here is the story!
Young Liam called me up in a panic. He had booked an apartment to take his girlfriend for a romantic Valentines break and it was only after he had confirmed the booking that he realised he also had to provide a refundable £250 deposit. He did not have that spare. So he asked Straight Lads Spanked if he could earn it!
I told Liam that we could sort something out so Liam turned up the next day with his pal Andy Lee for support.
Liam was interviewed and we discussed his dilemma. I then gave him a proposition. He could earn the cash be receiving strokes from the cane at £10 per stroke. So to earn the £250 he had to receive 25 lashes from the cane!
After some consideration he decided to go through with it...
Everything that happened next was caught on film...........
Did Liam earn the £250 he desperately wanted?
You will have to watch to find out!
"""""""more from Mr X, well all I can say that this movie is 100% genuine. This really did happen exactly as you see it unfold. Nothing staged, nothing scripted. Just a real straight guy trying to earn some cash"""""""""""
STREAM
VIDEO
Available streams for iPad, iPhone, Android, Chrome, Safari, IE or Firefox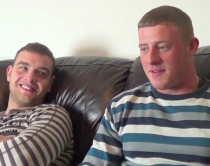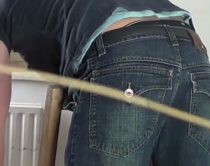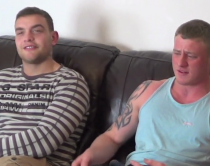 regina1985
|
Voted Video 10/10
| 5th April 14:25
AWWW! Anddy should get a turn now.:)

Mr X
|
Not voted video yet
| 5th April 14:48
did you like this one Regina?

lorilee
|
Voted Video 10/10
| 5th April 17:16
Liam you did a great job holding out until the last one. I don't think Andy help much but it was funny to see him trying to be strong for you as Mr.X was having a lot of fun dishing it out. Hope you had a good V-Day and got all you were looking for with this girl !!!! GREAT JOB ALL

regina1985
|
Voted Video 10/10
| 5th April 18:21
Yes Liam was great I can tell he a very shy guy. The thing guys will do for love/sex!

cami
|
Voted Video 10/10
| 6th April 20:06
Poor Liam he was sick in this one :( but he did a great job in this video.

Mr X
|
Not voted video yet
| 12th April 04:07
Yeah he was really poorly! But Mr X was very kind and made him a hot lemon drink......... and then caned his bare bottom! LOL!

Mr X
|
Not voted video yet
| 12th April 23:30
:)

Ooleary
|
Voted Video 10/10
| 5th September 13:50
Wow this movie is so much fun tears in my eyes from laughing too hard .Liam took his first spanking with the cane really well .Andy is brilliant hilarious the interaction and dialogue between the 3 lads is great they're all so comfortable and relaxed with each other you can really sense the friendship they've built together it's so sweet it's why i love this website so much .