RELEASED: 26th December 2013
Oliver & Dale - Caught Screwing The Neighbour
(This movie is over 30 mins long and is a special festive treat for all the lovely members)
Oliver is in trouble - AGAIN! This time he is not alone and has got his friend Dale involved...
So Oliver was meant to be helping out his next door neighbour with some gardening... But Oliver had his eye on his neighbours wife and ended up helping her out! Not on his own though. In fact the husband came home to find Oliver and Dale and his wife in a very compromising situation in the master bedroom!
Oliver's Dad was humiliated and furious!
His long term friends marriage is on the rocks because his son could not keep his dick in his pants!
Oliver's father makes a decision and decides to send him to Mr X to be punished! Dale is given an ultimatum and dragged along too.
Both lads then face the humiliating prospect of getting spanked hard in front of each other!
Mr X does not hold back, especially with Oliver and the cheeky lads soon end up with very sore, red bottoms!
""""More from Mr X!...... So this was quite an extraordinary movie to shoot. Let me tell you a little about this. Dale is one of Oliver's real life friends. Dale is not a model, has never done any filming before, never been spanked before and never been naked in front of Oliver before! Dale is just a normal guy with a very normal outdoor, industrial job.
Due to unforseen, bad weather conditions, Dale was unable to work and funds were running low. Oliver told him about the opportunities as Straight Lads Spanked and convinced his friend to come along! So the reactions you see here between the two lads are not scripted or planned. They are real and genuine and a joy to behold! This is certainly not a gay spanking movie, but two straight lads being properly punished!""""
STREAM
VIDEO
Available streams for iPad, iPhone, Android, Chrome, Safari, IE or Firefox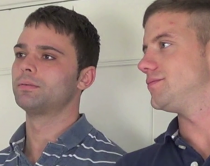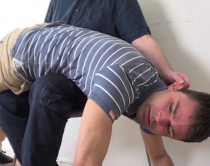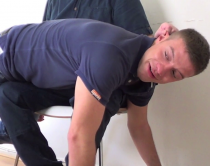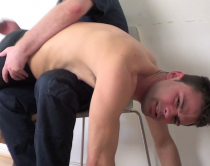 liuhaoda
|
Voted Video 10/10
| 26th December 16:16
Wow, I really enjoy it. I'm a fan of Oliver always, and Dale's performance is good and natural.
Good job, MR X and ART !
English is not my first language, so I cannot exprss all I want to say, and I love all the guys here.


Dave - Straight Lads Spanked
|
Not voted video yet
| 26th December 16:19
Hey Liuhaoda, I'm really happy you left this conment. It's no problem that English is not your first language! Really pleased you liked this movie.

lorilee
|
Voted Video 9/10
| 26th December 19:33
Loved it. Great job to all, Oliver got a good spanking Dale could have used a little more for there behavior but the attitudes were spot on Dale can talk all night long love his voice. Mr. X was strong as always, and Art I really liked the way you did the ending of the credits and music. WELL DONE ALL.

Rasputin
|
Voted Video 8/10
| 27th December 09:50
This is pretty good. Oliver was quite good as usual, and I liked Dale better in this video than in his last video. Dale always was a good actor, but he seemed a little more muscular this time than in the earlier video. Anyway, congratulations to all involved.

matt
|
Not voted video yet
| 27th December 12:06
I love anything with Oliver. Particularly when he's over someone's knee. Great, realistic, discipline scene. There's something sexy about Dale's "regular guy"-ness that makes this video work really well. Oliver get's better and more handsome with each video. And he's a really good, relaxed actor. He's also a great spanker as he proved with Harry in "Holiday Money". Let's see more of the cute boys like Dom, Harry, and Adam over Oliver's knee. Great work Dave, Art, and Oliver and Dale.

welshboy
|
Voted Video 9/10
| 28th December 03:09
I have been looking forward to this one after seeing photos of Oliver and Dale's red bottoms. I new it would be great. The story was spot on. Oliver and Dale's attitude's were wonderful. Oliver gets better with each film he does and he took a mean spanking this time. Dale has a very spank able bottom and working so well with Oliver. I loved Oliver's face as Dale got undressed he did not know were to look, great fun. Mr X you did a great job at spanking both boys, Art you are on fire with this film, Loved the whole look of the film, I can see you put in a lot of time on this and it shows, it worked so very well. Keep it up and I can't wait to see what Oliver and Dale get up to next.

Rasputin
|
Voted Video 8/10
| 29th December 09:24
Part of the charm of this video is the way that Dave had to keep spanking the impish grin off of Oliver's face. He might be sorry for getting caught, but I don't think he's sorry for nailing the neighbor's milf wife. Oliver's grin and resistance is charming, but it only enrages Dave more when the grin keeps coming back, and thus Oliver gets spanked even harder. Oliver's resistance to being spanked ("I'm not stripping in front of him", "I'm not getting spanked in front of him", etc.) provokes Dave to spank him harder still, which makes for a better video. Oliver's demonstrative reaction to his punishment is excellent.

spankyourass
|
Not voted video yet
| 3rd January 18:26
Fantastic Video Keep up the Great Work looking forward to seeing more or these 2 boys getting spanked together and each other. Dave just letting you know that the preview video here is not working I cannot see it.

Dave - Straight Lads Spanked
|
Not voted video yet
| 3rd January 18:41
Thanks spankyourass! Glad you enjoyed it. Oh and well spotted, the the preview should be working now.

Dave

DrWyatt
|
Voted Video 9/10
| 5th January 05:33
Excellent. The facial expressions of both Oliver and Dale are amazing. Look forward to seeing Dale back for more.

Morgan88
|
Voted Video 9/10
| 7th January 23:34
Just got around to watching this video & reading everyone's comments. I don't think there is much more I can add.....Absolutely wonderful in all respects !!....Loved Oliver's clothing....I'm a real blue jean fan !!....And boy does he wear them well !!.... I also, love Dale's deep, sexy, voice & gorgeous butt.....Their constant smirks, left me in stitches, but I noticed those smirks slowly disappeared once those bare bottoms were exposed !!....Excellent job done by all involved !! Great script & great filming !!...Keep up the awesome work !!!........Morgan.

Olly Olly Olly OiOIOI my fave model loved him in this movie so cheeky and those eyes can't get enough and paired with Dale great combo both good actors love the interaction between these two laughing and joking about the milf neighbour .Mr X good job with staying in character how did u not start laughing too xx