RELEASED: 21st August 2014
Ryan - Bubble Bath Blues
This movie follows on directly from
Andy & Ryan - Caught In Girls Changing Rooms
Ryan has just returned home after getting a sound spanking from Mr X.
He decides to soothe his sore bottom in a nice bubble bath.
Ryan ends up relaxed in bed thinking his troubles were behind him
WRONG!
Ryan's Dad has found out about his sons disgusting behaviour and is furious!
Dad feels that it is his job to punish his son so Ryan ends up getting a bare bottom spanking and slippering from his Dad on his already tender bottom!
Very Sore & Very Humiliating!
Warning - This Movie Features Lingering Shots Of Full Frontal Nudity Which Some Viewers May Find Highly Erotic!
STREAM
VIDEO
Available streams for iPad, iPhone, Android, Chrome, Safari, IE or Firefox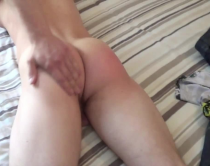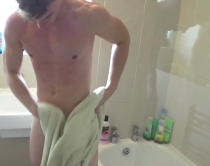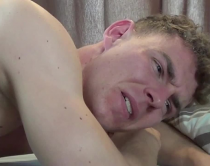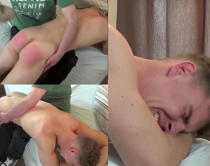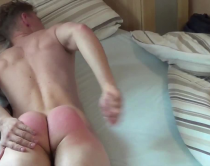 Phenomenal. One of my favourites on this site. Very natural dialogue. Loved Ryan being hauled over his daddy's knee, and those tight briefs! Ryan's body is smooth and toned to perfection 9/10
Reply

2l8k | 2nd May 2016 00:33
I posted a long comment but for some reason it took me back to the home page instead of submitting. I'll try to remember what I put...

I really loved this movie. You can really see the exhaustion over the previous events and the relief it's over. I like the thought process going into the scenario - a bath to ease the pain and then sleep the rest of it off. Would have been a good idea if an angry pa didn't have a different plan in mind!

I love the interactions between Ryan and his father in this one, especially his desperate attempts to get out of it with his 'too old', 'just a joke', 'you were young once', which only serve to make his dad angrier. I like the glimpses into the father's own experiences, too, especially when he uses them against Ryan. The throwing of him over his lap was just so perfectly done that I could watch that again and again :D

I have to feel a bit sorry for Ryan, but he really deserved it in the scenario being played. I think he's wonderful in this, too. I love his mannerisms - his look when he realises he's been caught, the hands over the face as if he can hide from the situation... and I like someone else's idea on here that he's learnt from his previous experience and is holding his swearing in.

All in all, another one of my top favourites. I get the feeling I'll be breaking the play button on here xD
Reply

Ficwriterjet | 30th April 2015 07:08
Perfect follow up to the movie with Andy and Ryan. I was especially pleased that this was a BBB movie so we got to see Ryan go over Dad's knee for the punishment. :) I loved that Dad made him go get the slipper, and that Dad threatened to have his mom spank him or have his sister watch if Ryan gave him any trouble. Those black briefs were very sexy, and showed off Ryan's ass perfectly. I thought it was interesting that Dad talked about his past experiences with spanking, and mentioned that he'd wanted to spank Ryan when he was younger, but that Ryan's mom talked him out of it.

That was a solid spanking on top of the one that had already happened. Ryan looked pretty close to tears by the end.

Wonderful movie! :)
Reply

millie
|
Voted Video 10/10
| 21st August 2014 16:48 (277 weeks ago)
poor Ryan just cant see what he has done wrong, great follow up to the first movie, Dad was annoyed that he got punished and not by him, was Sarah Smith Old Mr Smiths daughter that owns the local shop, i was laughing at that, if you lived in a small town this would be right every body knows each other and things do get talked about, well done Ryan loved the movie and Dad you were great

uchikimatsu
|
Voted Video 7/10
| 21st August 2014 23:25 (277 weeks ago)
Wow, Ryan really comes into his own in this film! I love the idea of a direct continuation from the Mr. X scenario. I think Ryan did exceptionally well with the dialog and body language, he's nice and loose, very expressive.

There's such a contrast to the first film I'd honestly be surprised if they were filmed on the same day, however, I can see how doing your very first film with someone else could be harrowing. Not having that inhibition really allowed him to shine here. I see nothing wrong with this boy's hair! Its nice hair! Beautifully thick and curly hair! Ryan has a well balanced fit body and a pleasant face. I like Ryan. He does, however have an unusually long torso. I mean, really, I could lay him down and eat sushi off that torso...

Dave, loved the lines about getting mom in to spank Ryan or allowing his sister to watch. Keeping the ladies in the loop, you know I always appreciate that!

Art, lovely work on the graphics here, I liked the collage effect split screens and the gorgeous, up-scale end credits were top-notch, thought I was in a theater watching a high budget Hollywood film for a moment!

Dave, can you tell us if this was filmed the same day as Caught in Girls Changing Room, or did you have to pink up Ryan's bottom for effect?

Rasputin
|
Voted Video 9/10
| 22nd August 2014 00:27 (277 weeks ago)
A very good video, Dave. Very effective split-screen editing, Art.

I didn't remember Ryan very well from his earlier video, thus I was pleasantly surprised by Ryan's performance and his appearance in this video.

To begin with, he gave a solid, demonstrative performance here. I thought that he actually felt pain and humiliation from being spanked over his father's knee like a little boy.

I was impressed by Ryan's body. I guess those tight-fitting boxer briefs showcased his athletic physique better than the underwear he was wearing in the earlier video. I was also impressed by the complete lack of tattoos or body piercings on Ryan's body. When you think about it, Ryan made a sensible decision about his body - why would a good-looking, well-built young man mar his God-given beauty with a lot of body ink?

Ironically, my two favorite "Straight Lads" are Bailey and Andy. I like Bailey in spite of his many tattoos, and I like Andy in spite of his WAY TOO MANY tattoos. That is because I like their faces, physiques and performances so much that I am willing to overlook the body art.

Ryan is not yet as good an actor as Bailey or Andy, but he's off to a good start. I suspect he will do well in future "Straight Lads" videos.

Well done, Dave.

Art
|
Not voted video yet
| 22nd August 2014 02:41 (277 weeks ago)
Thank you, uchikimatsu. I really appreciate your comments and the thought that goes into them.
Thanks also to Rasputin. I'm glad you like the split-screens. Let me know if you think I'm overdoing them.

Aimee
|
Voted Video 7/10
| 22nd August 2014 08:58 (277 weeks ago)
First off well done to Dave. Great dad performance as always. Do you ever have an off day? Certainly not that we have seen :) I loved that the story was a continuation of Ryan's 1st spanking, you know I love continuity and developing story lines and this was fab for that.

Secondly, praise has to go to the talented Art. I love how you are getting more adventurous with your split scenes and credits etc. It is really professional looking and is just enough not to take away feom the action in fact it adds to it. Really good.

So that brings me to Ryan. Well done Ryan. This was certainly better than the first movie. I think you seemed more relaxed and comfortable with only having to play off 'dad.' The acting was good, reactions were good and generally everything ran very smoothly. That being said I am still not completely sold on Ryan but as I said to Chiki off forum, it can take a while to warm up to a new model. Be it entirely new to SLS or one that I just haven't watched much of, it takes a few movies before I feel I know them enough to really enjoy it. Ryan certainly is doing everything right so I can only imagine after a few more movies I will start to really enjoy his movies as much as the other models. Well done Ryan. I hope we see you again. You are certainly on the way to being a great SLS model.

Art
|
Not voted video yet
| 22nd August 2014 13:21 (277 weeks ago)
Aimee - thank you. You make a guy want to work harder :-)

toshiba
|
Voted Video 6/10
| 22nd August 2014 17:18 (277 weeks ago)
I like your Converse Dave. Ryan is lucky to have a young and trendy dad and not one that wears socks and sandals. LOL

cami
|
Voted Video 9/10
| 22nd August 2014 18:49 (277 weeks ago)
;)

Domfan
|
Not voted video yet
| 22nd August 2014 23:14 (277 weeks ago)
Top ass

baroquen_art
|
Voted Video 8/10
| 24th August 2014 08:43 (277 weeks ago)
I really liked this movie, and I like Ryan. He's a good looking guy, I think he has a very nice body, especially love that he has no tattoos for some reason. He did a great job and I thought he was very comfortable and the acting was great. Very nice job!

wardcoleman
|
Voted Video 9/10
| 24th August 2014 17:14 (277 weeks ago)
As I have just mentioned on the Blog, I have only just watched this download, and really enjoyed it. It is a great movie, Well done to Ryan, a great addition to th SLS stable

Lynne
|
Voted Video 8/10
| 24th August 2014 20:02 (277 weeks ago)
@chiki...I'll take the bet this was shot the same day :). Same clothing for Ryan and black pants for Dave.

I actually missed quite a bit the first time I watched this. One of Ryan's lines was a dead giveaway he had ratted himself out "it wasn't me, it wasn't my fault." I also noticed a distinct lack of swearing in this second vid...correct influence from the first shoot maybe? :)

I agree that Ryan did better in this second vid. The initial nerves had been taken care of and he was more natural in his reactions. His general attitude in the vids, and in the interview, shows he fits within the SLS venue quite nicely.

Ok firstly i want to apologise to Dave and Ryan you see when the voting on the movies was taking place i was reading other peoples comments about his hair so on my first viewing of this movie that's all i could think of and kept looking at it so i had to watch it again and Wow Ryan is a great actor and the story was good . Ryan has a great body and a cute little bum and him and Dad were great together.I'd like to see more Ryan xx

uchikimatsu
|
Voted Video 7/10
| 25th August 2014 18:08 (277 weeks ago)
@Lynne - I'll add to the complexity of Ryan's character with some head canon by saying that he doesn't swear here because while he doesn't know what to expect of Mr. X, and he's probably used to swearing around his friends, especially Andy, Dad is probably strict and doesn't tolerate it; he knows better. That may not have been what Dave intended, but it worked out that way and thats how I believe it in my head. Head canon. Like I just know for a fact in the show "Supernatural" when Sam misbehaves his big brother Dean takes him over his knee to correct him. And when Dean has trouble coping, the angel Castiel does the same for Dean, regardless that none of that is ever on film. Head canon.

welshboy
|
Voted Video 9/10
| 29th August 2014 09:23 (276 weeks ago)
I wonder if you can tell me Dave witch one of Ryan's films was filmed first? As to my mind Ryan did so much better in this film. His acting was a lot better and he seemed more at ease. As always I look at the underwear the guys are wearing and Ryan's was spot on. I do think with more films here Ryan will be one of SLP top stars.

matt
|
Not voted video yet
| 30th August 2014 15:01 (276 weeks ago)
Catching up on a reviewing this one. Ryan is amazing. He was a bit stiff in his first film but still really sexy. In this one, he's just great. He has one of the best bodies on the site. I love how naturally muscular and smooth he is. Great face and great butt. His acting is also really convincing. I love any movie that starts with a big, masculine guy saying "I'm too old to be spanked." Love the OTK, love his tight underwear. Can't wait to see more of Ryan. Since he's such a big guy, I'd suggest he might also be a good spanker in a future clip. Love to see him as a strict step dad or boss with Dom, Adam, or Wayne across his lap. Or getting spanked again. Great work, Dave, Art, and Ryan.