RELEASED: 17th December 2012
Jonathon has been very naughty indeed! Not only did he borrow Stephen's car without permission, he managed to scratch it as well! This is really going to affect Stephen's insurance premium!
Jonathon tries to deny his crime when Stephen confronts him, but after being threatened with a tougher spanking, terrified Jonathon confesses all!
Stephen does not hold back and rips off his belt as Jonathon is told to lean over the table! He clutches that table for dear life as the belt comes thundering down down on his bottom! The look of sheer pain on Jonathon's face tells you exactly how much this is hurting!
The problem is that Stephen has hardly started his punishment!
Jonathon is then put over Stephens knee and has his already sore bottom soundly spanked.
As if that was not bad enough, Stephen has one of his friends stop by and Stephen decides to give his arm a rest and pass Jonathon over to this other guy! Jonathon's bottom certainly does not get a rest as it is spanked further. Once his tight grey underwear is removed you can see how red his bottom is! The spanking continues though with Jonathon wriggling around and kicking his legs!

Jonathon will think twice before taking the car without permission again!
STREAM
VIDEO
Available streams for iPad, iPhone, Android, Chrome, Safari, IE or Firefox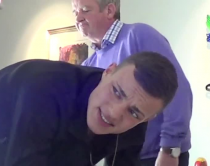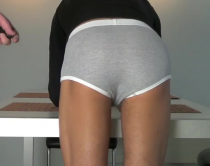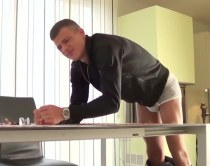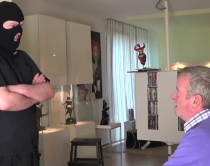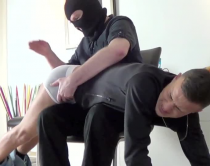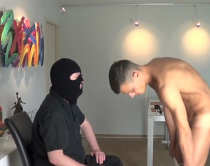 garydw | 1st August 2019 16:43
Anyone know if Jonathon is still making videos?
Reply

uchikimatsu | 6th January 2015 01:05
This is actually one of my favorites. I'm so glad my prompt to Domfan has sparked interest by others and more people are getting to enjoy this one.

I really have to ask, though... whats with paying for a membership and not bothering to watch ALL available movies? I can't wrap my brain around someone completely ignoring perfectly good and free movies. I'm not addressing anyone in particular, but I've heard that from members here and there..."Oh, I never watched those, they didn't look interesting..." WTF, really? Cuz in my first thirty days I watched EVERYTHING, including all the Jengas, 36 Lashes, Prison, and the "hidden" ones. Maybe I'm just a glutton!
Reply

millie | 5th January 2015 23:57
enjoyed this movie it was nice to see other guys in this as well as Mr X, Jonathan looks really good has he made any more movies for you, this was a great idea to bump up other movies as i have been busy flicking through them and have found a good few i hadnt paid any attention to

Cherylkay | 6th January 2015 00:33 (337 weeks ago)
@millie. I'm currently under the weather and have been sick in bed since New Year's Day so I've had nothing else to do. I forgot that the latest movie to get a comment gets bumped to the top. But happy you found this one :-)
Reply

Cherylkay | 1st January 2015 18:19
I finally broke down and watched this one as well. Even though Dave is in it, it didn't really pique my interest because Jonathan isn't an SLS lad. He's very cute, to be sure, with his pretty eyes and slim build (he rather reminds me of Dom from behind LOL). I enjoyed his German accent. Although my hearing is bad, I picked it up immediately even if I hadn't known that MSF is a German company. I grew up with grandparents and great-grandparents from the "Old Country" and hearing his accent gave me a whiff of nostalgia.

The scratched car scenario was a good one. Young people are often reckless, thoughtless and careless and Stephan didn't even give the poor kid a warm up...just a belt across the bum LOL. It was fun and interesting to see Mr. X in a different environment. All in all, I enjoyed this joint venture between SLS and MSF. Hopefully, you'll do another one like this sometime.

Art, well done on the editing. I really do appreciate all of your hard work.
Reply

Domfan | 1st January 2015 10:45
Chiki prompted me to look at this one. I probably never saw it because Jonathan is a bit too feminine for my taste.
But...it's pretty nice to see his junk rubbing on Mr X's lap I must admit.
Reply

cami
|
Voted Video 10/10
| 5th March 2013 16:41 (433 weeks ago)
jonathan is a cute. :) this was a good movie i loved it. is this the only 1 you have of jonathan?. or i'm just not seeing it. Great job all 3 of you.

Mr X
|
Not voted video yet
| 5th March 2013 21:38 (433 weeks ago)
This was a real one off shoot Cami. I had to fly from London to Germany to film it. Check out Foul Mouthed Andy for the full story. Good news there is one more really fun movie with Jonathan coming up! :)

cami
|
Voted Video 10/10
| 7th March 2013 17:03 (433 weeks ago)
Awesome can't wait.. :) .. Oh k i will check that one out.. thank you.