RELEASED: 2nd February 2018
Sebastian
Enough Is Enough
Week One
It's Sunday afternoon, and Sebastian was supposed to have taken his younger brother to football practice hours ago. But when his dad goes up to his room to investigate, and finds the young layabout stark naked on top of his bed, sleeping off the over-indulgences of the night before, well, it's safe to say that he's not best pleased.
In this week's brand-new male spanking movie from Straight Lads Spanked, we learn that Sebastian moved back home to go to college, but it's not working out – or at least not as far as the rest of the household is concerned. He has not been paying rent; he is bringing girls home at all hours of the night; he's not pulling his weight around the house, and often he isn't even turning up for college lectures.
Dad decides there and then that enough is enough, and the lad needs to be punished the way he used to be.... with a good hard spanking over his knee!
Before he knows what's happening, and despite his protests that he is a man now and too old to be spanked, Sebastian finds himself hauled over the knee and feeling his father's hand across his bare bottom. And he is even more horrified to learn that half his brother's football team are downstairs, giggling as they hear every smack!
At his age, Sebastian is utterly humiliated and mortified to find himself over his dad's knee and getting spanked like a naughty little boy. And his dad is determined to make sure that he gets his point across in no uncertain terms by delivering a very painful punishment that his wayward son will not forget! Dad's hand comes down hard on Sebastian's bottom again and again, leaving him wriggling, kicking his legs and promising to change his ways.
One very sound spanking later, Sebastian is a decidedly sore and sorry red-bottomed young man. But his troubles don't end there. Dad informs him that he is going to be initiating weekly reviews of his college grades, his attitude and his willingness to help out around the house, and that he will be getting his bottom spanked for any shortcomings. And if he doesn't like it, he can always just move back to his grotty bedsit! Surely that will be enough to turn this young man around.... won't it?
STREAM
VIDEO
Available streams for iPad, iPhone, Android, Chrome, Safari, IE or Firefox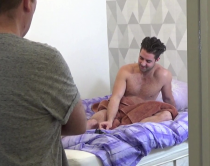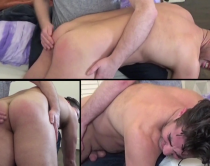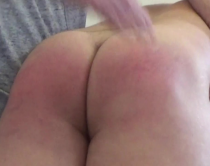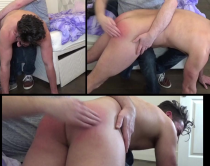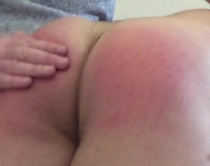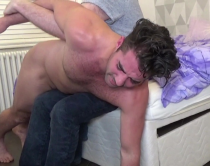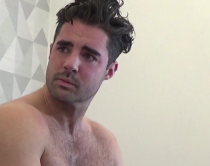 CassieAnne17 | 16th February 2018 19:07
Sebastian is one of my all time favorites on this site, and it's a father/son story, what more could you ask for?! :) I really enjoyed this one and hope there will be more to come!
Reply

Rasputin | 4th February 2018 21:16
Sebastian gave a good performance, as he usually does. However, I feel that this video would have been even better if initially Sebastian had been spanked while wearing tight, skimpy underwear, and then Dad had pulled his briefs down later in the spanking, and them "Dad" had pulled the briefs off of him completley for the end of the spanking.
Reply

JamieJones | 4th February 2018 09:38
As mstr_spkr says it is good to see Sebastian back again especially at what promises to be the start of an SLS Mini-series although judging by Sebastian's previous behaviour it might turn into an epic long running saga instead!

For me, what was even more exciting than the prospect of seeing loads more Sebastian was our first glimpse of Mr X's new home and one of the new sets. There certainly seems to be a lot more space and we've only seen one room so far, I'm looking forward to seeing more as time goes on.

Reply

mstr_spkr | 2nd February 2018 20:46
It's always great to see Sebastian. Thanks for the job well done. I'd like to comment on a few unrelated things.

First, the grey on black text description (as it appears in my browser) is very hard to read. Please go back to white on black. OK, so enough of the negative part of the comment.

There would have been nothing wrong with Sebastian being naked in bed if he had had the door closed. It was great to see a naked start to end spanking where we can follow the color progression that did not include a bubble bath. Perhaps there are other venues where the spanking can be completely in the buff, such as in the locker room.

If I may give a response to the rhetorical question you ask in the description, I hope the one spanking was not enough to turn him around! (And, I think from the title having "Week 1" in it is a spoiler that it wasn't.)

Great editing, Art! Great spanking delivery, too, Dave. However, the greatest accolades go to Sebastian for a spanking well taken (if only too short).
Reply