RELEASED: 6th April 2018
Sebastian
Enough Is Enough
Week Two
Well. To think that we were all quite sure that the spanking Sebastian got over his dad's knee the other week would be enough to make the lad think twice about his behaviour and make more of an effort....
It seems it will take more than one good smacked bottom to teach this young reprobate a lesson!
In this week's brand-new male spanking movie from Straight Lads Spanked, Sebastian's dad follows up his previous punishment with the promised review of his behaviour in the subsequent week. And although he started out well, Sebastian seems incapable of keeping his promises for very long, including the ones about attending college every day, doing the dishes and paying for his bed and board.
Dad decides that he needs to up the ante to deal with his wayward son, and to Sebastian's horror, unbuckles his belt and instructs him to lie on the bed....
After giving him a dose of the belt across the seat of his jeans, Dad puts Sebastian back over his knee for a hand spanking. He makes him pull his jeans down to ramp up the punishment by spanking and belting the seat of the lad's pants, and reminds Sebastian that if he thinks he's suffering now, it's nothing compared to how it will feel to be spanked on his bare bottom!
For some reason, Sebastian proves unusually reluctant to have his pants taken down, and it's not long before we discover why. When Dad ignores the protests and pulls down the underwear, he finds that Sebastian's naughtiness has escalated to a whole new level! Too bad for him that his dad finds about it while he has got him over his knee for a smacked bottom!
Dad's patience has been sorely tried, and he goes to work on the lad's bare bottom with his hand and his belt, and by the time he is done, Sebastian has a very sore red behind. He is warned that there will be another performance review next weekend, but surely he'll have learned his lesson by now.... won't he? Maybe we shouldn't bet on it this time!
STREAM
VIDEO
Available streams for iPad, iPhone, Android, Chrome, Safari, IE or Firefox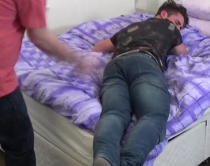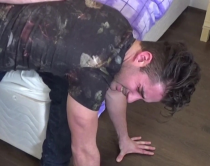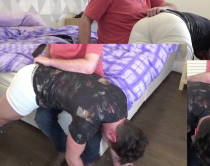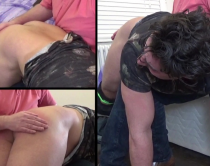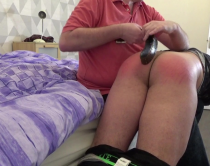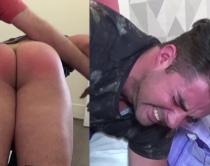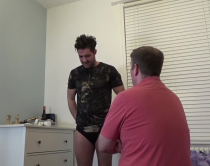 Rasputin | 28th April 2018 00:44
LOL. Five pairs of pants? That was quite funny. Sebastian looked very fetching in that last pair of briefs - the tight, skimpy Lonsdale briefs with the green waistband. Sebastian gave his usual fine performance, and his bare bottom reddened quite nicely. I liked the final scene too in which Sebastian was trying to soothe his flaming rear end.

Very good video.
Reply

Uchikimatsu | 7th April 2018 16:42
So cute the way he was gently rubbing his rosy bottom at the end! And sent to bed without supper! Poor, poor Sebastian.

Orla, thats really funny! I forgot how Seb usually shows up to film commando! LOL! Sebastian Five Pants! You coined another one, its adorable!

I hope Sebastian behaves a little better in the upcoming week, not because I don't want to see him spanked, but because Dad promised a spanking every week regardless of his behavior. I would love to see Dad give Seb a little encouraging praise, but still be firm about Sebastian having to take another "maintenance spanking," with Sebastian quietly pleading for him not to do it (but still acquiescing in the end.) I'm not asking for much... ROFL

Dave, for some reason the broken panel on the bed platform is very distracting. So are the acoustics in that room. Can you temporarily throw some area rugs in there or something when you film?
Reply

Orla | 7th April 2018 11:22
Sebastian No pants to Sebastian 5 pants hilarious i laughed so much but he got off easy, for that stunt alone Dad should have belted him harder on his bare bottom.But hey there's always next week and I wonder what implement Dad will borrow from Mr.X ...cane,paddle,butt blisterer....
Reply

mstr_spkr | 6th April 2018 20:36
As usual, Sebastian did a great job. Cute plot twist, too. I think Sebastian deserved a lot more for what he did but with another review coming up, I'm sure there will be a Part 3 (at least I hope there will be).

Sound is still a bit wonky. It makes it a bit difficult for us non-Brits (and maybe some Brits, too) to understand all the dialog. Nevertheless, the gist and reactions do come through.
Reply

CassieAnne17 | 6th April 2018 20:28
Aww Sebastian! Been waiting for this, can't wait til I get home to see it tonight! 😜
Reply