RELEASED: 8th November 2019
Sebastian & Spencer
Supervisor Spanking
Part Three
It's been three or four months since our last visit to the building site, where members saw supervisor Spencer getting his bottom warmed by strict disciplinarian Mr Stevens after falling short of the company's admittedly unconventional guidelines on employee discipline.
In the studio's latest male spanking movie, Mr Stevens turns his attention to wayward young Sebastian, whose own punishment earlier that day from Spencer had singularly failed to impress the boss. And he intends to show the supervisor exactly how it should be done!
"This is going to be a masterclass on how to spank a cheeky young toerag," he tells Sebastian. And, true to his word, Mr Stevens sits down, hauls the young builder over his knee and, despite the lad's protests that he is still sore from the spanking he received earlier that day, begins to give Spencer a practical lesson in how to discipline wayward employees!
After dispensing a firm spanking to the seat of Sebastian's jeans with his hand and a hairbrush, the boss tells supervisor Spencer that now it's his turn to prove what he can do.
He changes places with Spencer, and for the second time in just a few hours, Sebastian finds himself in the humiliating position of having to bend over his mate's knee to get his bottom spanked.
Ever generous with his advice, Mr Stevens is happy to give Spencer the benefit of his disciplinary experience, and demonstrate the best technique for the application of a hairbrush to a wayward rear end!
Sebastian promises that he won't be late again, but Mr Stevens is clearly not a man to be easily persuaded. Swapping places with Spencer again, he pulls down Sebastian's tight denim jeans and puts him right back over his knee to continue the spanking on his luminous lime-green pants.
After Sebastian has had the hand and the brush from both Mr Stevens and his supervisor, it's obvious that he is a very sore and sorry lad. But still he can't keep from making a smart-aleck comment about borrowing the hairbrush afterwards to do his hair!
It's at this point that Mr Stevens realises that Sebastian is still a long way from learning his lesson, and needs some serious adjustments to his attitude. "That means you're going to get a damn good hiding on your bare bottom," he informs the cocky lad. "Get your pants down!"
Sebastian reluctantly pulls down his pants and once again bends over the older man's lap, where, as promised, Mr Stevens wastes no time turning up the heat on the lad's bare behind, ending with 10 good hard whacks with the brush that he is told to count out.
After that, of course, he has to get the same again from Spencer, who is told to make his spanking a good one, if he doesn't want to trade places and get his own bottom tanned again!
When his ordeal is over, Sebastian is sent to stand in the corner with his pants down and his hands on his head. You'd think that that would be enough to make him think twice before opening his mouth, but another smartass remark earns him 10 more hard smacks with the brush as he stands there in the corner!
Will Sebastian and Spencer learn to do what is expected of them, or will this company's hardline approach to employee discipline lead to still more sore red bottoms in the future? We'll have to wait and see!
STREAM
VIDEO
Available streams for iPad, iPhone, Android, Chrome, Safari, IE or Firefox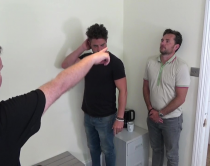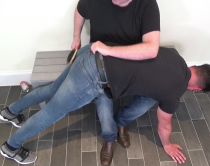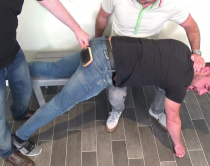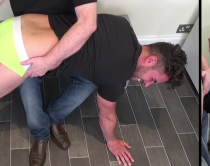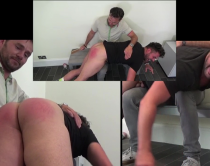 JoeJoeJoe | 24th December 2020 20:35
Reply

mstr_spkr | 8th November 2019 22:52
It's always good to see Sebastian getting spanked. Thanks. Spencer did a good job spanking but he still has a way to go to being proficient. I think he needs more practice. With guys like Sebastian around, I'm sure he can get a lot of it.

What is the chance of Sebastian catching Spencer doing something naughty and instead of telling "Mr. Stevens", he spanks Spencer? As long as he does a good job of spanking and does not wuss out, I think it would be a great episode in the series.
Reply