RELEASED: 12th December 2013
Spank Jenga - Dom, Harry, Wayne, Adam - Part Two
It's forfeit time!
Dom, Harry, Wayne & Adam are real life mates. They grew up together, went to school together.
They are all 19 years old.
So now, it is there turn to play Spank Jenga!
This is the forfeit game with painful, humiliating twists!
If you lose you have to get spanked by your friends with a variety of implements!
If you are looking for gay spanking style movies featuring straight lads then this is for you!


STREAM
VIDEO
Available streams for iPad, iPhone, Android, Chrome, Safari, IE or Firefox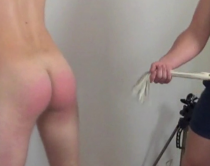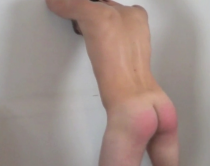 tinhead1
|
Voted Video 10/10
| 12th December 13:30
This is what it's all about! :o)

matt
|
Not voted video yet
| 13th December 08:55
Adam is incredibly cute. What a great face and what perfect, round bottom. All the boys in this video are great looking. Dom is looking fitter than ever. I gather from the pictures that there's at least one OTK round coming down the pike. Can't wait. And I really look forward to seeing more of Adam in the future. I'd love to see him get another OTK spanking. Charity Thieves with Adam and Dom remains one of my all time favorites.

wardcoleman
|
Voted Video 10/10
| 13th December 12:41
Dom looks phenomenal!

welshboy
|
Voted Video 8/10
| 19th December 07:27
Adam has such a great bottom that needs to get spanked on a day to day basis. This is a great shoot that looked a lot of fun to film, I would have loved to have been a fly on the wall that day.

Cherylkay
|
Voted Video 9/10
| 14th October 13:30
Advice to Adam: move the gonads when inexperienced people are hitting you with a leather flogger lol. I loved his whole approach to the forfeit and his little bottom wiggles were a delight, too. Thank goodness that was a fairly light flogger or those hits that missed the mark might have been a lot more painful.

Cherylkay
|
Voted Video 9/10
| 14th October 13:31
I hit "submit" too soon...I also wanted to say that the boys humming stripper music while Adam was disrobing was priceless.