RELEASED: 30th October 2013
Spank Twister - Four Brothers - Part Three
This folllows on from Part Two and features real life brothers Andy & Patrick along with Oliver & Fred!
This is Twister with a difference. Brothers against Brothers. Whoever loses gets spanked by the other brothers! The forfeits are chosen by a roll of the dice. 6 implements were on offer.
Cane, Chinese Birch, Slipper, Leather Strap, Hand & Wooden Stick
A second roll of the dice decided on how many swats the loser would receive! A game of chance that nobody wants to lose!
This final segment sees one last twist. This time it is brother vs brother. So first of all Andy and Patrick battle it out with the loser getting spanked by his own brother! Then it is the same for Oliver and Fred!
What I can tell you is that the brothers do not go easy on each other at all!
Four Real Life Brothers, Six Implements and Very Real Spankings!
STREAM
VIDEO
Available streams for iPad, iPhone, Android, Chrome, Safari, IE or Firefox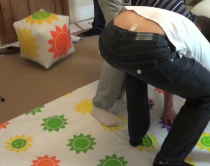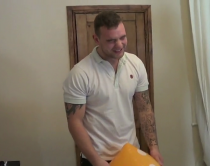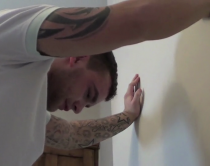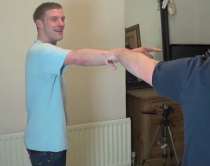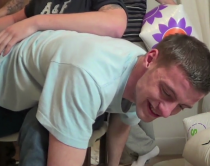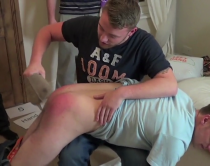 cami
|
Voted Video 8/10
| 31st October 16:54
I gave it an 8 because andy pushed oliver into his brother. If they fall let them fall . That is not fair, they did not do that to you andy . It's a game & you don't make it fun when you do that... Next time andy does that again he should get spanked by everyone... Play fair andy You took the fun out of the game..

But for a great job goes to ART, those graphics were awesome.. great job indeed art :) .....


For that ANDY YOUR GROUNDED LMAO

Rasputin
|
Voted Video 6/10
| 31st October 18:18
Pretty tepid, I'm afraid.


Dave - Straight Lads Spanked
|
Not voted video yet
| 1st November 00:55
I'm not so sure Andy's bottom found it tepid Rasputin...

welshboy
|
Voted Video 7/10
| 1st November 04:14
I liked the twist of a mini spank of between the brothers, as always Andy is a joy to watch. But like Cami Andy did not play fare. So I think he should get a few more spanks with the slipper. I always love Oliver's face as he is spanked. You can see he takes a good spanking from his brother. As for Patrick and Fred they are the glue that keeps the game going. I always love these spanking games as they are light and fun. Well done to Art for the graphics.
Dave how about doing a Christmas themed spanking game to post around the holidays to get us all in the mood that would be fun?

Art
|
Not voted video yet
| 1st November 06:20
Thanks cami
And that's welshboy.
You made my day :-)

Art
|
Not voted video yet
| 1st November 08:42
I meant to say "thanks" not "that's"
So thanks cami
And thanks welshboy.
You both made my day :-)

tinhead1
|
Voted Video 7/10
| 1st November 12:59
Kind of 'on the fence' on this one. The spankings were halved by being delivered by only one brother when in the previous two parts, they would have been dished out by two guys.

It was however great (as always) to see these good looking lads getting a bit harsh with each other.

Given the relative lask of spanking action in this video, perhaps it might have been better merged into the first two parts rather than being released as a separate weekly update.

That said Dave, you have released bonus updates prior to this so members are always 'up' on the deal when it comes to the amount of material available.

One thing remains... Art, yes to echo the points above your editing is a cut above the rest (lol, excuse the pun). I love the merging of live action into freeze-frame (and vice versa) and it is noticeably good in this video.

Well done all :o)

Dave - Straight Lads Spanked
|
Not voted video yet
| 1st November 15:05
Hi Tinhead, all fair comments. I am aware that this movie does not have as much spanking action as most of my movies. However, last weeks release was nearly 30 mins long and to be honest, should have been split into two parts and next weeks movie is another blockbuster too!

Also, I wont mention names, but I know from experience that many other Spanking sites that offer monthly subscriptions release weekly movies that are rarely longer than 10 mins. I know that Straight Lads Spanked way exceeds that with regards to the sheer length of movies and spanking aciton contained in them.

That said, I like this movie a lot because of the dynamics of the brothers spanking each other. I'm not sure how much this comes across, but this was the first time Oliver had ever been spanked by his younger brother Fred. This was a massive deal for both of them! Especially tough Oliver! :) Oh and it's nice that the bonu releases are appreciated. There will certainly be more of them along the way!

swespanker
|
Voted Video 8/10
| 3rd November 13:50
Also on the fence on this one, the first spanking was AWESOME ! I really hope we get to see Patrick dish out some serious discipline to Andy again in the future. The second one was ok, even if it was hard.

Art
|
Not voted video yet
| 4th November 11:57
Much appreciated tinhead1.


Morgan88
|
Voted Video 6/10
| 24th November 16:49
Personally, I really enjoyed watching these four handsome, hunky, dudes interact with each other, in this setting......At first, I couldn't understand why their butts were already red, before the spanking even began, but after re-reading the write-up, I realized this is actually a continuation of part two & was all filmed at the same time. Although I can appreciate Tinhead's comment about including it in the previous two clips, I am also sympathetic with Dave's defense. It is one helluva commitment to release first rate videos on a weekly basis. I can't even begin to imagine all the time, commitment, & hard work, that goes into perfecting these videos, into the final version which we are so blessed to receive......It is all the great interviews, the story lines, & the interaction between all the models, that makes this such a great site !!......Just seeing some guy get his ass pounded on, with little background ( like a few other sites ) just doesn't do it for me in my humble opinion. SLS requires much more thought & preparation being done, prior to the actual spanking taking place. This is what sets this site apart from all the others, for me, anyway. Keep up the great work guys !!...........