RELEASED: 8th September 2016
Taylor
Waits Till His Father Gets Home
Taylor is in deep trouble. He has been involved in a car accident and is in danger of getting into serious trouble with the police. Taylor has to make decision. Face the full force of the law or face his Dad and ask for help!
Taylor knows that both options are not going to end well, but decides that speaking to his Father is probably the best option. So Taylor sit's nervously in his bedroom waiting for his Dad to return from work.
Dad comes home and Taylor tells him the entire story. As expected Dad is really angry! Will he decided to help? Possibly. But right now all Dad is concerned about is teaching his son a lesson.
Dad takes his belt off and orders Taylor to get into position lying across the bed. Taylor knows that a good thrashing from his Dad in this mood is going to really, really hurt!
The punishment begins and Dad proceeds to lash his belt down across Taylor's bottom! Eventually Taylor has to strip fully naked and receive a whacking on his bare bottom! Dad does not hold back with this belting and Taylor is left barely able to refrain from crying out as the pain becomes unbearable!
STREAM
VIDEO
Available streams for iPad, iPhone, Android, Chrome, Safari, IE or Firefox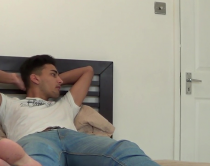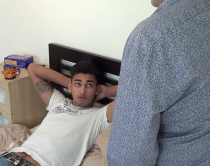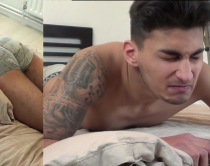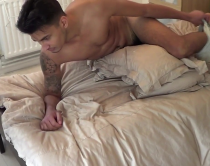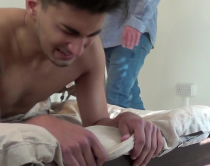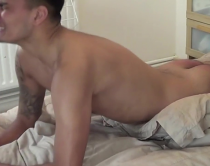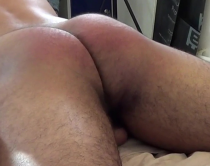 crospankee | 11th September 2020 22:05
I just love this clip. Dad is so angry, boy is scared, embarrased. And i kust love so hear that leather belt over his bare butt. OMg, i need some spank to
Reply

Very reminiscent of beltings I receivrd from my dad growing up. Taylot's reactions erte very realistic.
Reply

Ooleary | 11th September 2016 23:02
Taylor did amazing here, great great movie,so believable and loved his reactions to the belt and when he was just sitting in the bed holding it in his hands and he gave himself a little slap on his hand to see how it felt i just loved the look in his eyes , he has beautiful eyes , more Taylor xx

Like Lorilee the noise in the background was annoying esp at the start when.Taylor is talking to Josh on the phone , it sounded like maybe your neighbour was doing some diy with a drill or something. But it still gets a high marks from me ☺☺☺
Reply

NovaDad | 9th September 2016 20:15
Very good video!
I think Taylor is getting better and better -- and definitely more self-assured. His reactions seemed very real to me.
I suspect Taylor may be a bit under-appreciated... sort of a sleeper/dark-horse, if you will.
For sure, I'm looking forward to his next video (even though I usually prefer smooth lads).
Thanks Dave, Art, and especially Taylor!!
Reply

Slipper Boy | 9th September 2016 14:46
A very good movie and well acted by Taylor he seems to be more assure of his self
Reply

lorilee | 8th September 2016 20:33
Taylor was quite good, almost believed he was doing it for real. This is my fav. kind for video. The only drawback was the noise in the background, but o"well cant keep everybody quiet all the time. Great job everyone.
Reply