RELEASED: 27th July 2012
Karl is in trouble ..................BIG trouble!
This 18 year old swimming champ has been cheating on his girlfriend with some other lads sweetheart.....
The consequences of Karl's cheating are severe!
Upon finishing swimming practice, young Karl is ambushed outside by the angry boyfriend backed up by two of his mates... Outnumbered, Karl does not stand a chance...
Luckily for Karl, his swimming coach, Bailey comes to the rescue dives into the brawl.... Terrified Karl runs away leaving Bailey to face up to the angry lads. It's the morning after and Karl is summoned to Coach Bailey's office.....
We discover that Karl fell over whilst running away and spent most of the night in A&E with a damaged leg which is now in plaster, meanwhile Bailey has a painful, swollen black eye
Karl, with his leg in plaster, can no longer Captain the Swimming Team..........The competition is in a few weeks....
............Furious Bailey demands answers!........
Nothing Karl says placates Bailey and the promising athlete is told to empty his locker and leave the club.Devastated Karl pleads for a final chance..........
Bailey appreciates that he is a fantastic swimmer and would like to salvage the situation..... Bailey is angry though.... Really angry and decides that if Karl is to stay he must pay a price for his actions....
Karl reluctantly agrees...
..... Karl has no idea how heavy the price is going to be.....
.....what happens next is extreme punishment dished out in anger by a livid Bailey.
Hard. relentless hand spanking delivered full force by strong Bailey. Struggling Karl, pinned down, picked up thrown around and shown no mercy......
.......and when the hand spanking is over with, Coach Bailey orders Karl over the chair to receive 12 hard swats from the heavy plimsol leaving the lads bottom throbbing and bruised .......
More from Mr X!
"Warning!!!! This movie is not for the faint hearted! It contains 100% real, hard punishment. This is far from a gentle spanking. If scenes of a young lad being severely punished are not to your taste, this male spanking movie will not be for you..
STREAM
VIDEO
Available streams for iPad, iPhone, Android, Chrome, Safari, IE or Firefox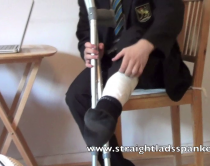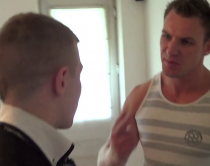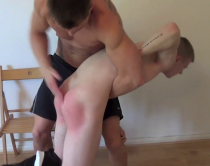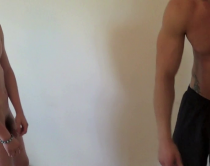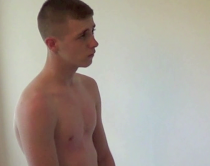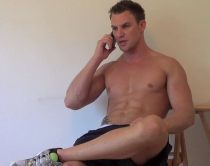 jacko | 27th January 2017 09:47
Karl reminds me of a boy who attended my school in day gone by; an equally fun-loving, mischievous lad who seemed to get into trouble quite a lot. His problem, however, was that whenever he was being disciplined or counselled, he smiled; almost a laughing smile. It's not that he enjoyed the situation he was in; he couldn't help it. As a result he incurred the wrath of many of the male teachers and copped much more punishment than he deserved. Yes, Karl reminds me so much of him. In all of his movies, Karl gives the impression that that he is immune to pain by smiling constantly. Others have described Karl's reaction to hand spankings as "passive", "stoic" and "not bothered" but throughout this really harsh spanking, Karl, although smiling, revealed through his facial expressions and pleadings that he was indeed suffering. There was so much more animation than in his first film, but then the punishment was so much worse.

Uchikimatsu discusses the defining moment in a movie and makes an excellent case for one in this movie. I found a different defining moment. It occurred just after Karl stood up after surviving the most torrid of spankings. His backside must have felt as if it was on fire; he had suffered considerable trauma and stress as he had fought to cope. He looked appropriately dejected, exhausted and defeated. Then Bailey drew his attention to the plimsoll. Karl's eyelids dropped, he frowned, he shook his head. Outstanding acting or a natural reaction from a lad who wanted no more? We will never know but it a defining moment for me. I wanted to climb into the screen and tell Bailey that Karl had suffered enough; to leave him alone.

Much deserved praise has been directed at Bailey in the comments bellow. His performance was outstanding. He was not Bailey in this movie but a coach who claimed to be working in Karl's best interests but as he admitted later was enjoying this sadistically revengeful payback for his black eye. I hated him for dealing with my favourite model so severely; ignoring his pleas to stop and treating his obviously bruised backside with contempt. More experienced models would not have lasted the distance. A special feature was Bailey's dialogue which was convincing and powerful. A talented actor indeed and much better suited to this role than being spanked himself.

I know I'm biased, but I thought that Karl's performance was also of very high standard. What a brave lad to cope with such a traumatic and painful experience! Every time he looked at the camera while pleading for the spanking to stop I felt so helpless. The onslaught of the plimsoll was particularly harsh and left Karl with considerable bruising. It is not often that an 18-year-old, inexperienced spankee is subjected to such harsh punishment so early in his SLS career. I hope to see this damage replicated on Bailey's backside. Watch him squeal!. I've yet to watch all of Bailey's movies so I live in hope even though he is no longer with SLS.

There was so much about this film that made it memorable. Karl's uniform and the way he wore it was a first as too was his plastered leg. (Were Karl's plaster and Bailey's black eye related in some way?) The use of the plimsoll was unusual as too was Bailey's unique method of spanking while Karl was tucked under his arm. The storyline and Bailey's black eye were also very clever enhancements.

Outstanding acting, directing, editing and production, particularly for a film made more than five years ago. Congratulations to all responsible. I will feel guilty every time I revisit this film and have to witness my mate Karl being subjected to such suffering. I hope that he got paid double for his efforts. That might ease my conscience a little.

jacko | 3rd February 2017 18:02 (229 weeks ago)
Dave described this movie nearly a year later, before the appearance of the bath brush and the mini carpet beater, as "definitely the hardest spanking that I have shot on film." Karl, the master of understatement in both reaction and comment, described it as "painful." To make Karl's performance more meritorious. it was shot while he was suffering a broken ankle. I agree with jams' comment that an awesome highlight was the sight of Karl being "lifted like a rag doll". He must have dreaded what was coming next. It was not Karl's most excruciating spanking ever although he did comment that at one point during the strokes with the plimsoll near the end of the movie "he thought his backside was coming out his mouth." Later episodes with the cane and bath brush were more severe in my opinion.

This was movie #4. Karl was still a teenager with at least a further five years of film-making ahead of him. His technique for enduring such a powerful spanking? "I think about rainbows and lollipops!" That's my mate Karl!
Reply

jams | 1st February 2017 13:16
Karl's face seems to hide a lot of pain and humiliation in his movies, but we can see glimpses of emotion trickle through during this extremely harsh spanking from Bailey. IMO, this is one of the most severe spankings I've seen on SLS. I loved everything about the entire scene, especially Bailey's strength and dominance over Karl. Watching Karl being lifted like a rag doll was awesome and his legs dangling helplessly added a special touch.

Karl is one of my favourite models, so watching Bailey being mercilessly beaten with the bath brush in a later video was satisfying.
Reply

| 3rd November 2015 22:28
Loved the couple of wedgies Bailey gave Karl, extra humiliation!
Reply

Hunter | 22nd June 2015 18:10
Hi Dave

Brilliant video yet again Karl certainly got his bottom truly and deservedly spanked then the poor lad had do the same again when got home😋.

Bailey was great in this video he certainly gave out a hard spanking.
Reply

johnbezjian | 10th June 2015 08:27
Great video! Love Bailey as the spanker and disciplinarian! I agree with other comments, let's see more of Bailey giving spankings! Love to see Bailey giving a good strapping with a leather belt.

Cherylkay | 10th June 2015 17:56 (315 weeks ago)
@johnbezjian, you can tell by the release date (July, 2012) that this is an old film. Dave has said that Bailey has moved on so there won't be any more Bailey. I do enjoy this film though.

Dave - Straight Lads Spanked | 10th June 2015 23:40 (315 weeks ago)
Hi John, really glad you enjoyed this one. There have been more recent Bailey movies with one released later last year. It would be good to have him back! II'll see what I can do! :)

:)

Dave

Cherylkay | 11th June 2015 18:05 (315 weeks ago)
@Dave, if Bailey owes you any favors, now would be a good time to call it in LOL.
Reply

taltos28
|
Voted Video 9/10
| 14th January 2013 19:31 (440 weeks ago)
A nice idea. Loved the school uni on Karl. He can obviously take a fair amount of punishment. But the highlight was Bailey's tough coach. What a terrific spanking and slippering. He was everybody's example of the games master from hell. Certainly gave me chilling reminders of mine. Poor Karl.

coerver
|
Voted Video 10/10
| 15th January 2013 22:12 (440 weeks ago)
Bailey is a very serious disciplinarian. Bailey covers the spanking zone and a little bit more. Karl seems kind of passive. Of course Bailey has both the size advantage and a position advantage over Karl. I gave this one a 10 because of Bailey's determination to punish Karl with gusto raising his butt up in the air several times.

bsmb1228
|
Voted Video 10/10
| 8th May 2013 23:33 (424 weeks ago)
One of my favorite videos. Bailey is a great spanker. I love it when he picks Karl up and spanks him. More of Bailey as the spanker.

Lauren
|
Voted Video 10/10
| 3rd September 2013 16:04 (407 weeks ago)
Bailey is amazing, he's great as a spanker or the spankee. i gave this a 10 because Bailey really gives off the anger well and that spanking was intense! Was wishing i could get a spanking from Bailey till i saw this! lol (still do kinda ;) )

Dave - Straight Lads Spanked
|
Not voted video yet
| 3rd September 2013 16:31 (407 weeks ago)
Hey Lauren! Welcome to Straight Lads Spanked! Great to see you posting! :)

Energyzapper
|
Voted Video 10/10
| 21st November 2013 22:06 (396 weeks ago)
Guys, this vid is just awesome. Bailey didn't hold back, with hard hitting physical and psychological performance and Karl, the sexiest chav on the screen took it well like he wasn't bovered. The best video i've seen for years. Looking forward to more from Bailey and Karl.

Dave - Straight Lads Spanked
|
Not voted video yet
| 22nd November 2013 20:10 (396 weeks ago)
Hey Energyzapper! Bailey did not hold back at all! This was one long, drawn out hard spanking! Karl was truly amazing how he took this punishment!

uchikimatsu
|
Not voted video yet
| 19th May 2014 15:39 (370 weeks ago)
Because I enjoy subtle interaction between models, dialog, storyline, exchanges, and small details often overlooked in the excitement of the spanking or for the big picture, there is sometimes one small interval that absolutely "makes" the entire movie for me, and most often than not it has nothing to do with the spanking, and its usually things that are spontaneous that probably can't be duplicated.  I call it the Defining Moment, and for me the Defining Moment in this film is when Karl's spanking is finished, he is against the wall with hands on his head.  Coach Bailey is offering Karl his place back on the team, but telling Karl that he will have to tell his father about the incident.  Karl is facing Bailey and pleads with Bailey not to tell his father.  Bailey simply looks at Karl dispassionately and turns Karl to face the wall without bothering to answer him. THAT.  Right there. The look, and the not answering, and the turning of the boy to the wall. That.  Defining Moment.  

nanarr
|
Voted Video 10/10
| 23rd May 2014 03:04 (370 weeks ago)
Watched this one several times and I love it! There's a saying in the States referring to a hard spanking as "wearing him/her out". Bailey absolutely got hold of Karl and "wore him out"! You could tell Bailey wasn't playing and looked like he really had a black eye. Did Karl cause that somehow? If so, no wonder Bailey tore him up!! Chiki, now I'll have to watch it again (like it's a sacrifice to re-watch ha ha) to see that part.

uchikimatsu
|
Not voted video yet
| 23rd May 2014 13:34 (370 weeks ago)
@nanarr - oh yes, the sacrifices we make! Perhaps I'll sacrifice myself and watch it again in order to mark the exact time in the film it happens so that any one else that's curious can go right to it. A sacrifice for the site, for the other members, you see.

uchikimatsu
|
Not voted video yet
| 24th May 2014 02:24 (370 weeks ago)
@nanarr - it begins right at 16:00 minutes into the film and ends at 16:12. Its the little things. Just something about the combination of the Look Bailey gives the kid, the move of turning him to the wall, and not bothering to answer him... all at one time. Anyone with a degree in psychology, feel free to chime in at any time to explain my obsession with these twelve seconds....or anyone at all with some thoughts about it, thanks!

nanarr
|
Voted Video 10/10
| 24th May 2014 02:26 (370 weeks ago)
And we appreciate it, Chiki, anything for the cause LOL.

nanarr
|
Voted Video 10/10
| 28th May 2014 04:06 (369 weeks ago)
Okay re-watched it and I see what you mean, Chiki. Of course, to me every part of that show was just right! Love, love Bailey!!!!

Can't believe I didn't rate this one first time I saw it, so I just now rated it a 10 (to paraphrase the movie "Spinal Tap" does it go to 11? Hope the rating "took".

Wow after watching this movie i wanted to punch Bailey in the face I'm not a violent person but my poor baby Karl but having said thst wow that boy can sure take a beating and when Bailey just picked him up like and spanked him it was my fave part want to see Bailey doing more spanking just not on my babies Karl/Dom he could spank Liam/Wayne/Harry Orlaxxx

Domfan
|
Not voted video yet
| 7th September 2014 16:33 (354 weeks ago)
Love the bits where Bailey lifts him up with one powerful arm, like he's a toy.