RELEASED: 16th June 2017
Todd
Caught Cheating
Young Todd is sitting at home feeling rather pleased with himself. He has had a very good day indeed! You see Todd has been having some fun with his brothers girlfriend! Shocking behaviour! Todd's day is about to take a serious turn for the worst as his father has worked out what is going on.
Todd's Dad is really angry and disgusted by his son's behaviour. He decides to give him an ultimatum. Either take a firm, over the knee spanking or he tells his brother and lets him deal with it! Todd reluctantly accepts the spanking.
Dad does not make this an easy option and really puts Todd through his paces with a strong hand spanking that starts on his tight jeans, then on his underwear and finally on his bare bottom! Ouch!
STREAM
VIDEO
Available streams for iPad, iPhone, Android, Chrome, Safari, IE or Firefox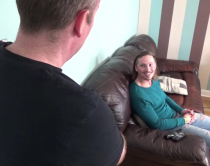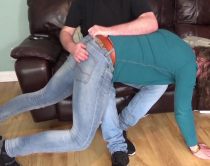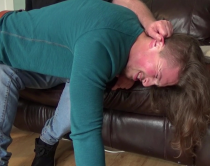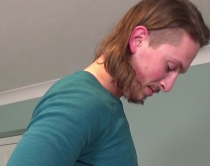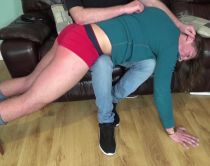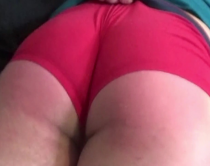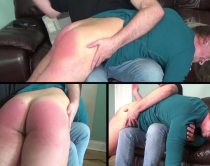 Ficwriterjet | 23rd September 2017 04:31
I enjoyed Todd. With the way he was asking for the spanking to stop so early on, I figured he wouldn't do anymore movies, but I see that he's done at least once more since this one. I do prefer to watch a spankee who doesn't try to be stoic. It's a bit difficult for me to be sympathetic to Todd (the character) because sleeping with your brother's long term girlfriend is truly low. But I thought Todd the actor did a great job.
Reply

natasha74 | 30th June 2017 00:21
Really like this movie. Todd reminds me of Adam. :)
Reply

Orla | 26th June 2017 10:50
More Todd ...More Todd ....What a great first time movie , I love his attitude and his looks even the hair and he has a beautiful bottom that just screams out 'Spank Me'.

I've been going through the list of boys and i'm trying to work out who his brother could be ???Cos secrets like that always have a habit of coming out ...

Being a bit naughty here now but how did Dad recognise Lindsey's lingerie so quickly 😉 just saying

Looking forward to seeing more of Todd xx
Reply

LucienG | 25th June 2017 16:13
If you were to ask where Todd is on the spankable scale, I'd say he's beyond it! What a beautiful red ass he has! Nicely shaped and contoured, plus those thin sexy jeans! Ditto on who cares about his hair? Great job to Art for his editing, Dave for his skilled and thorough spanking, and Todd for being able to take it and making us believe he was sorry for what he did.

Reply

flashgordon | 23rd June 2017 08:57
I agree with all that Mattnyc and Welshboy say. Like Rasputin I'm not the biggest fan of the hair, but who cares about his hair?! Just look at him, lying there over Dave's knee in those jeans - so perfectly tight over his bottom and thighs, and - as Mattnyc observes - so thin too. As a spanking target, what could be a more tempting invitation?

One of the good things about Straight Lads Spanked has always been the fact that a lot of the lads do wear such nice tight jeans. It's great for us, but I can't help wondering what goes through the mind of someone like Todd - the real Todd - preparing for his first filming session with Dave. He knows he's going to be spanked, and he knows it's going to be sore. You would imagine that perhaps thoughts of self-preservation might have led to him turning up in something thick and protective! But no, he puts on his oldest skintight jeans, worn thin on the seat. Good for him! Same with bright red underwear for colour-matching purposes! And - although nothing came of it in this video - I couldn't help noticing his nice substantial leather belt... Perhaps some day we will see that inviting piece of leather brought into play!
Reply

welshboy | 22nd June 2017 19:44
Yes I love Todd too. Just as Mattnyc has said , I loved Todd's tight jeans and also his underwear too. Top job Dave on spanking Todd. I have watched this film many times, and each time I find more to love about Todd, so lets just hope we do see much more of Todd and his so spank able bottom. Well done Dave and Art on a 10 out of 10 spanking film.
Reply

mattnyc | 22nd June 2017 09:13
I love this clip. Todd is another incredible addition to the site. He's really handsome and for a first timer did a great job staying in character, playing the scenario, etc. He has a great face; sexy mouth, beautiful eyes, etc. His super tight jeans were a huge turn on for me. Not a fan of that look in real life but for a spanking scene they're amazing. Tight and revealing in all the right places and also thin enough that the spanking really landed even over Todd's jeans. Great job spanking on the jeans, Dave. Of course I loved seeing the jeans come down and especially loved the super tight, skimpy briefs. And Todd's round, smooth, butt is amazing. I can't wait to see more of Todd. He's a promising, sexy new model. Great work as always, Dave and Art. Thanks and more new models, please.
Reply

Rasputin | 17th June 2017 00:50
I have mixed feelings about this video. Todd gave a pretty good acting job, and I loved his tight red briefs, but his very long hair detracted from his performance.
Reply