RELEASED: 22nd November 2019
Zane & Alex
Best Mates Spanking
With mates like Alex, who needs enemies?
At the outset of the latest male corporal punishment movie release from Straight Lads Spanked, Alex is lounging on his bed when Zane comes in and confronts his friend, saying he knows that Alex has been messaging his girlfriend!
Alex tries to laugh it off, but Zane clearly feels angry and betrayed, and says that he will have to tell Alex's own girlfriend. When Alex pleads with him, saying that if he does that, she will finish with him, Zane decides that he will just have to deal with the situation himself.... and, thanks to the smacked bottoms they have both had recently from Alex's dad, both of these lads now know a very effective way to get a message across!
Sitting down on the bed, he hauls his mate over his knee and begins to spank the seat of Alex's tight black jeans.
"It was only a few messages!" protests Alex as his friend's hand begins to get to the seat of their differences. "It doesn't matter!" replies Zane. "Now you're only getting a few spanks, aren't you?"
Have you ever noticed that some lads never seem to know when to shut up? Alex remarks that Zane's girlfriend was only trying to do better for herself.... but saying that at the very moment when he was over Zane's knee getting a spanking might not have been the cleverest of moves! Infuriated, Zane tugs down his mate's jeans and begins to warm his now bare bottom with gusto!
Zane reveals that he knows this isn't the first time Alex has done this, and he is determined that this time he will teach him a lesson he won't forget!
Trying desperately to block Zane's smacks with his own hand, Alex swears that he is sorry and that he won't do it again.... but clearly Zane won't be satisfied until he has given his mate the sore hot bottom he so richly deserves!
He is going to have to keep an eye on that girlfriend of his.... but at least Zane seems to have no problem keeping his mate in line!
STREAM
VIDEO
Available streams for iPad, iPhone, Android, Chrome, Safari, IE or Firefox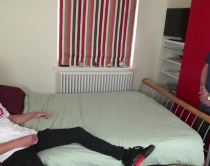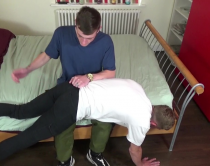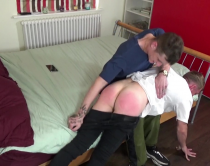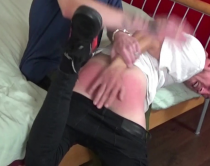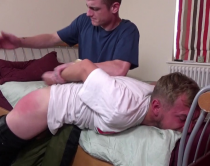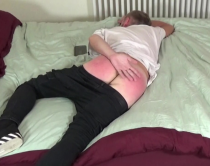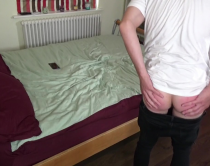 LoveGood | 30th November 2019 08:05
Looks like Alex needs to have his hands tied down to keep him from blocking the spanks. I do love when these models spank each other and appreciate when they try to give a strong spanking :)
Reply

mattnyc | 29th November 2019 18:35
Since this clip seems to be somewhat unpopular I thought I'd speak up and praise it. I love when the models do the spanking. It's always really sexy when it's a pair of straight lads in the scene. Zane did a great job as a spanker. I thought it was super sexy how strict and no nonsense he was with the spanking and that, having taken some lessons from Mr. X, yanked Alex's trousers up tight while he was spanking him. Alex is super sexy to me with this normal hair. Very spankable with a perfect bottom. I wish he didn't block the spanking quite so much with his hand but all in all I found this pretty sexy. Every clip can't please everyone so it seems important to let you know what we like when we get it; I love one model giving an OTK spanking to another straight lad and I'm always happy to see clips like that. Even if there are some growing pains involved in the guys getting used to doing it. Great job, Dave, directing and conceiving the scenario. Always something new and exciting on this site.
Reply

newspank | 25th November 2019 22:52
Zane is a very decent actor here, he handles himself and dialogue well and is believable. Alex appears to be going through the motions and as they say seems to be 'phoning it in'. This is awfully short and feels like a short story shrunk into even smaller parts. Plus it's all getting awfully 'twinky' around here much like many other MM spanking sites and some of the USP therefore are fading away.
Reply