RELEASED: 18th October 2019
Alex & Zane
Spanked For Smoking
Whenever a couple of lads are misbehaving together and one asks the other when his dad is due home....it's an unwritten rule that Dad is bound to show up earlier than expected!
In the latest male corporal punishment movie from Straight Lads Spanked, Alex and his mate Zane are lounging on the bed in Alex's room in just their pants, smoking.... very much against Dad's rules!
When Dad walks in and catches them quickly stubbing out the cigarette, it goes without saying that he's not best pleased! He tells Zane to get dressed so that he can take him home, earlier than planned, before returning to deal with his wayward son. But Zane himself is on his last warning with his own father and at risk of being thrown out, so he begs Alex's dad just to deal with him in the same way he plans to deal with Alex....
Through the goodness of his heart, Dad relents and tells Zane that if that's really what he wants, they will both be getting a good spanking over his knee!
Alex is the first to bend over, and Dad wastes no time warming the seat of his tight navy-blue pants, while Alex whines and protests and as usual tries, unsuccessfully, to block the smacks with his hand.
When the time comes for the boys to swap over, Alex's dad checks once again that Zane wants to go through with the punishment. When he confirms it, Zane assumes the position over the older man's knee and takes his turn feeling a firm hand across the seat of his tight pants!
If they thought it was going to stop there, however, these lads have got another think coming! Alex is going back over his dad's knee again.... but this time with his pants down!
Embarrassed about being bared in front of his friend, Alex tries to protest, but that was never going to wash, was it? Down come the undies and back over Dad's knee he goes, for the spanking to continue on his bare bottom!
Whatever Alex gets, of course, Zane must get too.... so after checking one more time that his son's friend doesn't want to opt out and go home, Dad tells the second errant lad to pull down his pants and bend over his knee again!
Zane's bottom is already very red and sore, but Alex's father is unmoved. It will be a lot redder before he's finished with it!
When both lads have endured a good hard spanking on their bare behinds, they might have been forgiven for thinking that their ordeal was over. But no. Alex is told to bend over the bed, while Dad reaches for his belt...
These young men are discovering the hard way that smoking really is bad for your health!
STREAM
VIDEO
Available streams for iPad, iPhone, Android, Chrome, Safari, IE or Firefox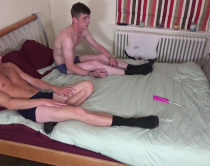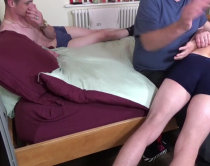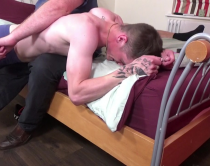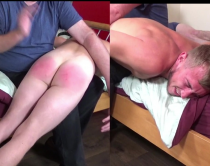 drvans | 22nd October 2019 15:01
Dave, Dave, DAVE! This is just absolutely super-spankTASTIC! It has already become one of my very firm favourites and that is among some seriously STIFF (!!) competition! Two gorgeous young lads, both as cheeky as you like, laid over the knee in tight coloured underpants to get their uberspankable bottoms well and truly SMACKED!! And naked except for their socks and briefs, both pairs in slightly different shades of navy-blue, one of my favourite colours for spankingwear! A whole control-panel of buttons pressed (as a matter of fact, I lost control - I'll leave you to guess how!)!! A veritable chequerboard of boxes ticked!! Thank you for a phenomenal end to the week!!!

I just wondered if I might ask a question, although if it's touching any raw nerves, please feel free to tell me to mind my own business. Is there a reason you don't post your fab videos on Jock Spank any more? In particular I think that 'Spanked for smoking' would go down like a boy's bottom on fire with the viewers!

Just a thought - if it's out of line or unhelpful, please just ignore it.
Reply

Teacherman123 | 19th October 2019 03:38
Always so satisfying to see two bad boys punished alongside each other! Tick. And that delicious embarrassment when they have to take down their pants and get their bare bottoms smacked in front of each other? Tick tick! And if one of them ASKS for a spanking because it is preferable to the alternative, well, tick tick tick!
Reply