RELEASED: 30th August 2019
Zane
Forbidden Tattoo
In their latest male corporal punishment movie release, Straight Lads Spanked introduce members to yet another brand-new model, Zane. You're welcome.
And Zane is in trouble from the word go. He has been off to Amsterdam with his mates for the weekend, got drunk, and come home sporting a tattoo on his hand and wrist! He may have had permission from Dad to go on the trip, but at just 18, definitely not to get inked!
Dad reckons that he has been "one of the most easy-going fathers around". He only had three rules: no pierced ears; no tattoos, and no motor bikes. And now Zane has come home not only with a tattoo, but one in an obvious place where it will be seen by any prospective employers!
"What did I tell you would happen if you got a tattoo?" asks Dad. "I'd get a spanking," says Zane, rather mournfully.
Proving that he is nothing if not a man of his word, Dad immediately hauls Zane over his knee and begins to warm the seat of his green trousers with a firm right hand, lecturing him all the while.
It soon becomes clear that Zane is not accustomed to finding himself over his father's knee. "Is that it, Dad? Can I leave now?" he asks, when Dad eventually lifts him to his feet.
Dad wastes no time pointing out Zane's mistake, however. "I'm going to teach you a lesson that you're not going to forget in a very long time, young man!" he says, as he orders the lad to take down his trousers and get back over his knee for Round 2!
By the time he has felt the steady assault of his father's hand on the seat of his tight blue pants, the message is clearly beginning to get through to Zane, and he tries repeatedly to block his dad's hand with his own.... but without success.
And of course Dad's not going to let it go at that. Furious at his son for being so foolish, he's not going to be happy until he has administered a good spanking on the lad's bare bottom.... so there's nothing else for it. The pants have to come down!
When Zane pulls down his pants and goes back over Dad's knee, we can see that his bottom is already very red and sore.... but not quite red or sore enough for Dad's liking! By the time Dad has finished dealing with him, it's going to be a lot worse!
Standing in the corner afterwards with his hands on his head, Zane has the luxury of time to reflect on his reckless foolishness. And maybe resolve to avoid going anywhere near a tattoo parlour the next time he's out with those mates of his!
STREAM
VIDEO
Available streams for iPad, iPhone, Android, Chrome, Safari, IE or Firefox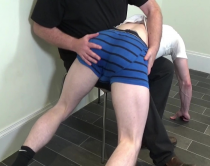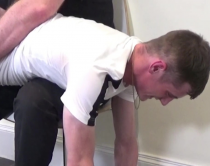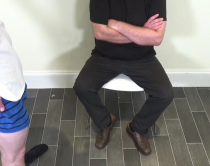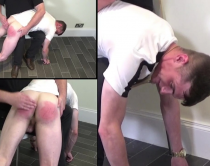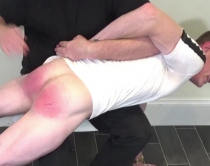 mattnyc | 2nd September 2019 19:37
Another cute new model. And a good actor, too. You're on a roll, Dave. Looking forward to seeing more of Zane. Thanks!
Reply

mstr_spkr | 31st August 2019 19:24
Very good job. Welcome Zane!

Getting a tattoo in Amsterdam. Maybe Brexit isn't such a bad idea from dad's perspective.

Why didn't dad check the rest of his body for unauthorized tattoos?
Reply

vinniecp | 31st August 2019 18:53
Nice one great new lad how about Zane and Jason together
Reply

Lorn | 31st August 2019 06:03
He is cute despite baggy boxer shorts and long black socks
Reply