RELEASED: 15th June 2012
Andy & Lewis have been working out at their local gym. Which would be fine if they had not been snooping around in the girls changing rooms ("locker rooms" to those in the USA) afterwards! So they have been sent to see Mr X for punishment!
Andy is of course well known to Mr X but this was Lewis's first visit. The lads start off by thinking it's all a big joke! They soon change their attitude when Mr X has them over his knee one at time and spanked hard! It's when the boys are forced to strip down and are then made to watch as their buddy is spanked completely naked that punishment becomes humiliating! However, Mr X soon turns the humiliation into real pain as his special 2 holed paddle is administered to the lads bottom. It really packs a whack and both lads are left bruised, broken and embarrassed!
.....more from Mr X! Andy & Lewis are actually real life mates and do go tot he gym together! So being punished like this in front of each other was a mixture of amusing (especially when Andy was watching Lewis get his first ever spanking) and embarrassment at having it done bare bottom in front of each other!
STREAM
VIDEO
Available streams for iPad, iPhone, Android, Chrome, Safari, IE or Firefox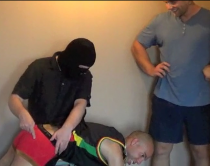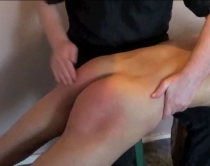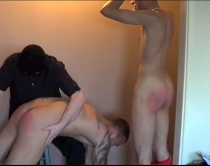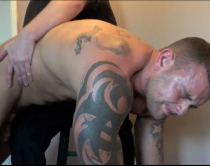 dessel1873 | 4th September 2019 00:58
Your site is great--I like the conversations before and after as well as the great spankings thanks
Reply

Domfan | 8th January 2015 21:30
Not sure how I missed this one.
OK so Lewis isnt my type...but he makes up for it with a shapely ass.
Andy is dong-olicious...I can't stop looking at his dong!

red1967 | 11th January 2015 00:34 (349 weeks ago)
@ Domfan I am glade you fond this movie I agree Lewis is not my type as well but yeah nice bum I Love everything about Andy and yep he is a big boy lol

Domfan | 11th January 2015 20:22 (349 weeks ago)
Hey Red. I'm normally more into butts than dongs, but Andy's is mesmerising.

Cherylkay | 11th January 2015 22:57 (349 weeks ago)
I wonder where that two-holed paddle is now? You don't see it anymore.
Reply

Art | 8th January 2015 14:27
Thanks for the comment, red1967, but I didn't edit this one. It was before my time. :-)

red1967 | 11th January 2015 00:13 (349 weeks ago)
Art I have only been on this site a few months.As I am checking out all the movies old and new did not know it was not yours I love your work anyway as you all ways do a great job. :-)
Reply

red1967 | 8th January 2015 12:39
Andy & Lewis Andy you where great as always well done Dave Lewis not sure about . He just did not do any thing for me I felt I had to comment as This movie has Andy and Mr X in it If it been Lewis on his own I might of only watched a bit of it Well done Andy Dave and Art I guess nice try Lewis I will watch his other movie just to see what it is like and it got Andy i it lol
Reply