RELEASED: 25th December 2016
Andy
Mini - Interview
It just happened that I had Andy doing some work round at my place and he agreed to say a quick hello to all the members.
STREAM
VIDEO
Available streams for iPad, iPhone, Android, Chrome, Safari, IE or Firefox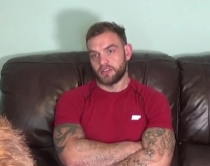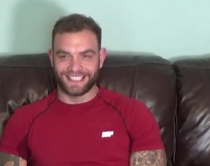 jacko | 14th January 2017 22:34
Such a pleasure to see Andy once again! What a contribution he has made to SLS in the past 5 years! I can't say that I ever looked forward to the movies in which he was spanked because he always looked so uncomfortable. (Except in the "game" movies of course!) However, as an authority figure, the coach, the big brother or the uncle, he was superb and if he chose to do so could continue to excel in this role until as old as Dave. (Perhaps not that long!) I would like to see him as "guest spanker" during any future visits. I'm sure that he would make a great role model and mentor for your current team of young models who already show potential.

The early movies in the "Brother in Charge" series revealed his acting skills at their best and his interaction with other models was superb. I recommend these movies to viewers who have yet to see them. His happy-go-lucky attitude and wonderful laugh are in marked contrast to his more serious and dramatic roles. Thank you Andy! You have entertained me well and have continued to do so.

I was not pleased to see his authority status undermined as he submitted to the spanking of his fellow models. Unlike Bailey, he was never a successful bully character so didn't need to be "brought down to size." While often strict as a coach he was not brutal. As a big brother and uncle he was loving and compassionate. The relationship he obviously enjoyed with his brothers was a joy to behold and all three, Andy, Patrick and Dan provided me with many happy hours of enjoyment due to this.

Andy's appearance in this interview, although brief, made my day. I'm so glad that life is treating him well. I presume that he keeps in contact with his brothers. (I miss them heaps too.) Please ask after them in his next interview if there is one.

I live in hopes of seeing Andy back as a coach, uncle or other authority figure helping to keep the youth of the UK on the straight and narrow.

Many thanks for this interview.
Reply

LucienG | 26th December 2016 21:17
Andy is so handsome. I hope he does film again but only as a spanker.
Reply

Ooleary | 26th December 2016 01:06
Ha ha lucky old Welshboy,great to see Andy and i hope you csn convince to make a movie , he looks good and he still has that cheeky,charming Irish personality that i missed ,was it Andy who introduced the new Irish Bros. to you by any chance ,i saw the pics on Twitter xx

Merry Christmas Dave and Daisy xx 😊 💋 🎄🎅🎁
Reply

welshboy | 25th December 2016 21:36
Wow that has made my Christmas day. Thank you to Andy and Dave. I do hope Andy comes back.
Reply