RELEASED: 10th August 2018
Andy & Conor Lee
Brother In Charge
Part 25
If ever there was a big brother not to get on the wrong side of, it has to be Andy Lee. With a well developed sense of right and wrong (due in no small part to a long history of getting his own bottom smacked) and a fledgling business to take care of, on top of all his family responsibilities - not to mention a formidable right arm - Andy is not a man to cross.
You can't help but think, then, that young brother Conor, last seen getting a good spanking from his strict Uncle Dave after being caught smoking, was at the very least foolhardy when he slept in for work not once, not twice, but THREE times. In a single week!
In this week's new male cp movie from Straight Lads Spanked, Andy storms into young Conor's bedroom to read the riot act. It's noon, apprentice Conor should have been at work on the building site at 8am, and Andy is not a happy man!
To add insult to injury, cheeky Conor has the gall to lie in his bed and ask Andy what he's going to do about it! Well, let's just say that Andy wastes no time showing the impertinent brat exactly what he's going to do about it! Sitting down on Conor's bed, he pulls the young layabout over his knee and begins smacking his bottom hard with that legendary right arm.
Lecturing even as he administers the spanking, Andy goes out of his way to explain why Conor has to be punished. Andy is his big brother and his boss, and he is disciplining him because he cares about his welfare and how he will turn out.
"You're not the boss of me!" protests Conor, somewhat desperately, because actually, well, his brother IS exactly that! And as if to prove it, Andy stands his kid brother up again and tells him to take down his shorts before continuing the relentless punishment on the seat of his pants.
Pulling the young sleepyhead's tight pants right up the crack of his bottom, Andy reminds him that he has had to do the same thing plenty of times in the past to their brothers Dan and Patrick.... but you can't help but feel that that is of negligible comfort to Conor at that moment, as the smacks rain down on his pert cheeks.
Eventually Andy pulls down the youngster's pants, to give him a well deserved spanking on his bare bottom; he doesn't like having to do it, he says, but in the absence of their father, it's his job to keep everybody toeing the line.
By this time, Conor is wriggling around on his big brother's lap with a very sore, very red bottom, with his brother holding his arm firmly behind his back to keep him from blocking the smacks, promising that he is sorry and won't let it happen again. We've heard it all before, of course.... and from the entire Lee dynasty before him!
STREAM
VIDEO
Available streams for iPad, iPhone, Android, Chrome, Safari, IE or Firefox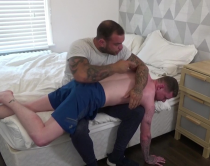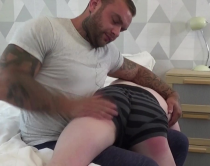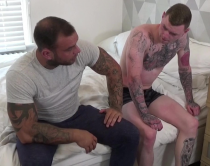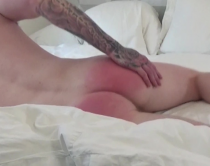 Ficwriterjet | 29th September 2018 19:15
It's hard to go wrong with a movie where Andy is spanking one of his brothers, and now we've seen him spank all three of them. I very much enjoy the size difference with Andy being so much bigger and being able to manhandle his brother into place. I had to laugh at Andy mocking Conor a couple of times, answering Conor's "Please, Andy, stop!" with "Please, Conor, come to work on time." That seems like a very brotherly thing to do. I also appreciated that Andy didn't resort to spanking until Conor had been late three times in a week.
Reply

mattnyc | 16th August 2018 18:27
This is a dream pairing. As soon as Conor was introduced I was hoping he'd end up over Andy's knee. Conor may be the sexiest of Andy's younger brothers. He's a great combination of Dan's cute face and Patrick's super masculine body and presence. I love how smooth his body is and I'm crazy about that perfect butt. Andy is the king of this site. He's just the best, sexiest spanker. He's always so in character and he's such a great, no-nonsense spanker and scolder. He always knows how and when to yank the boy's trousers and underpants up tight to make the spanking more effective and sexier. So this movie is right up my alley. Great work with the direction and writing, Dave. And great work bringing Conor into the fold. He's a super hot addition. Art, great job as always with the editing. I can't wait for tomorrow's update.
Reply

Orla | 11th August 2018 01:14
10/10 loved it ...love the relationship between all the Lee brothers and Andy is the best spanker (After Mr.X/Dave/Dad 😉😉) and long may he continue.
Reply

Teacherman123 | 10th August 2018 16:51
High time Andy got his own bottom smacked again, I feel! He may think he's in loco parentis for his younger brothers, but he's still not too big to find himself over the knee for a good spanking! Form an orderly queue........
Reply